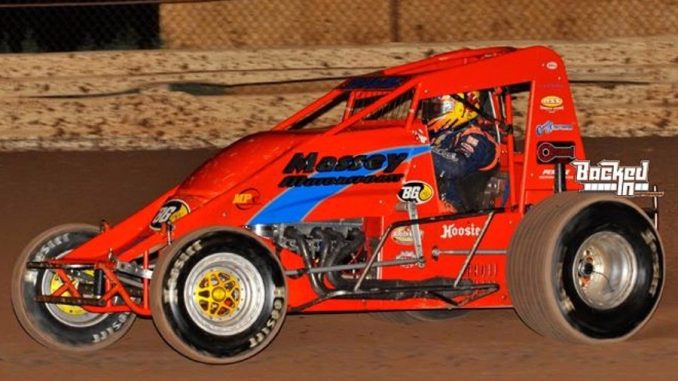 From Lonnie Wheatley and Lance Jennings
WICHITA, Kan. (August 17, 2018) – Buckeye, Arizona's Charles Davis, Jr., picked up right where he left off in USAC Southwest Sprint Cars "Freedom Tour" competition by parking the familiar, orange No. 50 entry in 81 Speedway's beer garden after topping Friday night's 30-lap feature event.
Davis, Jr., assumed command on the sixth round then survived some late traffic to keep Chris Bonneau at bay as he collected his fifth career "Freedom Tour" triumph with the sixth rendition of the mini-series finally getting under way after the initial two rounds at I-30 Speedway and Creek County Speedway fell victim to rain.
The victory for Davis, Jr., aboard the RSS Industries/MP Environmental Services Sprint Car was worth $2,500.
After starting the feature in fourth, Davis, Jr., spent the initial rounds chasing pole starter Mike Martin until a potential third career 81 Speedway victory for "The Magic Man" slipped out of grasp when he spun in turn four to precipitate the first of just two cautions.
Narrowly getting past Martin without significant damage, Davis, Jr., set sail and weathered the final caution five laps later. Ripping around the top side of the 3/8-mile clay oval, Davis, Jr., held nearly a half-straightaway advantage over fellow Arizona shoe Chris Bonneau with 81 Speedway ace Jeremy Campbell holding down the third position.
The door nearly opened for Bonneau when Davis, Jr., approached traffic with seven laps remaining, but when "Chargin' Charles" finally made his way through the trio of cars before Bonneau could capitalize it was game over before parking it in the beer garden again much to the delight of the crowd.
Bonneau settled for runner-up honors with Campbell filling out the podium in third while Dennis Gile rallied from the 13th starting position to snare fourth after brake woes sidelined him in heat race action. Nebraska's T.J. Artz rounded out the top five after opening the night with a heat race win.
While Artz won the opening heat race, Bonneau topped the second heat race.
The Sixth Annual USAC Southwest Sprint Cars "Freedom Tour" concludes with Saturday night's $2,500-to-win min-series finale at 81 Speedway. Racing action gets under way at 7:00 p.m.
SANDS CHEVROLET USAC SOUTHWEST SPRINT CAR SPECIAL EVENT RACE RESULTS: August 17, 2018 – Wichita, Kansas – 81 Speedway – "6th Annual Freedom Tour"
FIRST HEAT: (8 laps) 1. T.J. Artz (#57 Artz), 2. David Stephenson (#22 Stephenson), 3. Danny Smith (#5S Smith), 4. Jeremy Campbell (#10C Campbell), 5. Michelle Decker (#7 Decker), 6. Cameron Hagin (#5 Hagin), 7. Mike Woodruff (#17 Woodruff), 8. Daylin Perreira (#98AZ Perreira). NT
SECOND HEAT: (8 laps) 1. Chris Bonneau (#15 Bonneau), 2. Mike Martin (#16 Martin), 3. Charles Davis Jr. (#50 Davis), 4. Terry Richards (#18 Richards), 5. Tyson Hall (#5X Hall), 6. Matt Lundy (#98 Lundy), 7. Dennis Gile (#13 Gile). NT
FEATURE: (30 laps) 1. Charles Davis Jr., 2. Chris Bonneau, 3. Jeremy Campbell, 4. Dennis Gile, 5. T.J. Artz, 6. Mike Martin, 7. Danny Smith, 8. Terry Richards, 9. Matt Lundy, 10. Tyson Hall, 11. Michelle Decker, 12. Mike Woodruff, 13. Daylin Perreira, 14. Cameron Hagin. NT
—————————-
FEATURE LAP LEADERS: Laps 1-5 Martin, Laps 6-30 Davis
HARD CHARGER: Dennis Gile (14th to 4th)
BEAVER STRIPES TOP QUALIFIER: Danny Smith