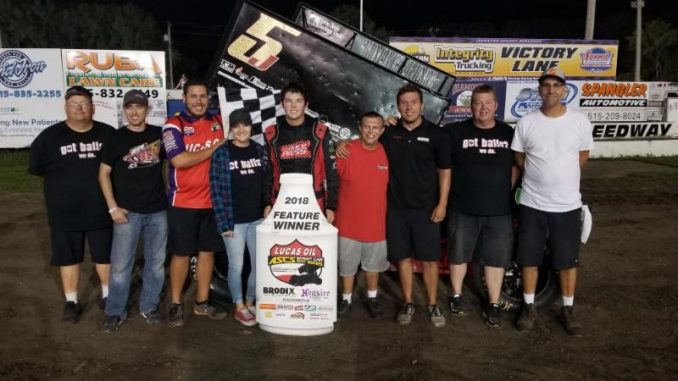 From Bryan Hulbert
WEBSTER CITY, Iowa (August 18, 2018) – After a horrid Southern Iowa Sprint Week, Jamie Ball came to Hamilton County Speedway with something to prove. Working 25 perfect laps ahead of Johnny Herrera, the Check Magnet Motorsports No. 5j rolled into Victory Lane for the first time in 2018 with the Lucas Oil American Sprint Car Series presented by Sawblade.com.
"This whole year has been so hard. With torn up equipment and some bad luck, and too, I put myself in some bad spots but after the Knoxville Nationals we had, to come back and rebound like this. We needed it and this just proves my guys are the best. They gave me a great car and not only that, we got another win for Chick Magnet Motorsports," commented Jamie who is the 17th National Tour winner of the 2018 season.
Ball's second career win with the Lucas Oil American Sprint Car Series presented by Sawblade.com, his Saturday night triumph is his first in full point paying National Tour competition. Previous too, Jamie won the August 4, 2016 show-up point preliminary A-Feature during the Knoxville 360 Nationals.
Besting Harli White on the start, Jamie rolled the high side of the Hamilton County Speedway. Working through several cautions in the first ten laps as drivers snagged cones out of the infield while navigating the bottom line, each restart would have Johnny Herrera glued to the back bumper of Ball's No. 5j.
Able to keep the wily veteran at bay, Jamie rolled into lapped traffic on the final lap as Herrera shaved over a second from Jamie's advantage, but would not have enough time as Ball crossed 1.292 seconds ahead of the Mesilla Valley Transportation No. 45x.
Racing back and forth with Harli White through the first half of the A-Feature, Matt Covington would finally take hold of the final podium step with Blake Hahn working top-shelf to fourth after a multi lap race with Seth Bergman who held on to round out the top-five.
Harli White ended up sixth with Wayne Johnson advancing five positions to seventh. Travis Rilat in eighth was trailed by Skylar Gee with Scott Bogucki in tenth.
Next for the Lucas Oil American Sprint Car Series presented by Sawblade.com is $5,000 to win, $400 to start at Missouri State Fair Speedway in Sedalia, Mo. on Sunday, August 19.
Admission at Missouri State Fair Speedway is $20 with youth 13-17 admitted for $10. Kids 6-12 get in for $5 and five and under get in free. The event is promoted by Larry McCown and Randy Combs. Tickets can be purchased at 1-800-769-6776 or online at https://bit.ly/2P5bO2E. For more information on the event, call (573) 375-0085.
For other news, notes, and information on the American Sprint Car Series, from the National Tour to any of the Regional Tours that make up the nearly 150 races across the ASCS Nation in 2018, log onto http://www.ascsracing.com, follow on Facebook, on Instagram, and on Twitter (@LucasOilASCS).
Race Results:
Lucas Oil ASCS National Tour
Hamilton County Speedway – Webster City, Iowa
Saturday, August 18, 2018
Heat Races (All teams advance to the A-Feature)
Heat 1 (8 Laps): 1. 17W-Harli White, [2]; 2. 95-Matt Covington, [4]; 3. 23-Seth Bergman, [7]; 4. 28-Scott Bogucki, [1]; 5. 52-Blake Hahn, [6]; 6. 2C-Wayne Johnson, [5]; 7. 77X-Alex Hill, [3]
Heat 2 (8 Laps): 1. 45X-Johnny Herrera, [2]; 2. 44-Chris Martin, [1]; 3. 5J-Jamie Ball, [3]; 4. 15H-Sam Hafertepe Jr, [5]; 5. 1-Travis Rilat, [4]; 6. 99-Skylar Gee, [6]
Protect the Harvest A-Feature
A Feature (25 Laps): 1. 5J-Jamie Ball, [2]; 2. 45X-Johnny Herrera, [4]; 3. 95-Matt Covington, [3]; 4. 52-Blake Hahn, [8]; 5. 23-Seth Bergman, [6]; 6. 17W-Harli White, [1]; 7. 2C-Wayne Johnson, [12]; 8. 1-Travis Rilat, [10]; 9. 99-Skylar Gee, [11]; 10. 28-Scott Bogucki, [9]; 11. 44-Chris Martin, [5]; 12. 77X-Alex Hill, [13]; 13. 15H-Sam Hafertepe Jr, [7]
Lap Leaders: Jamie Ball 1-25
CP-Carrillo Hard Charger: Wayne Johnson +5
FSR Radiator High Point Driver: Seth Bergman
Provisionals: N/A
2018 ASCS National Driver Points (Top 15): 1. Sam Hafertepe, Jr. 3,530; 2. Seth Bergman 3,471; 3. Blake Hahn 3,453; 4. Wayne Johnson 3,337; 5. Johnny Herrera 3,257; 6. Matt Covington 3,221; 7. Skylar Gee 3,132; 8. Scott Bogucki 3,026; 9. Travis Rilat 2,820; 10. Jamie Ball 2,812; 11. Harli White 2,796; 12. Chris Martin 2,790; 13. Alex Hill 2,491; 14. Roger Crockett 1,916; 15. Sammy Swindell 1,510;