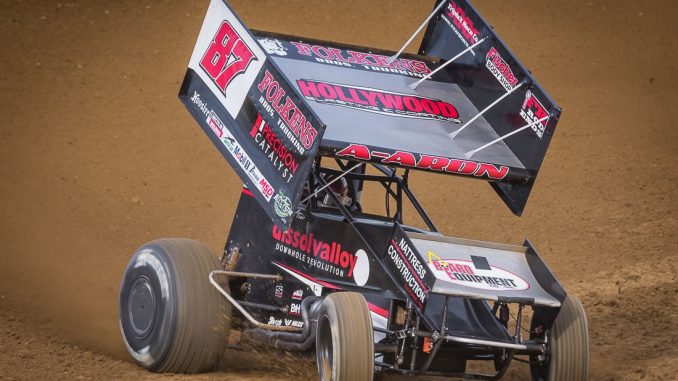 From ASCOC
BECHTELSVILLE, Pa. (August 23, 2018) – Aaron Reutzel did what some would consider the impossible on Thursday night at Grandview Speedway: beat the Pennsylvania Posse on their home dirt.
Reutzel, driver of the familiar Baughman-Reutzel Motorsports No. 87, achieved his feat in fantastic fashion, not only leading all 35 circuits to kick-off the four-day Central Pennsylvania invasion, but he also held off a swarm of competitors battling behind him that included defending Thunder Cup champion, Freddie Rahmer, and NASCAR superstar, Kyle Larson. For Reutzel, the $5,000 Thunder Cup victory increased his season win count to eight with the Arctic Cat All Star Circuit of Champions presented by Mobil 1; his first in 'Posse Country.'
"It is badass to beat the Posse," an elated Aaron Reutzel said in Grandview Speedway victory lane. "This isn't an easy place to come to and expect to win. This win is going to be very special to us considering what we were able to do. I really can't say enough about this team. There are so many people who make this possible. It's incredible."
Although Reutzel was in charge the entire distance, the 35-lap main event did not count down without a challenge for the Clute, Texas, native. The former ASCS national champion and now All Star Circuit of Champions driver point leader was forced to deal with an immense amount of pressure from multiple drivers with most of the chaos occurring during the second half of the program.
Between laps 20 and 28, things were getting interesting for Reutzel. Tim Shaffer, who started from the pole position by way of dash victory, was starting to nip at the heels of Reutzel as the duo attempted to navigate traffic. At the same time, Paul McMahan, who actually raced in the runner-up spot from lap 11 until lap 20, was also beginning to apply pressure on the top pair, soon joined by fifth-row starter, Freddie Rahmer. By lap 22, Rahmer and McMahan each worked by Shaffer, eventually igniting a battle with each other that included two official position changes in three laps.
Meanwhile, Kyle Larson, who started ninth, was also starting to come alive, soon working his way to fourth behind Reutzel, Rahmer, and McMahan. The hornet's nest calmed down on lap 28 when back-to-back caution flags appeared, one for a spinning Tim Shaffer, ultimately ending the four-car battle for the top spot.
The pair of cautions on lap 28, and another caution on lap 33, acted as a saving grace for Aaron Reutzel, allowing the Texan to utilize a clear track and clean air. Despite a mad attempt by Larson, pounding the cushion on the final two circuits in hopes of sneaking around the top-three, the intent failed. Reutzel escaped to win by 1.3 seconds at the final checkers followed by Freddie Rahmer, Kyle Larson, Paul McMahan, Chad Kemenah.
"It kinda started off with me running the top, then I heard someone running below me so I switched to the bottom for a little bit. I thought that maybe I was going way to slow down there. When I saw the '51' come on the board, I figured he was rolling through the middle because he gets around this place really good. I put my wing back and started trying that," Aaron Reutzel continued. "I knew that I didn't want to see traffic because I was having a hard time getting by the slower cars. I was definitely better on the short runs, too. It all worked out in the end. Hopefully we can keep this up tomorrow at Williams Grove."
Williams Grove Speedway in Mechanicsburg will host the traveling All Stars on Friday, August 24, for the highly anticipated Jack Gunn Memorial. The annual program will feature a pair of 20-lap features each awarding a $4,000 top prize; the first twin feature format at the world-famous paperclip since 2015. Tony Stewart's All Stars last visited Williams Grove Speedway in April with Lance Dewease picking up the high dollar payday. Dewease went on to sweep the weekend with the All Stars, also winning the Keith Kauffman Classic at Port Royal Speedway the following evening.
Williams Grove Speedway in Mechanicsburg, Pa., will allow pit access beginning at 5 p.m. on Friday, August 24. The All Star drivers meeting will happen at 6:30 p.m, followed by hot laps at 7 p.m., sharp. Those looking for more information should visit Williams Grove Speedway on the Web at www.williamsgrove.com.
Contingency Awards/Results: Grandview Speedway – August 23, 2018:
Thunder Cup: Smoke on the Hill 2
EMi Driver's Meeting: 30 Entrants
State Water Heaters Warm-Ups: Spencer Bayston – 11.402 seconds
Lincoln Electric Fast Qualifier: Aaron Reutzel – 11.243 seconds *NTR
Ford Performance Heat #1: Spencer Bayston
All Pro Aluminum Cylinder Heads Heat #2: Danny Dietrich
Hunt Brothers Pizza Heat #3: Cale Conley
JE Pistons Dash #1: Tim Shaffer
Classic Ink USA B-Main: Mark Smith
Daido Engine Bearings Main Event Winner: Aaron Reutzel
MSD Performance Hard Charger Award: JJ Grasso (+10)
(Lincoln Electric, Daido Engine Bearings, MSD Performance: Need decal to qualify for contingency award)
Qualifying
Group (A)
1. 87-Aaron Reutzel, 11.243; 2. 51-Freddie Rahmer, 11.402; 3. 39-Spencer Bayston, 11.485; 4. 10H-Chad Kemenah, 11.502; 5. M1-Mark Smith, 11.518; 6. 4-Brock Zearfoss, 11.555; 7. 99M-Kyle Moody, 11.650; 8. 70-Dave Blaney, 11.664; 9. 20-Ryan Taylor, 11.693; 10. 22-Brandon Spithaler, 11.725
Group (B)
1. 14-Tony Stewart, 11.487; 2. 57-Kyle Larson, 11.488; 3. 48-Danny Dietrich, 11.628; 4. 87K-Alan Krimes, 11.694; 5. 35-Tyler Esh, 11.736; 6. 37-JJ Grasso, 11.745; 7. 24-Lucas Wolfe, 11.755; 8. 88-Brandon Rahmer, 11.823; 9. 5-Tyler Ross, 11.890; 10. 73B-Brett Michalski, 12.132
Group (C)
1. 13-Paul McMahan, 11.399; 2. 27-Greg Hodnett, 11.477; 3. 7K-Cale Conley, 11.512; 4. 49x-Tim Shaffer, 11.556; 5. 44-Trey Starks, 11.597; 6. 39M-Anthony Macri, 11.650; 7. 11-Ryan Smith, 11.664; 8. 3-Jac Haudenschild, 11.804; 9. 3G-Carson Macedo, 11.853; 10. 19-Landon Myers, 11.949
Heat #1 – Group (A) (10 Laps) – Top 6 Transfer
1. 39-Spencer Bayston [2]; 2. 10H-Chad Kemenah [1]; 3. 87-Aaron Reutzel [4]; 4. 51-Freddie Rahmer [3]; 5. 4-Brock Zearfoss [6]; 6. 99M-Kyle Moody [7]; 7. 20-Ryan Taylor [9]; 8. 22-Brandon Spithaler [10]; 9. 70-Dave Blaney [8]; 10. M1-Mark Smith [5]
Heat #2 – Group (B) (10 Laps) – Top 6 Transfer
1. 48-Danny Dietrich [2]; 2. 87K-Alan Krimes [1]; 3. 57-Kyle Larson [3]; 4. 14-Tony Stewart [4]; 5. 24-Lucas Wolfe [7]; 6. 35-Tyler Esh [5]; 7. 37-JJ Grasso [6]; 8. 88-Brandon Rahmer [8]; 9. 73B-Brett Michalski [10]; 10. 5-Tyler Ross [9]
Heat #3 – Group (C) (10 Laps) – Top 6 Transfer
1. 7K-Cale Conley [2]; 2. 49X-Tim Shaffer [1]; 3. 27-Greg Hodnett [3]; 4. 13-Paul McMahan [4]; 5. 11-Ryan Smith [7]; 6. 3G-Carson Macedo [9]; 7. 44-Trey Starks [5]; 8. 39M-Anthony Macri [6]; 9. 3-Jac Haudenschild [8]; 10. 19-Landon Myers [10]
Dash #1 (6 Laps)
1. 49X-Tim Shaffer [1]; 2. 87-Aaron Reutzel [2]; 3. 13-Paul McMahan [4]; 4. 10H-Chad Kemenah [6]; 5. 87K-Alan Krimes [3]; 6. 7K-Cale Conley [8]; 7. 48-Danny Dietrich [5]; 8. 39-Spencer Bayston [7]
B-Main (12 Laps) – Top 7 Transfer
1. M1-Mark Smith [1]; 2. 20-Ryan Taylor [3]; 3. 37-JJ Grasso [4]; 4. 44-Trey Starks [2]; 5. 39M-Anthony Macri [5]; 6. 70-Dave Blaney [8]; 7. 88-Brandon Rahmer [7]; 8. 22-Brandon Spithaler [6]; 9. 3-Jac Haudenschild [9]; 10. 5-Tyler Ross [11]; 11. 73B-Brett Michalski [10]
A-Main (35 Laps)
1. 87-Aaron Reutzel [2]; 2. 51-Freddie Rahmer [10]; 3. 57-Kyle Larson [9]; 4. 13-Paul McMahan [3]; 5. 10H-Chad Kemenah [4]; 6. 48-Danny Dietrich [7]; 7. 87K-Alan Krimes [5]; 8. 27-Greg Hodnett [8]; 9. 11-Ryan Smith [13]; 10. 37-JJ Grasso [20]; 11. 7K-Cale Conley [6]; 12. 24-Lucas Wolfe [14]; 13. 70-Dave Blaney [23]; 14. 20-Ryan Taylor [19]; 15. 3G-Carson Macedo [17]; 16. 99M-Kyle Moody [15]; 17. 39M-Anthony Macri [22]; 18. 49X-Tim Shaffer [1]; 19. 88-Brandon Rahmer [24]; 20. 35-Tyler Esh [16]; 21. 4-Brock Zearfoss [12]; 22. 14-Tony Stewart [11]; 23. 44-Trey Starks [21]; 24. M1-Mark Smith [18] Lap Leaders: Aaron Reutzel (1-35)
All Star Circuit of Champions Driver Standings: (after Grandview on 8/23)
1. Aaron Reutzel – 3992
2. Chad Kemenah – 3972
3. Carson Macedo – 3968
4. Paul McMahan – 3772
5. Dave Blaney – 3770
6. Jac Haudenschild – 3748
7. Cale Conley – 3490
8. Parker Price-Miller -3466
9. Brandon Spithaler – 3220
10. Tyler Esh – 3078