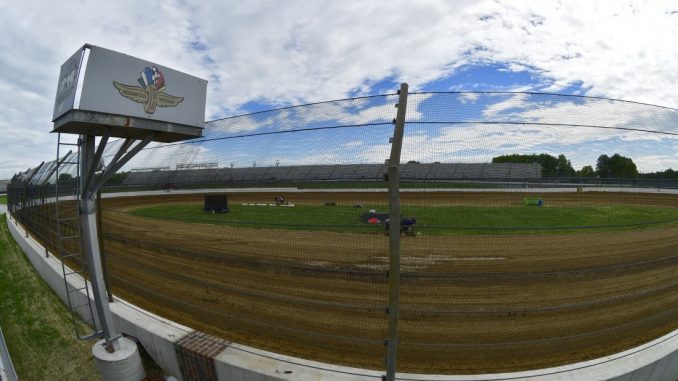 By T.J. Buffenbarger
It's race day at the Indianapolis Motor Speedway.
This time race day involves throwing some mud around at the BC 39 with a majority of the 118 drivers on hand realizing their dream of turning laps in a race at the Indianapolis Motor Speedway
When rumors began to swirl about dirt track racing on site at Indianapolis Motor Speedway I had a steadfast belief it would never happen. I never pursued the rumors because after the way the 16th Street Speedway situation occurred (a midget track operated by IMS at the former minor league ball park in Indianapolis) I didn't think IMS would take another dip into the short track world. Even after the exhibition laps we saw as part of Tony Stewart's NASCAR farewell tour I was skeptical if a race would ever happen.
Years of negotiation and an amazing fast track construction culminates in two days of racing Wednesday and Thursday. The fact this is even happening is a credit to Doug Boles and everyone over at the Speedway, USAC, and all the people involved in the construction process.
Fans and teams need to keep in mind even though many of the best and brightest minds in our industry are working on this project it's still the first event at a new track with an extraordinary amount of entries. There will be hiccups. Before turning to contribute to the hot take theater that will be taking place on social media just let the weekend play out.
This is an important weekend for midget racing. While many of the major sprint car races are seeing growth, midget racing has lost many of their crown jewel events. Suitable replacements for the Belleville Nationals, the Hut Hundred, and the Night Before the 500 have not come to fruition. You can even argue the case that Indiana Midget Week wouldn't work without having sprint cars on the card each night.
The BC 39 at Indianapolis is a standalone midget event. Outside of the Chili Bowl most big midget events are paired with sprint cars. This is an opportunity to grow a big time midget event at the most famous race course in the world. So before you point out every little thing that may not be going smooth on Wednesday and Thursday give the parties involved a chance to iron it out. I've rarely been at an opening night at any track, let alone its first race ever, without having a few bugs even with the most experienced staff.
Other notes…
I won't be in Indianapolis on Wednesday and Thursday due to work commitments. Unfortunately the late scheduling didn't work out for me to re-arrange other items to attend in person, but is already on my short list of things to cover in person for 2019.
For those attending the NASCAR festivities at Indianapolis that want an easy way to head up to Gas City I-69 Speedway to take in the USAC National Sprint Car Series event Jerry Gappens, promoter at Gas City, has arranged for a bus to take people back and forth from the Speedway. Find out more information by clicking here.
The World of Outlaws tour of the west coast is a favorite among most of the teams we have spoken to. The scenery, weather, and location in the schedule seem to be the determining factors. While it makes for some late nights for those of us back on the east coast Dirtvision allows twisted people like myself a "double feature" of attending or watching a race on the Eastern Time zone and catching the feature on the west coast.
While Donny Schatz has the World of Outlaws point lead well in had the All Star Circuit of Champions points tightened up again during the weekend in Pennsylvania. Carson Macedo made up ground on point leader Aaron Reutzel, outrunning Rutzel in two of the three events and bringing the gap down to 14 markers.

Reutzel went into Posse country on Monday and won the Labor Day Classic at Port Royal, giving both Macedo and Reutzel feature wins against the Pennsylvania Posse this season. Both Reutzel and Macedo are carrying a lot of momentum into the $50,000 to win Tuscarora 50 this weekend. It's been enjoyable watching both of these rising stars in our sport race for an All Star title this season.
I'm a sucker for great stories of drivers moving to Indianapolis, bumming a room with someone they have met, and working their way up the racing ladder. Jason McDougal is the latest to find success in this manner. After his Tulsa Shootout performance this season McDougal moved to Indy, worked his way into some rides, and now has a USAC National Sprint Car Series and Kokomo Speedway victory to his credit. If you recall 2018 Knoxville Nationals champion Brad Sweet followed a similar path to success.
While the World of Outlaws were the headline act this past weekend at Skagit Speedway the two day event was a nice stage for the Northwest Focus Midgets. Based on car count and what I see I'm a big fan from afar of this division that seems to be providing the perfect outlet for the hobby racer. While the addition of some blacktop races is a little disconcerting the car counts for the Northwest Focus series is strong and seems to be ultra-competitive.
Congratulations to Dean Reynolds for being hired as director of series and sanctioning for DIRTcar Northeast. Reynolds will also continue to work with the Empire Super Sprints where he has been Vice President since 2006 and has worked for ESS in various capacities over the years. This is a good thing considering it would take 2-3 people to replace all of the work Dean has done with ESS.
Another IMCA RaceSaver Super Nationals at Eagle Raceway is in the books. Despite Mother Nature's best efforts Kevin Ramey scored the victory in the finale on Sunday. With over 100 cars in attendance the RaceSaver Nationals is slowly crawling up my list of events to cover in the future.