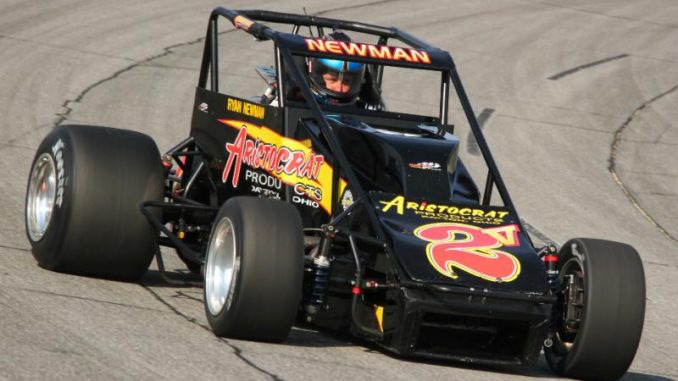 By Richie Murray
Brownsburg, Indiana………Ryan Newman has been tabbed as the driver to wheel the Johnny Vance/Aristocrat Products No. 2 this Saturday, September 8, when the USAC Silver Crown Champ Car Series makes its second and final appearance of the season for the "Rich Vogler Classic" at Lucas Oil Raceway in Brownsburg, Ind.
Newman, whose racing accolades include the 1999 USAC Silver Crown title, plus the 2008 Daytona 500 and 2013 Brickyard 400 crowns, has been a regular competitor in the "Vogler Classic" in recent years. He's a recipient of the Rich Vogler Memorial Scholarship, plus a past winner of the event in 2000.
The car is in tribute to a number of individuals who influenced Newman, namely Vance, whose car Newman raced to Vance's final USAC National Sprint Car victory at Anderson (Ind.) Speedway in 2000. Vance passed away in June of 2017.
Additionally, the late Dave Steele was a frequent winner in the Vance machine in the late 1990s. Prior to Newman, Bryan Clauson was the final driver to make laps in Vance's Silver Crown car during a test a LOR. Plus, the man the race honors this Saturday is Rich Vogler, who was the first one to wheel a Vance-owned car in USAC competition.
Last year, Newman and company brought the car out to LOR in its familiar, immaculate black, yellow and red scheme. He started sixth, but bowed out only 30 laps into the 100-lapper with handling issues and had to settle for an 18th place finish.
The significance of LOR to Newman and Vance is in special as well. In fact, the .686-mile paved oval is where Vance won his final USAC race as a car owner, with Tracy Hines in a Silver Crown event in July of 2010.
It's also the venue that hosted both Newman's first career USAC National Midget victory in 1997 as well as his initial Silver Crown triumph in 1999.
Fittingly, LOR (Indianapolis Raceway Park as it was known at the time) was the location of Newman's first USAC Sprint Car start for Vance in August of 1999, a second-place finish behind Vance's former driver, Dave Steele.
The 40-year-old South Bend, Indiana native has become one of the most successful drivers to transition from USAC to stock cars during his 17-year career as a full-time competitor in NASCAR's premier series that includes 18 wins, 51 poles and a 2nd place points finish in 2014.
Newman's among a star-studded cast entered for Saturday's "Vogler Classic," including past LOR Silver Crown winners Kody Swanson, Tanner Swanson, Bobby Santos, Russ Gamester and David Byrne along with past champs Kody Swanson, Chris Windom, Jerry Coons, Jr. and Dave Darland, plus 2012 Rookie of the Year Kyle Hamilton and current top Rookie Kyle Robbins, among many others.
Pits open at noon, with practice set for 3pm, qualifying at 6pm and racing at 7pm. The race will be live via pay-per-view on http://www.Speed51.com/ and tape-delayed for a later airing on MAVTV.
Advance adult general admission tickets are $25. Advance tickets for children 11 and under are $10. On the day of race, at the gate, adult general admission tickets are $25 and general admission tickets for children 11 and under are $10. Pit passes are $35 apiece.
"RICH VOGLER CLASSIC" ENTRY LIST:
02 TANNER SWANSON/Kingsburg, CA (Bowman Racing)
2 RYAN NEWMAN/South Bend, IN (Johnny Vance Racing)
6 KYLE HAMILTON/Danville, IN (Klatt Enterprises)
7 (R) KYLE ROBBINS/New Castle, IN (KR Racing)
17 CHRIS WINDOM/Canton, IL (Gene Nolen Racing)
18 (R) TRAVIS WELPOTT/Pendleton, IN (Welpott Racing)
20 JERRY COONS, JR./Tucson, AZ (Gene Nolen Racing)
21 ERIC GORDON/Greenfield, IN (Armstrong Racing)
22 BOBBY SANTOS/Franklin, MA (DJ Racing)
24 (R) MIKE HAGGENBOTTOM/Levittown, PA (Haggenbottom Racing)
31 (R) DEREK BISCHAK/Angola, IN (Derek Bischak)
32 DAVE DARLAND/Lincoln, IN (Williams & Wright Racing)
39 MATT GOODNIGHT/Winchester, IN (Goodnight Racing)
40 DAVID BYRNE/Shullsburg, WI (Byrne Racing)
43 JOHN HEYDENREICH/Bloomsburg, PA (Felker/Nix Racing)
51 RUSS GAMESTER/Peru, IN (Gamester Racing)
60 (R) CODY GERHARDT/Fresno, CA (Cody Gerhardt)
63 KODY SWANSON/Kingsburg, CA (DePalma Motorsports)
80 (R) TONI BREIDINGER/Hillsborough, CA (Breidinger Racing)
81 (R) CODY GALLOGLY/Pataskala, OH (Curtis Williams)
91 JUSTIN GRANT/Ione, CA (Hemelgarn Racing)
92 (R) JIM ANDERSON/Joliet, IL (Gene Kazmark)
96 (R) AUSTIN BLAIR/Fairview Heights, IL (Blair Racing)
98 DAVEY HAMILTON, JR./Boise, ID (RPM/Fred Gormly)
(R) represents a USAC Silver Crown Champ Car Series Rookie of the Year contender.