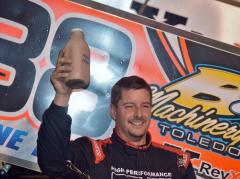 By Jacob Seelman
JENNERSTOWN, Pa. – After lacking the speed he's been accustomed to for much of the summer, Jimmy McCune capped his fourth-straight Must See Racing Sprint Car Series championship run just the way he started it: celebrating in victory lane.
McCune put together a stunning flourish during Saturday night's season-ending David D. Mateer Memorial Race at Pennsylvania's Jennerstown Speedway, charging from fourth to the race lead in two laps and then holding open-wheel ace Bobby Santos III at bay for the remainder of the 30-lap distance.
The Toledo, Ohio native had Santos at his rear flank for most of the night, with Santos within a half-second for most of the first half, but Santos caught traffic at the wrong spot entering turn one on lap 15 and dropped a second adrift of the No. 88 Abe's Auto Parts/B&B Machinery Movers/Rev-X Oil machine.
After that, Santos spent the second segment of the race trying to play catch-up, but could only watch as McCune stretched his advantage to 1.3 seconds inside of seven to go and then to two full seconds with three laps left.
Just after the twin sticks were displayed from the flag stand, however, a vicious three-car incident in turn one – involving fifth-running Tom Jewell and the slower machines of Joshua Sexton and James Rader – broke out just in front of the leaders and forced a red-flag stoppage for cleanup.
That erased McCune's two-second lead and set up Santos on his tail tank with one final shot to pounce on a green-white-checkered finish, but Santos simply couldn't keep pace on the restart.
McCune jetted out to a six-car length advantage off turn two and never looked back from there, crossing underneath the twin checkers 1.637 seconds clear of Santos in the end.
The victory, which came after several dances through slower traffic, was worth $4,000 to McCune. It also featured a ceremonial drink of chocolate milk, courtesy of track sponsor Allied Milk Producers, in victory lane.
"The traffic was intense, it was insane and there were a few times in turns one and two where I was up in the marbles and didn't know what was going on," noted McCune of his battle with Santos. "It was fun; the closing rate was just a little crazy at times. We kept it in one piece, though, and held off a pretty darn good driver to get the job done here. It feels really good."
Saturday night's win marked McCune's series-leading fifth of the year and the record-extending 29th of his Must See Racing career. He'll go for an even 30 during the 2019 season kickoff next spring.
However, the focus in victory lane was celebrating a season's worth of accomplishments.
McCune cinched up his fourth title in a row simply by turning a lap of practice and earning the 25 'show-up' points that came with doing so, but he wanted as much hardware as possible at the end of the night and accomplished that goal to perfection.
"There's nothing more special than winning and taking home a championship on the same night," he said. "It's honestly too bad that it's the end of the season, because I think we've finally gotten the car back to where it's been the last few years. She was pretty sporty tonight; I think we've found the issues we had over the summer and … next year will be pretty good."
Santos came home as the runner-up after leading practice and setting fast time to kick off the day. He said he just didn't have anything left after the final green flag waved.
"We had a couple shots at him, but we just couldn't quite pull it off," said Santos. "We were close. I feel like he and I were pretty evenly-matched tonight; it was just a matter of who could get out front first and he did that. Like I said, I had a couple looks on him through traffic, but he just got away in the end. That's racing, though. I really enjoyed my first trip here to Jennerstown."
Charlie Schultz completed the podium, followed by Ohio veteran Jerry Caryer, who was the final car on the lead lap in fourth. Schultz's teammate Adam Biltz finished fifth, both in the race and in points.
Of note, McCune and Santos finished the four-race Engine Pro Fast Car Dash mini-series tied in points, with 15 apiece following Saturday night's eight-lap sprint.
The bonus money for the Dash program, which includes a $500 bonus for the points champion, will be distributed at the 2018 banquet in January.
Must See Racing's 2019 schedule will be announced in the near future.