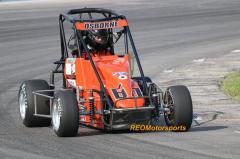 By Eric Bunn
(Lebanon, IN) The K&M Tool and Diel Mel Kenyon Midget Series presented by Newton Petroleum Services and Dragon Racing Fuels will close out the 2018 campaign at Anderson Speedway this Saturday night at Anderson Speedway. The K&M Kenyon Midget 30-lap feature is the 18th event of the season.
For the first time in the 10-year history of the season the drivers are coming to Anderson with the driving championship determined. Columbus, Ohio native Trey Osborne sewed up the championship at US 24 Speedway on September 22.
The championship drama is not over however. Kameron Gladish, Nathan Foster and Tommy Kouns are locked in a tight race to determine 2nd, 3rd and 4th in the final point standings. Gladish leads Foster by a scant 65 points while Kouns trails Foster by a mere 66 markers. The USSA point structure rewards a driver for his total performance at an event, including qualifying, the heat races and leading laps.
Car owner Gene Nolen has an opportunity to achieve something special as well at the Tony Elliott Classic and Point the Night Pink event. Nolen has cars entered in the 125-lap Tony Elliott Classic Sprint Car race and the Parallax 30 K&M Kenyon Midget race setting up an opportunity to score a double on the high banks. Jerry Coons, Jr and Kody Swanson will be driving Nolen's sprint cars while Kameron Gladish will pilot Nolen's Kenyon Midget. Swanson has already won the Pay Less Little 500 presented by UAW GM and two of the Anderson Speedway Sprint Car events in 2018. Gladish lead the first 24 laps before Dameron Taylor took the lead at the K&M Kenyon Midget's last appearance on the high banks September 15.
Activities for Paint the Night Pink and the Tony Elliott Classic will open with practice at 4:00, followed by qualifying at 5:30 with the green flag flying on racing at 7:00. In addition to the preliminary events, Anderson Speedway will feature the 125-lap Tony Elliott Classic for sprint cars, the Parallax 30 for the K&M Tool and Die Kenyon Midgets, a 50-lap race for Front Wheel drives and a 25-lap feature for the Indy Fast Karts.
The Anderson Speedway spectator gates will open at 4:00 with tickets for 200 plus laps of racing are Adults – $15, kids 6 to 12 – $4 and children five and under free.