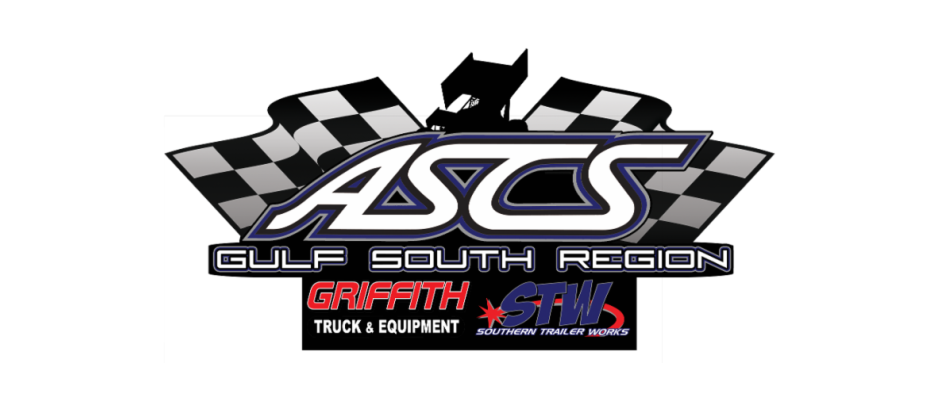 From Bryan Hulbert
BEAUMONT, Texas (October 13, 2018) – Finally getting the chance to settle the 2018 season on the track, Channin Tankersley captured his sixth win of the season with the Griffith Truck and Equipment ASCS Gulf South Region as well as the 2018 Series Championship.
Winning the Tribute to the Fallen at Golden Triangle Raceway Park, which paid honor to Bryan Clauson, Greg Hodnett, and Jason Johnson, the 41-lap event saw Tankersley out front for the duration.
Challenged early by Ray Allen Kulhanek, the driver of the No. 1 machine ending up seeing an early end to his night while battling for second after contact between him and Blake Hahn sent Kulhanek onto his side. Ray Allen was unharmed, but not able to finish.
Moving the No. 52 into second, Hahn took a shot at the lead but biked onto the right-side tires. Dropping to third in the process, the misstep allowed Tankersley to pull away by over a straightaway. Racing back to second before a late race caution, Hahn again tried for the lead but would not be able to maneuver around Channin Tankersley, who now has 25 career wins with the ASCS Gulf South Region.
Blake Hahn in second was joined on the podium by Canada's Skylar Gee, who raced to the show position from eighth. Moving from 10th, Eric Baldaccini crossed fourth with Tucker Doughty making the top five. Bruce Crockett was sixth with Cody Stacy seventh from 15th. Junior Jenkins, Todd Bliss, and Harry Yerrington completed the top ten.
The American Sprint Car Series thanks the fans, teams, and tracks who continue to support Sprint Car racing, and look forward to the 2019 season. Updates will be posted to http://www.ascsracing.com.
For other news, notes, and information on the American Sprint Car Series, from the National Tour to any of the Regional Tours that make up the nearly 150 races across the ASCS Nation in 2018, log onto http://www.ascsracing.com, follow on Facebook, on Instagram, and on Twitter (@LucasOilASCS).
Results
ASCS Gulf South Region
Golden Triangle Raceway Park – Beaumont, Texas
Saturday, October 13, 2018
Heat 1 (8 Laps): 1. 52-Blake Hahn, [6]; 2. 17-Channin Tankersley, [3]; 3. 99-Skylar Gee, [2]; 4. 17G-Cody Tankersley, [1]; 5. 23J-Lindell (Jr.) Jenkins, [4]; 6. 121-Todd Bliss, [5]
Heat 2 (8 Laps): 1. 15T-Marcus Thomas, [1]; 2. 1-Ray Allen Kulhanek, [4]; 3. 8-Bruce Crockett, [2]; 4. 0-Eric Baldaccini, [5]; 5. 51-Caleb Martin, [3]; 6. 02-Harry Yerrington, [6]
Heat 3 (8 Laps): 1. 21-Koty Adams, [4]; 2. 2X-Tucker Doughty, [2]; 3. 30-Johnnie Wasson, [5]; 4. 7-Dustyn Welch, [1]; 5. 48-Cody Stacy, [3]
A Feature (41 Laps): 1. 17-Channin Tankersley, [1]; 2. 52-Blake Hahn, [5]; 3. 99-Skylar Gee, [8]; 4. 0-Eric Baldaccini, [10]; 5. 2X-Tucker Doughty, [4]; 6. 8-Bruce Crockett, [7]; 7. 48-Cody Stacy, [15]; 8. 23J-Lindell (Jr.) Jenkins, [9]; 9. 121-Todd Bliss, [16]; 10. 51-Caleb Martin, [14]; 11. 02-Harry Yerrington, [13]; 12. 21-Koty Adams, [3]; 13. 1-Ray Allen Kulhanek, [2]; 14. 17G-Cody Tankersley, [12]; 15. 7-Dustyn Welch, [11]; 16. 15T-Marcus Thomas, [6]; 17. 30-Johnnie Wasson, [17]