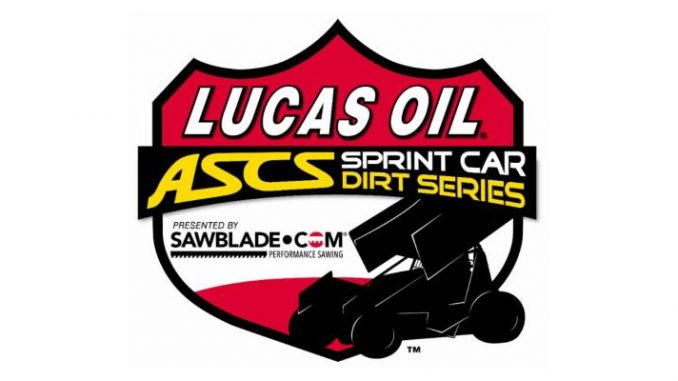 From Bryan Hulbert
TULSA, Okla. (December 5, 2018) The rules for the 2019 season of the American Sprint Car Series have been updated and posted to http://www.ascsracing.com. As announced a couple weeks ago, updates to the Chassis and Wing T-Posts will be mandatory as the series continues to work with the Sprint Car Council.
"We want to make sure that we are working in order to improve the safety of our sport. There is no one thing that can be done, and it extends even beyond the cars themselves. Adding the bars in order to lessen the distance between the front and rear uprights of the chassis that surround the driver is a very inexpensive improvement that doesn't hinder the driver's ability to exit the car," stated ASCS National Director, Matt Ward.
Aluminum Left Front Radius Rod will remain legal, with steel highly recommended. Axle Tethers will also remain highly recommended. In agreement with Knoxville Raceway, the safety rules of the track will supersede the American Sprint Car Series during the 360 Knoxville Nationals.
While the updates to the support bars as the only major change to the 2019 rules package, one small change was made to the redraw procedure. Rather than the top-eight in Passing Points drawing from first to eighth, the draw will be split into the top four drawing the first two rows, then fifth through eighth in points drawing rows three and four.
On the change, ASCS Founder, Emmett Hahn, explained, "We started doing first through fourth, then fifth through eighth on the two-day shows and it worked out really well and was a lot fairer to the guys who raced hard and earned their place at the front. We talked to some of the teams, and since we take the top four, we just kept that theme and applied it to every show, so it'll still shake things up, but not punish the high point guy either."
The only other change, which pertains to National Tour events, is dropping the requirement for 4 Qualifiers from 55 to 50 cars.
All other aspects of the American Sprint Car Series rule book will remain unchanged. Any questions regarding the rules can be directed to the ASCS office at (918) 838-3777. The office is open Monday-Friday between 9:00 A.M. and 5:00 P.M. (CT). Rules are posted online at https://www.ascsracing.com/series-info/rules.aspx
For other news, notes, and information on the American Sprint Car Series, from the National Tour to any of the Regional Tours that will make up the ASCS Nation in 2019, log onto http://www.ascsracing.com, follow on Facebook, on Instagram, and on Twitter (@LucasOilASCS).