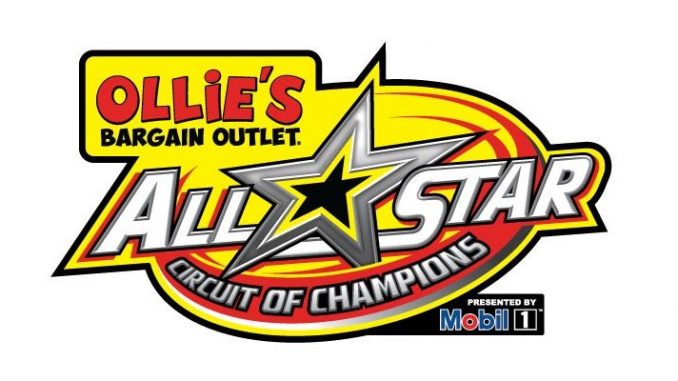 Updated 06/18/2019 at 4:08 p.m.
From Tyler Aytlmeyer
HARTFORD, Ohio (June 18, 2019) – Despite Sharon Speedway and Wayne County Speedway officials doing everything they could to make Cometic Gasket Ohio Sprint Speedweek presented by Indy Metal Finishing competition on Tuesday, June 18, a reality, the amount of precipitation received overnight proved to be too much, forcing both facilities to cancel their respective plans.
Ohio Sprint Speedweek will continue Wednesday evening, June 19, at the highbanks of Atomic Speedway in Chillicothe, Ohio.
Ollie's Bargain Outlet All Star Circuit of Champions presented by Mobil 1 and Atomic Speedway officials will monitor the weather through Wednesday morning. In the event that Atomic Speedway is forced to cancel their respective Speedweek program, Wayne County Speedway will host Speedweek action on Wednesday evening. An update will be provided by 10 a.m. Wednesday.
In the event that the All Stars do not visit Wayne County on Wednesday, Wayne County Speedway will then host a doubleheader on Saturday, June 22; the first program awarding a $5,000 top prize and the second awarding a $10,000 top prize. Action is slated to begin at 1 p.m.
Once the afternoon program is complete, an approximate three hour break will commence to allow track workers an opportunity to rework the racing surface. The second program will begin immediately following track work. As a bonus for fans, drivers will participate in an autograph session between programs on Saturday afternoon.
The All Stars are scheduled to visit Mansfield Motor Speedway and Limaland Motorsports Park on Thursday and Friday, June 19 & 20, as scheduled.
2019 Cometic Gasket Ohio Sprint Speedweek presented by Indy Metal Finishing Standings (After 6/18/2019):
1. Dale Blaney – 296
2. Kyle Larson – 294
3. Spencer Bayston 276
4. Tim Shaffer – 270
5. Brock Zearfoss – 264
6. Cory Eliason – 260
7. Parker Price-Miller – 256
8. DJ Foos – 254
9. Aaron Reuztel – 240
10. Buddy Kofoid – 234
2019 All Star Circuit of Champions Driver Standings (After 6/18/2019):
1. Aaron Reutzel – 1322
1. Dale Blaney – 1322
3. Spencer Bayston – 1306
4. Cory Eliason – 1270
5. Paul McMahan – 1250
6. Brock Zearfoss – 1246
7. Greg Wilson – 1194
8. Skylar Gee – 1186
9. Gerard McIntyre – 1146
10. Tyler Esh – 1046