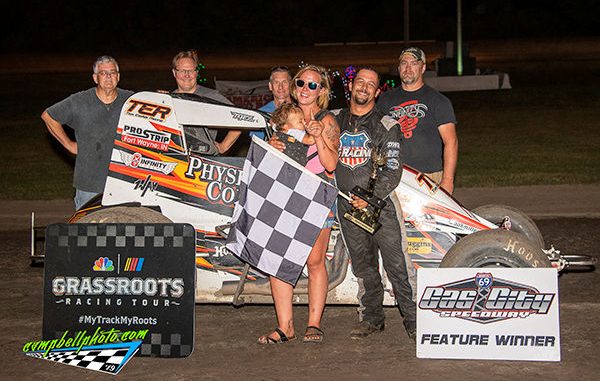 By Linda Mansfield
GAS CITY, Ind., July 13 — Thomas Meseraull must be on Santa Claus's "nice list," because the latter came all the way from the North Pole to watch the Waveland, Ind.-based driver win his fifth 25-lap non-wing sprint car feature of the year at Gas City I-69 Speedway Friday night. Santa brought gifts for the children in attendance, and a real reindeer named "Nutcracker" was led in front of the main grandstand to the delight of children of all ages as the quarter-mile clay oval celebrated "Christmas in July."
Clark W. Griswold of National Lampoon's "Christmas Vacation," who looked a lot like James Headley of Marion, Ind., won the 15-lap hornet feature in a car with "Mr. Griswold" painted on its side, a Christmas wreath on its nose, and a Christmas tree strapped to its roof. Not only did the tree stay in place, its lights remained lit throughout the feature. Headley exchanged his helmet for a trooper cap like Cousin Eddie Johnson wore for his victory lane celebration.
Less festive but equally happy winners during the program were Zeke McKenzie of Claypool, Ind. after the 20-lap UMP modified feature; Justin VanDrunen of Crown Point, Ind. after the 15-lap street stock feature, and Jac Nickles of Harrod, Ohio after the 15-lap American Mini Sprint Association (AMSA) winged mini-sprint feature.
"T-Mez" started second in the 20-car sprint feature, charged by polesitter Shane Cottle of Kansas, Ill. with a move to the outside in Turn 2 on the first lap, and led all 25 laps despite three cautions that tightened up the field behind him. He was a straightaway ahead of Cottle at the finish.
Tom Eades of Sharpsville, Ind. owns Meseraull's DRC, which uses a Stensland-prepped engine. The car is sponsored by Physical Medicine Consultants of Fort Wayne, Ind. and is wrenched by Allen Brown of Kokomo, Ind.
Cottle drives a DRC owned by Jamie and Michelle Paul of Eaton, Ohio. It is powered by a Foxco motor and sponsored by High ASSpirations Farm, Rumpke and Hawkins Speed Shop.
Scotty Weir of Marion, Ind. started sixth, passed Dustin Ingle of Elida, Ohio and Tim Creech of Indianapolis to move into fourth on the first lap, and got third after defending track champion Clinton Boyles of Brownsburg, Ind. stopped on the backstretch and retired with four laps complete. Weir went on to finish third in the Benic Enterprises DRC powered by a Pedersen engine, but Ingle spun in Turn 2 with seven laps down while running fourth, and Creech spun in Turn 4 with nine laps down while running sixth. Dallas Hewitt of Fletcher, Ohio, who started tenth, ended up fourth at the checkered while Travis Hery of Columbus, Ohio turned a 14th-place starting spot into a fifth-place finish.
Sixteen-year-old Brayden Clark of Tipton, Ind. flipped in Turn 4 at the halfway point of the sprint car B main, but luckily climbed out of his DRC under his own power. He's sponsored by G&G Oil, Quality Pallet and State Farm.
Headley (aka Clark Griswold) started second in the hornet feature and led the whole way followed by his son, James Headley Jr. of Wabash, Ind. Headley Jr. got close on lap four while the pair lapped a slower car, but Headley Sr. had a half-straightaway lead over his son at the checkered. The Headleys are sponsored by Dudding's Heating and Cooling, Garriott Electric, Edwards Automotive and TJR Trucking.
Polesitter Jason Spencer of Columbia City, Ind. ran in third place for the entire race in his 2006 Chevy Cobalt sponsored by Alexander's Garage, Orr Motorsports and Buchanan Automotive. Kolton Sollars of LaFontaine, Ind. came out on top of the best battle of the race when he finished fourth in Kinnie Sollars' No. 33S sponsored by Headley Tree Service, Holt Auto Body, BuckWild MMA and Dudding Heating and Cooling. Randy Brommer of Columbia City, Ind. placed fifth in the B&B Racing '96 Cavalier that advertises the Indiana Donor Network in memory of Cody Brommer.
McKenzie became the fifth different UMP modified feature winner at Gas City this year when he was victorious in the BZ Enterprises No. 24, which is sponsored by Hogue Engines, Chadd Farms, Bar 13, W. Ousley Concrete, Brew Crew, and Albertson's Harley Specialists. He started fourth, charged into second place on the first lap, and got the lead on lap two after a caution when Jim Post and Josh Betts got together in Turn 4. McKenzie survived two other cautions to win handily over Daniel Sanchez, who started second but dropped to third before dipping under Andy Bishop of Gas City working lap five on the frontstretch to secure the runner-up honors. The big battle in that race was for third, which finally went to Jerry Bowersock. Bill Griffith placed fourth and Derek Losh, who has won four UMP modified features this year at Gas City, came from the 22nd starting spot to finish fifth.
VanDrunen started on the pole of the street stock feature in his Full Auto Racing Supply No. 71 and led the first five laps before Mike Fincher of Rochester, Ind. passed him in Turn 2. VanDrunen got the lead again by dipping under Fincher in Turn 2 working lap 10. Fincher spun in Turn 4 on the white-flag lap to bring out a yellow and set up a one-lap shootout to the checkered. That gave second to Zac Banta of Brookston, Ind., who finished in that spot followed by Larry Persinger of Jonesboro, Ind. in the Marion Tire No. 3C Buick Regal, and Fincher.
Nickles, who also won the June 21 mini-sprint feature at Gas City, started sixth but was second by the end of lap one in his yellow CTK Motorsports No. 31 sponsored in part by T&D Interiors, NWO, RCS Construction and NBC Steering and Pumps. He took the lead by getting under polesitter Kinser Medler of West Salem, Ill. coming out of Turn 4 with six laps down, right before a yellow was needed for Chris Bounds of Lima, Ohio, who spun between Turns 1 and 2. There were no more yellows in that race and Nickles won by a straightaway over Medler's Travco Motorsports No. 56 sponsored by Highland Farms.
Chris Miller of Lafayette, Ind. finished third. Adam Schmenk of West Mansfield, Ohio placed fourth. Bill Dunham of Bellevue, Mich., who makes his living as a locomotive engineer for the CN Railroad, rounded out the top five in he and his wife Kassie's Henchcraft chassis XV3 powered by a stock Yamaha R1.
The AMSA mini-sprints will return to Gas City on Sept. 6 and Oct. 5.
This coming week is a special one at Gas City I-69 Speedway, as it will host the first event of the eight-event "NOS Energy Drink Indiana Sprint Week" featuring the USAC AMSOIL national sprint cars this coming Thursday night, July 18. Non-wing micro-sprints will also be on that card.
C.J. Leary won the most recent USAC Indiana Sprint Week event held at Gas City in 2017, while Tyler Courtney was triumphant in 2016 and Chase Stockon won in 2015. Jon Stanbrough holds the record for the most USAC Indiana Sprint Week victories at Gas City with five, the last of which came in 2014.
After that special Thursday show the track will be back in action on Friday nights with its "Wings and Fast Things" show on July 26. It will feature Great Lakes Super Sprints (GLSS) 360 winged sprints, UMP modifieds, outlaw winged 600cc mini-sprints, hornets and tough trucks. Dustin Daggett of Portland, Mich. hopes things will go differently for him in the GLSS race at Gas City on July 26 than they did last year during the first GLSS feature ever held at Gas City. Last June Daggett led every lap of that feature except for the lap that counted. Lapped traffic held him up in the fourth turn on the last lap, which allowed Max Stambaugh of Lima, Ohio, to slide ahead for the victory. The margin of victory for Stambaugh, who hounded Daggett the entire race, was a mere 0.108 of a second.
Fans can see the track's 2019 schedule and get additional information on its website at GasCityI69Speedway.com. Fans can also follow it on Facebook (@GasCitySpeedwayOnTheGas), Twitter (@GasCitySpeedway) and Instagram (@GasCitySpeedway).
The speedway is located west of exit 259 off Interstate 69 in Gas City.
The results:
Non-Wing Sprint Heat 1 (8 laps): 1. Thomas Meseraull, 2. Dustin Ingle, 3. Corey Smith, 4. Dallas Hewitt, 5. Austin Nigh, 6. Matt Goodnight, 7. Brad Greenup, 8. Gage Etgen, 9. Brain VanMeveren (DNF).
Non-Wing Sprint Heat 2 (8 laps): 1. Shane Cottle, 2. Tim Creech, 3. Garrett Abrams, 4. Mike Miller, 5. Travis Hery, 6. Kyle Robbins, 7. Cody White, 8. Adam Byrkett, 9. Michael Koontz.
Non-Wing Sprint Heat 3 (8 laps): 1. Clinton Boyles, 2. Scotty Weir, 3. Cole Ketcham, 4. Dickie Gaines, 5. Matt Westfall, 6. Tyler Hewitt, 7. Billy Ney, 8. Brayden Clark, 9. Sterling Cling.
Non-Wing Sprint B Main (10 laps): 1. Tyler Hewitt, 2. Adam Byrkett, 3. Matt Goodnight, 4. Billy Ney, 5. Sterling Cling, 6. Brian VanMeveren, 7. Brad Greenup, 8. Michael Koontz, 9. Cody White, 10. Brayden Clark, 11. Kyle Robbins, 12. Gage Etgen (DNS).
Non-Wing Sprint Feature (25 laps): 1. Thomas Meseraull, 2. Shane Cottle, 3. Scotty Weir, 4. Dallas Hewitt, 5. Travis Hery, 6. Matt Westfall, 7. Cole Ketcham, 8. Corey Smith, 9. Dickie Gaines, 10. Mike Miller, 11. Garrett Abrams, 12. Matt Goodnight, 13. Tyler Hewitt, 14. Sterling Cling, 15. Adam Byrkett, 16. Austin Nigh, 17. Tim Creech, 18. Dustin Ingle, 19. Billy Ney, 20. Clinton Boyles.