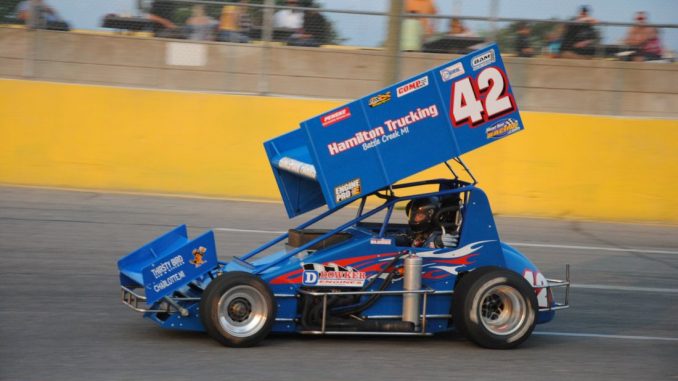 MARNE, Mich. – The box score from Saturday night's Engine Pro Fast Car Dash II may say that Jason Blonde led all 30 laps for his second Must See Racing Sprint Car Series win of the year, but it wasn't that simple.
In fact, if not for a late-race caution, Blonde might not have won at Berlin Raceway at all.
Blonde held off Jimmy McCune on a green-white-checkered restart to secure the victory accolades, but it was lap 28 – when he was nearly passed in lapped traffic by Jimmy's nephew, Anthony McCune – that stuck out as the game-changing moment for the No. 42 Hamilton Trucking team.
"He was coming there, and we were fighting through a mess of traffic," Blonde recalled. "I think I just saw his nose there before he spun, and I think it was going to be a heck of a battle."
The battle was imminent, as Anthony McCune had run down Blonde from 4.2 seconds back over a 17-lap span after taking the runner-up position at lap 11. A win just wasn't meant to be on this night.
Anthony McCune was forced to get on the binders exiting turn two, with lapped traffic three-wide in front of him, and spun down to the inside to avoid running into the back of a slower car.
That shuffled him back out of contention and left Blonde, who had opened up nearly a half-track lead in the first part of the 30-lap feature, free to cruise to the victory following the lone restart of the night.
Or, as he said afterward, as free as one can be with Jimmy McCune breathing down their neck.
"When Jimmy's behind you, you pretty much don't lift and hope it turns and comes out," Blonde noted. "And I tell you what, the last two laps … it kind of came to life a lot better on me than it had the whole race before that, but it stuck amazingly coming off the corner and got good grip in.
"This place is a blast. All this lap traffic we had, it makes it a lot of fun and it's just awesome."
Jimmy McCune finished second, .546 seconds back, after starting eighth and struggling to move forward.
It was a frustrating result for the four-time defending champion, who had plenty to say after the race.
"I mean, Jason jumped the start a little bit there at the beginning. He went, I don't know, a couple … two, three car lengths before the cone, but that's all right," said Jimmy McCune. "It's no big deal. You know what? We didn't get any hot laps. We qualified quick time, and that's great, but that'll be the last time (because) we're going to sand bag like they do and start on the front row now.
"Next time, we'll try to win this thing from the front and see how that works out."
Charlie Schultz completed the podium, followed by Anthony McCune, who rallied back to finish fourth despite his spin in the closing laps. Christian Koehler completed the top five with a career-best run.
The next race for the Must See Racing Sprint Car Series will be on Sept. 14 at Jennerstown (Pa.) Speedway. Jimmy McCune is the defending winner of the David D. Mateer Tribute Race.
The finish:
Jason Blonde, Jimmy McCune, Charlie Schultz, Anthony McCune, Christian Koehler, Teddy Alberts, Tom Jewell, Kevin Feeney, Jerry Caryer, Jeff Bloom, Johnny Petrozelle, Adam Biltz, Joshua Sexton, Rick Holley, Bobby Komisarski, Todd McQuillen, Ryan Litt, Tyler Roahrig, Tom Geren, Joey Irwin.
Must See Racing
Berlin Raceway
Marne, MI
Saturday September 7, 2019
Qualifying:
1. 88-Jimmy McCune, 13.115
2. 9S-Charlie Schultz, 13.301
3. 07L-Ryan Litt, 13.345
4. 8-Anthony McCune, 13.590
5. 7-TJ Jewell, 13.595
6. 10-Christian Koehler, 13.601
7. 42-Jason Blonde, 13.641
8. 6K-Kevin Feeney, 13.658
9. 44-Teddy Alberts, 13.675
10. 99-Tyler Roarhig, 13.803
11. 8A-Adam Biltz, 13.904
12. 75C-Jerry Caryer, 13.959
13. 26-Jeff Bloom, 14.201
14. 17-Bobby Komisarski, 14.538
15. 81-Johnny Petrozelle, 14.600
16. 85-Rick Holley, 15.471
17. 51-Josh Sexton, 15.606
18. 11G-Tom Geren, 16.246
19. 32-Todd McQuillen, 16.579
20. 0-Joey Irwin, 16.855
Heat Race #1:
1. 99-Tyler Roarhig
2. 17-Bobby Komisarski
3. 75C-Jerry Caryer
4. 85-Rick Holley
5. 11G-Tom Geren
6. 0-Joey Irwin
Heat Race #2:
1. 81-Johnny Petrozelle
2. 26-Jeff Bloom
3. 44-Teddy Alberts
4. 8A-Adam Biltz
5. 51-Josh Sexton
6. 32-Todd McQuillen
Dash:
1. 07L-Ryan Litt
2. 42-Jason Blonde
3. 6K-Kevin Feeney
4. 88-Jimmy McCune
5. 8-Anthony McCune
6. 10-Christian Koehler
7. 9S-Charlie Schultz
8. 7-TJ Jewell
Feature:
1. 42-Jason Blonde
2. 88-Jimmy McCune
3. 9S-Charlie Schultz
4. 8-Anthony McCune
5. 10-Christian Koehler
6. 44-Teddy Alberts
7. 7-TJ Jewell
8. 6K-Kevin Feeney
9. 75C-Jerry Caryer
10. 26-Jeff Bloom
11. 81-Johnny Petrozelle
12. 8A-Adam Biltz
13. 51-Josh Sexton
14. 85-Rick Holley
15. 17-Bobby Komisarski
16. 32-Todd McQuillen
17. 07L-Ryan Litt
18. 99-Tyler Roarhig
19. 11G-Tom Geren
20. 0-Joey Irwin