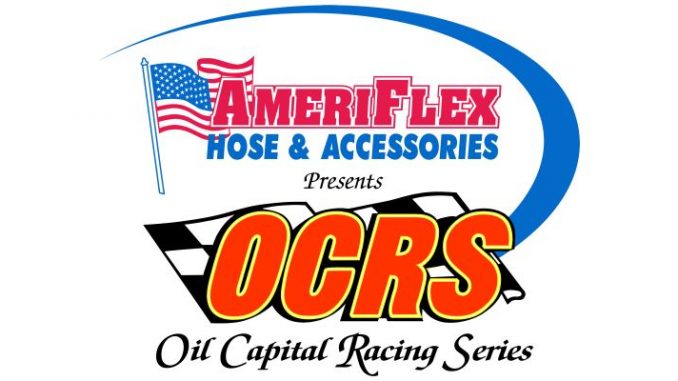 By John Rittenoure
CANEY, Kans. (June 6, 2020) – There is nothing like winning at home, and Kinzer Edwards did that Saturday night at Caney Valley Speedway.
After coming close late last season when mechanical issues ended his run, this time Edwards led from the start and went the distance to pick up his second AmeriFlex / OCRS Sprint Car victory in three races.
After winning the season opener at Monett Motor Speedway, engine issues kept him from running the next night at Nevada. Saturday the engine held up giving Edwards two wins in-a-row.
Terry Easum gave chase most of the way until Zach Chappell finally got past in the closing laps. Easum held on for his third straight third place finish. Nevada winner Casey Wills was fourth and Joe Bob Lee rounded out the top five.
Next on the schedule is Humboldt Speedway on Friday then the newly remodeled 81 Speedway in Park City, Kansas on Saturday.
Oil Capital Racing Series
Caney Valley Speedway
Caney, KS
Saturday June 6, 2020
Heat Race #1 (8 Laps)
1. 5L-Joe Bob Lee[4]
2. 27-Jesse Frazier[1]
3. 22C-Robert Sellers[2]
4. 50Z-Zach Chappell[7]
5. 21P-Justin Patocka[5]
6. 65L-Nick Lucito[6]
7. 91-Justin Fine[3]
Heat Race #2 (8 Laps)
1. 9E-Kinzer Edwards[1]
2. 88-Terry Easum[5]
3. 15D-Andrew Deal[3]
4. 8-Alex Sewell[7]
5. 62-James Shoun[6]
6. 9-Casey Buechler[2]
7. 14-Stephanie Chappell[4]
Heat Race #3 (8 Laps)
1. 31-Casey Wills[2]
2. 22T-Frank Taft[3]
3. B52-Brayden Voigt[7]
4. 30J-Larry Bratti[6]
5. 39-Kimberly Tyre[4]
6. 2L-Brandon Leland[5]
7. DNS: 15-Jase Randolph
A-Main (30 Laps)
1. 9E-Kinzer Edwards[2]
2. 50Z-Zach Chappell[8]
3. 88-Terry Easum[1]
4. 31-Casey Wills[4]
5. 5L-Joe Bob Lee[3]
6. 15D-Andrew Deal[11]
7. 65L-Nick Lucito[18]
8. 22C-Robert Sellers[10]
9. 8-Alex Sewell[9]
10. 21P-Justin Patocka[15]
11. 91-Justin Fine[19]
12. 22T-Frank Taft[6]
13. 39-Kimberly Tyre[14]
14. 2L-Brandon Leland[17]
15. 62-James Shoun[13]
16. 27-Jesse Frazier[5]
17. B52-Brayden Voigt[7]
18. 30J-Larry Bratti[12]
19. 15-Jase Randolph[21]
20. 14-Stephanie Chappell[20]
21. 9-Casey Buechler[16]