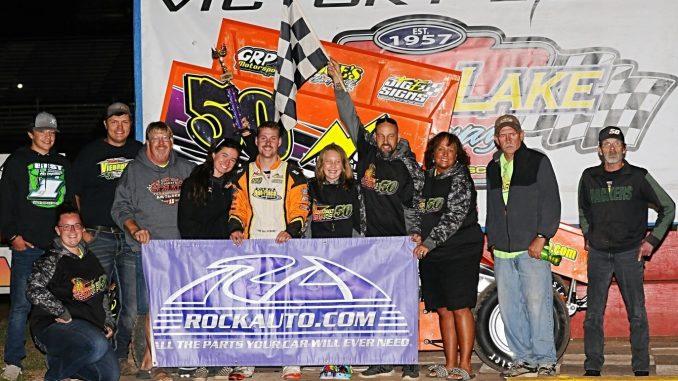 From UMSS
The Pirtek UMSS Would see 22 winged sprint cars on both nights of the Sprint Car Challenge. The affordability of this class has us watching a wide range of drivers from the young guns Carlson and Berger to the more seasoned drivers in Hanson and Kerzman. The result has been some phenomenal racing where any team in this class can win at any time.
Patrick Heikkinen, Jeremy Kerzman and Chase Viebrock would win the heat races on Friday night. After the redraw Viebrock would start on the pole and take the top spot at the start. Viebrock would stay up on the cushion at the wall with 22 of Mueller and the 19B of Berger giving chase. Berger would get by Mueller and challenge Viebrock for the lead but it was the New Richmond Nightmare who would take the checkers.
Harry Hanson, Jeremy Kerzman and Kevin Lear would win the heat races on Saturday night. The feature would see Lear and Carlson lead the field to green with the 07 of Carlson leading at lap 1. Unfortunately the 07 would take a tumble getting into turns 3 and 4 giving Lear the lead with 24 laps to go. A caution allowed the the 50 of Chase to gain the lead off the restart and hold on for the rest of the feature for the win.
Cedar Lake Speedway
New Richmond, Wisconsin
Friday August 28, 2020
UMSS Winged Sprint Car Series
Heat Race #1:
1. 13-Patrick Heikkinen
2. 22-Mike Mueller
3. 0-Ryan Buck
4. 1-Jamey Ogston
5. 33-Leah Steahl
6. 22P-Brandon Palm
7. 95-John Vaillancourt
8. 3-Ryan Johnson
Heat Race #2:
1. 3K-Jeremy Kerzman
2. 7-Harry Hanson
3. 56-Josh Braford
4. 7K-Karlee Becker
5. 7M-Bob McVitty
6. K1-Kevin Lear
7. 61-Jeff Kirchner
Heat Race #3:
1. 50-Chase Viebrock
2. O7-Owen Carlson
3. 19-Jack Berger
4. 34-Denny Stordahl
5. 2V-Chris Vogel
6. 54-Rick Niemi
DNS: 7D-Dave Becker
Feature:
1. 50-Chase Viebrock
2. 19-Jack Berger
3. 22-Mike Mueller
4. K1-Kevin Lear
5. 34-Denny Stordahl
6. 1-Jamey Ogston
7. 22P-Brandon Palm
8. 3K-Jeremy Kerzman
9. 7D-Dave Becker
10. 0-Ryan Buck
11. 33-Leah Steahl
12. 7M-Bob McVitty
13. 7K-Karlee Becker
14. 56-Josh Braford
15. 13-Patrick Heikkinen
16. 2V-Chris Vogel
17. 95-John Vaillancourt
18. 7-Harry Hanson
19. O7-Owen Carlson
20. 54-Rick Niemi
21. 3-Ryan Johnson
DNS: 61-Jeff Kirchner
UMSS Traditional Sprint Car Series
Heat Race #1:
1. 8-Nick DaRonco
2. 87-Mike Mueller
3. 45-Lance Solem
4. 101-Paul Schultz
5. 65-DJ Vadnais
6. 61-Jeff Kirchner
7. 4-Brian Trembath
8. 66S-Jim Fuerst
9. 95-Trevor Reding
10. 36-Tyler Wass
Heat Race #2:
1. 16B-Ryan Bowers
2. 2K-Jim Kouba
3. 93-Brad Peterson
4. 6-Jake Kouba
5. 12X-Blake Anderson
6. 97-Cam Schafer
7. 49-Eric Serabian
8. 92-Danny Wait Jr.
9. 33-Leah Steahl
Heat Race #3:
1. 99-Bryan Roach
2. 69S-Jon Lewerer
3. 3K-Jeremy Kerzman
4. 15E-Caley Emerson
5. 63-Todd Hansen
6. 56-Josh Braford
7. 10Z-Zach Widdes
8. 3-Ryan Johnson
9. 2V-Chris Vogel
Heat Race #4:
1. 7B-Scott Brandt
2. 78-Rob Caho Jr
3. 7-Harry Hanson
4. 34-Denny Stordahl
5. 2-Teal Arnason
6. 22-Brandon Palm
7. 0-Ryan Buck
8. 45M-David Mackey
9. 250-Brad Larsen
Feature #1:
1. 4-Brian Trembath
2. 66S-Jim Fuerst
3. 0-Ryan Buck
4. 45M-David Mackey
5. 95-Trevor Reding
6. 22-Brandon Palm
7. 250-Brad Larsen
8. 2V-Chris Vogel
9. 33-Leah Steahl
10. 49-Eric Serabian
11. 92-Danny Wait Jr.
12. 36-Tyler Wass
13. 3-Ryan Johnson
Feature #2:
1. 8-Nick DaRonco
2. 16B-Ryan Bowers
3. 78-Rob Caho Jr
4. 87-Mike Mueller
5. 7-Harry Hanson
6. 3K-Jeremy Kerzman
7. 2K-Jim Kouba
8. 93-Brad Peterson
9. 69S-Jon Lewerer
10. 6-Jake Kouba
11. 7B-Scott Brandt
12. 34-Denny Stordahl
13. 45-Lance Solem
14. 56-Josh Braford
15. 101-Paul Schultz
16. 63-Todd Hansen
17. 2-Teal Arnason
18. 65-DJ Vadnais
19. 10Z-Zach Widdes
20. 99-Bryan Roach
21. 97-Cam Schafer
22. 15E-Caley Emerson
23. 12X-Blake Anderson
DNS: 61-Jeff Kirchner