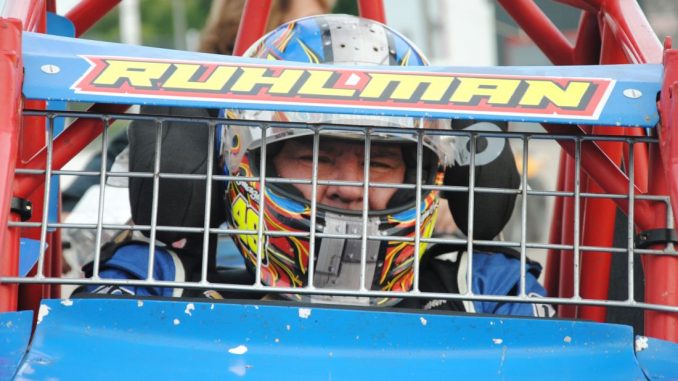 From Mike Leone
MERCER, PA (September 11, 2020) — After losing the last two months of the racing season due to restrictions set forth by the Ohio Department of Health from the COVID-19 pandemic, Sharon Speedway finally received the green light to return to racing on Friday night for night one of the annual "Apple Festival Nationals". Scoring wins and celebrating in the Hovis Auto & Truck Supply victory lane were Max Blair-RUSH Late Models, Brian Ruhlman-RUSH Sprint Cars, Garrett Krummert-HTMA/Precise Racing Products RUSH Sportsman Modifieds, and Shayne Meadows-Joe's Radiator Sportsman Dwarf Cars. Heat races were contested for the Penn-Ohio Pro Stock Championship Series and the Elite Econo Mod Series for the "Kyle Miller Memorial".
The RUSH Late Models raced on the new red clay surface for the first time ever and it was Max Blair winning the division's first race at Sharon since the 2016 "Apple Festival Nationals". Blair, who has won five of the last seven National Weekly Series Championships for RUSH, went third to first on the first lap and held off late race charges by Matt Latta, Darrell Bossard, and Josh Ferry for the $800 Pace Performance Weekly Series victory.
"Man this track is beautiful- I wish we could race here a lot more," expressed the 30-year-old Centerville, Pa. racer. "There were eight grooves out there and you could race on every inch of it. This was one of the best race tracks I've ever raced at in my life- that's a true story. We used to race here all the time when the race track wasn't real nice. They need to let us come here and race now that it's one of the nicest places around- crates or supers. I have to thank Sharon for having the RUSH race and maybe we can have a few more. Once we got going before that late yellow, I felt pretty good. I wasn't sure if I was getting away from those guys, but I was pretty confident. Anything can happen on restarts; I just kept trying to change my entry up a little bit to keep those guys behind me guessing on what I was going to do."
Blair used his patented inside lane to sneak under Bossard and Billy Henry, Jr. on the opening lap for the lead, while Henry, Bossard, Ferry, and Jason Genco filled out the top five. Fifth starting Ferry, a two-time Sharon Econo Mod winner is in his first year of RUSH Late Model racing, made a nice move following a restart on lap two to race into second. Latta started sixth and was on the charge as he passed Bossard for third on lap five.
A caution for Dave Airgood slowed action with seven laps scored. Latta had a poor restart when racing resumed on lap eight as Bossard and Genco were able to regain third and fourth respectively. While Blair set a torrid pace out front, excellent racing took place from second on back as positions were changing frequently. Ferry and Bossard raced side-by-side lap after lap with Bossard getting back to second on lap 14. Traffic came into play on lap 16, but Blair maintained a comfortable lead until the event's final caution was displayed for Gary Youngs with 19 laps scored.
Back under green for the final time, Latta was making the top work as he charged back to second taking the position from Bossard on lap 21. It looked like Latta may have had something for Blair, but Blair changed lines as he moved up to slow Latta's charge. Blair appeared to have more speed in the closing laps using a different lane around the racey 3/8-mile track.
Blair would take the checkered flag first in his Murphy's Logging/C&J Dairy/Previty's Auto Wrecking/Specialty Products/Moody & Son Welding/Upstate Auto-sponsored #111 for his eighth career Sharon RUSH Late Model win. Latta got too high in turn four on the final lap stuffing his car in the fence allowing Bossard to cross the line in second 1.974 seconds behind Blair. Ferry was third over New York's Genco. RUSH's "Futures Cup" points leader, Logan Zarin, went ninth to fifth as Breyton Santee, Justin Kann, Michigan's Colby Beighey, and Cole Petrelle rounded out the top 10. Latta, Ferry, and Genco won the heats over the 22-car field.
Brian Ruhlman had finished second in three of the last four RUSH Sprint Car races at Sharon dating back to last season. In fact, Ruhlman had been the bridesmaid numerous times over the past three seasons in RUSH competition throughout the circuit. On Friday night, Ruhlman started sixth and used every inch of the surface making the winning pass around the outside of Equipment Rental Options Weekly Series points leader, Jeremy Weaver, on lap 16 to capture his first career RUSH Sprint win, worth $500. Ruhlman also became the third different winner in as many 2020 races.
"The track was beautiful- we drive four hours to come here and run and we'd be here every week if you'd have us," expressed the 50-year-old Clarklake, MI driver. "You have to be on the wheel on these cars. I started to run a '410' non-wing car- they are way quicker than these so it makes it quicker to find the limit. It's all driver control in these cars so it leaves it up to the driver. I saw some Kyle Larson kid run the top here a couple months ago so I figured I'd try it and put it up there. I have to thank Veronica- it's just her and I."
Jarod Larson raced to the early lead with Weaver passing Andy Feil on the opening lap. After a caution for Brandon Blackshear, Weaver snuck under Larson in turn four for second when racing resumed on lap three with Ruhlman passing Shawn Smith for fourth. While Weaver led, the battle was on for second with Larson trying to fend off Feil and Ruhlman.
Following a restart for Nolan Groves' spin with eight laps completed, Ruhlman charged past Feil for third bringing ninth starting Steve Pedley with him. Ruhlman continued to move forward nipping Larson at the line for second on lap 13. Ruhlman then got the caution he needed when rookies Tyler Newhart and Brandon Shughart spun with 15 laps scored. When racing resumed, Ruhlman went to the top and powered around Weaver to lead the 16th circuit.
Ruhlman led the final five laps in his Ruhlman Race Cars/Ruhlman Engineering-sponsored #49 for his second career Sharon win as he won in an Outlaw Mod on June 8, 2019 in route to the "Bickerstaff Cup" championship. Larson was able to get back by Weaver to cross the finish in second, but was disqualified in post-race tech for his RPMs exceeding the mandated 6,200 on his rev box. Weaver was then credited for second.
Pedley, who won his first career race on July 12, had another good run in third. Feil dropped to fourth. Big-Block Modified racer Rick Regalski, Jr. finished fifth in his first RUSH start driving Scott Clever's #14. Brian Hartzell, Smith, Jeremy Kornbau, Groves, and A.J. MacQuarrie completed the top 10. Ruhlman and Smith won the heat races over the 17-car field.
Defending and two-time RUSH Sportsman Modified Weekly Series Champion, Garrett Krummert, led from start-to-finish in an uncharacteristic caution-filled 20-lap HTMA/Precise Racing Products feature. Krummert's first Sharon win of the season was far from easy as he had to fend off Wedge Motorsports "Route 7 Rumble" Series points leader Rob Kristyak taking the win by a mere 0.116 of a second for the $600 payday. Special thanks to Alcon Mechanical, C&R Tire, Jerry Rents, Ohio Intra Express, and T&C Automotive for the sponsorship to allow the RUSH Sportsman Modifieds to have a complete show on Friday night as well.
"Not being able to race here every week really makes you appreciate this place," acknowledged the 32-year-old Ellwood City, Pa. resident. "I'm glad we could come out and race tonight. It's a shame that race was so long and too many cautions, but it is what it is. The track was really good for cars not being on it for awhile. Ever since they went to the red clay the track has been really good and I enjoy coming here."
A heads up start put Krummert on the pole of the feature as he took off in the lead over Josh Deems, Tony Tatgenhorst, and fifth starting Kristyak. On the lap three restart, Kristyak passed both Tatgenhorst and Deems for second. While Krummert continued to maintain the top spot through of bevy of restarts, Kristyak and Deems resumed their heat race battle running side-by-side for P2 on laps 16-18 before the event's final caution with 18 laps scored.
This set up a two-lap dash to the checkered flag and gave Kristyak one more shot. The two raced side-by-side with Krummert on the bottom and Kristyak on the top. It appeared like Kristyak may be able to pull off the win entering turn three on the final lap as he had the advantage, but Krummert got enough bite off the bottom of turn four to secure the victory. Krummert's sixth career RUSH Mod victory and seventh overall at Sharon came in the Jerry Schaffer Racing/Turn 4 Toilets-sponsored #10s.
Deems, who always runs well at Sharon, was third over Tatgenhorst. Chas Wolbert charged back through the field to finish fifth after an early flat tire. Kyle Martell was sixth. Jordan Ehrenberg had a good run going 15th to seventh over two-time track champion Kole Holden. David Kalb, Jr. and RUSH Mod "Futures Cup" points leader Ayden Cipriano completed the top 10. Krummert, Deems, and Tatgenhorst won the heat races over the 27-car field.
The Sportsman Dwarf Cars made their annual appearance at the track and it was Shayne Meadows garnering his first career Sharon victory. Meadows made the winning pass on lap five from Doug Stanley to score the $600 victory in the 15-lap feature presented by Joe's Radiator with associate sponsorship from Waterstone Mortgage, R. Tumbleweed Transportation, and Cipriano Racing.
"I love driving these cars," stated the Deerfield, Ohio driver. "I drive a Mod Lite at Deerfield (Good's Raceway) and this is my first time in this car and it's rocket. We have a blast coming here and I love it. I still like the Mod Lites, but if you keep bringing the Dwarfs back I'll be here every year. I have to thank Terry Ohl; he owns this car and let me drive it tonight. I want to thank all the fans for coming out and supporting this. I hope everyone gets home safe."
It was four-wide for the lead on the opening lap with Joe Grzelak, Jr. going third to first over Jake Eakin, Steve Mix, and Stanley. Mix and Grzelak would be involved in spins in successive laps as Stanley took over the top spot on lap two. Meadows started back in ninth and raced side-by-side for the lead with Stanley on laps four and five before taking over for good on the fifth circuit.
Three cautions on laps 12, 13, and 14 gave Stanley additional chances at Meadows, but was unable to unseat the leader and eventual winner. Stanley, a former Sprint Car racer throughout eastern Ohio and western Pennsylvania, was second. Angie Grzelak beat her brother Joe to the finish for third as another female in Tiffany Williams was fifth. Eakin and Joe Grzelak were heat victors over the 22-car field.
Picking up Penn-Ohio Pro Stock Championship heat races were Chris McGuire, Bobby Whitling, Noah Brunnel, Alan Dellinger, and Chris Schneider over the 43-car field.
The four heat races for the Elite Econo Mod Series each paid $100 to-win and were won by Jeremy Double, Nate Young, Ty Rhoades, and Alan Dellinger. There were 32 cars for night one of the inaugural "Kyle Miller Memorial".
Apple Festival Nationals
Sharon Speedway
Hartford, Ohio
Friday September 11, 2020
Feature:
1. 49-Brian Ruhlman
2. 41-Jeremy Weaver
3. 21-Steve Pedley
4. 9J-Andy Feil
5. 14-Rick Regalski, Jr.
6. 69-Brian Hartzell
7. 36-Shawn Smith
8. 8-Jeremy Kornbau
9. 25-Nolan Groves
10. 69X-A.J. MacQuarrie
11. 55-Matt Sherlock
12. 12-Ryan Fraley
13. 16C-Amelia Clay
14. 29-Brandon Shughart
15. 13-Tyler Newhart
16. 10-Brandon Blackshear
DQ: 47-Jarod Larson