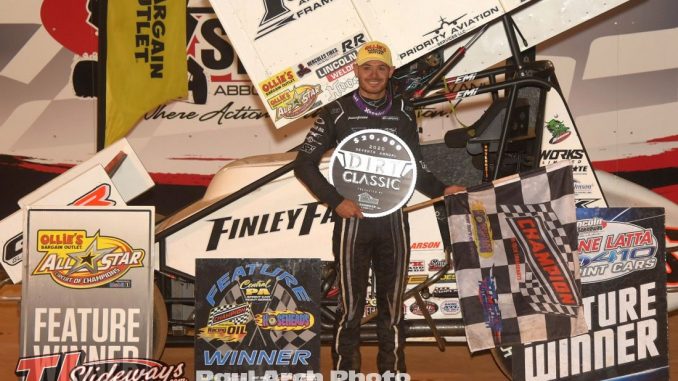 From Tyler Altmeyer
ABBOTTSTOWN, PA (September 19, 2020) — For the 14th time of 2020, Elk Grove, California's Kyle Larson found his way to Ollie's Bargain Outlet All Star Circuit of Champions presented by Mobil 1 victory lane, and a big trip it was, scoring Lincoln Speedway's Dirt Classic 7 for a $20,000 top prize.
Dominating much of the evening program, Larson, aboard the Paul Silva-owned/Finley Farms/Durst/Lucas Oil/Tarlton and Sons/No. 57 sprint car, led every circuit of the 40-lap finale, kicking things off in the Pigeon Hills with a win in each of his respective Dirt Classic heat races. Impressive enough, the Lincoln Speedway win is actually Larson's second of the week, first securing $6,900 during the unsanctioned Weldon Sterner Memorial on Wednesday, September 16.
With all victories across all divisions included, Larson now owns 39 wins in 2020.
"My car felt great all night, so I was really happy about that. To get the win in our second heat race allowed us to carry that momentum into the feature," Kyle Larson explained, who leads the 2020 All Star Circuit of Champions win count. "Central Pennsylvania is as tough as it gets. The first couple years coming out here, I only got to run maybe seven or eight times, but now that I've been coming out here a lot more with Paul (Silva), we've been quick. It just shows how good Paul prepares these cars and what our team is able to do. We certainly couldn't do it without everyone who helps."
Larson was relatively unchallenged during the entire 40-lap program with his only disturbances in the form of cautions; a pair of yellow flags on lap 26 and 31, and one red flag stoppage on lap 35.
Dillsburg's Anthony Macri chased Larson for much of the Dirt Classic main event, snagging second from Rico Abreu on lap three and maintaining that position until the caution on lap 31. The ensuing restart allowed two-time All Star champion, Aaron Reutzel, and former full-time Outlaw contender, Brent Marks, to drive by the Macri Concrete No. 39M. The red flag stoppage on lap 35 for a tangled Paul McMahan and Danny Dietrich allowed Reutzel the opportunity to restart on the tail tank of the familiar No. 57, but Larson proved to be too much to overcome, driving off to score the $20,000 payday.
Aaron Reutzel finished second, followed by Brent Marks, Rico Abreu and Anthony Macri.
"Those last 15 or so laps, the cautions really worked out for me," Larson continued. "That allowed me to just kinda focus on the track in front of me, as well as keep the tires underneath me. The first 25 laps were fun, too. When I caught traffic, I really wasn't sure what to do because all of the lap cars were kinda the same speed. I never really saw a nose inside of me, so I didn't feel pressured much.
"Thanks to all of the fans for coming out and supporting this race. We always talk about the competition in Pennsylvania, but the race fans are second to none. We love coming out here and getting to see everyone."
Dirt Classic VII
Ollie's Bargain Outlet All Star Circuit of Champions presented by Mobil 1
Lincoln Speedway
Abbottstown, Pennsylvania
Friday September 19, 2020
Lincoln Electric Qualifying:
1. 1X-Chad Trout, 13.453[4]
2. 87-Aaron Reutzel, 13.545[28]
3. 3Z-Brock Zearfoss, 13.551[1]
4. 51-Freddie Rahmer, 13.566[11]
5. 24-Rico Abreu, 13.567[35]
6. 18-Giovanni Scelzi, 13.589[29]
7. 57-Kyle Larson, 13.605[37]
8. 07-Gerard McIntyre Jr, 13.652[5]
9. 39M-Anthony Macri, 13.668[52]
10. 11-Zeb Wise, 13.691[50]
11. 26-Cory Eliason, 13.719[33]
12. 21-Brian Brown, 13.738[40]
13. 17-Ian Madsen, 13.752[23]
14. 50-Chase Dietz, 13.755[9]
15. 39-Justin Peck, 13.783[17]
16. 16-Matt Campbell, 13.785[13]
17. 13-Paul McMahan, 13.802[46]
18. 99M-Kyle Moody, 13.805[24]
19. 2M-Kerry Madsen, 13.809[48]
20. 11T-TJ Stutts, 13.840[31]
21. 55K-Robbie Kendall, 13.844[18]
22. 69K-Lance Dewease, 13.857[15]
23. 69-Tim Glatfelter, 13.872[19]
24. 87K-Alan Krimes, 13.897[20]
25. 59-Jim Siegel, 13.899[22]
26. 5C-Dylan Cisney, 13.904[26]
27. 19-Troy Wagaman Jr, 13.907[12]
28. 91-Kyle Reinhardt, 13.943[25]
29. 21M-Brian Montieth, 13.946[45]
30. 99-Skylar Gee, 13.948[2]
31. 8-Billy Dietrich, 13.948[27]
32. 24W-Lucas Wolfe, 13.952[14]
33. 14-Tony Stewart, 13.962[42]
34. 20-Tanner Thorson, 13.969[6]
35. 5-Brent Marks, 13.976[39]
36. 15-Adam Wilt, 13.980[7]
37. 10X-Ryan Smith, 13.995[36]
38. 23-Chris Arnold, 14.031[10]
39. 5E-Tim Wagaman II, 14.063[21]
40. 88-Brandon Rahmer, 14.080[34]
41. 48-Danny Dietrich, 14.090[49]
42. 12-Brent Shearer, 14.121[16]
43. 19M-Landon Myers, 14.188[43]
44. 75-Tyler Ross, 14.258[53]
45. 2W-Glenndon Forsythe, 14.261[41]
46. 73B-Brett Michalski, 14.273[51]
47. 97-Brie Hershey, 14.273[30]
48. 16A-Aaron Bollinger, 14.287[3]
49. W20-Greg Wilson, 14.291[44]
50. 54-Zach Newlin, 14.332[38]
51. 90-Jordan Givler, 14.440[47]
52. B15-Justin Foster, 14.475[8]
53. 44-Dylan Norris, 14.489[32]
Ford Performance Heat Race #1 (8 Laps):
1. 55K-Robbie Kendall[4]
2. 39-Justin Peck[3]
3. 07-Gerard McIntyre Jr[2]
4. 1X-Chad Trout[1]
5. 87K-Alan Krimes[5]
6. 19-Troy Wagaman Jr[6]
7. 15-Adam Wilt[8]
8. 8-Billy Dietrich[7]
9. 12-Brent Shearer[9]
All Pro Aluminum Cylinder Heads Heat Race #2 (8 Laps):
1. 17-Ian Madsen[2]
2. 3Z-Brock Zearfoss[1]
3. 69K-Lance Dewease[4]
4. 91-Kyle Reinhardt[6]
5. 59-Jim Siegel[5]
6. 24W-Lucas Wolfe[7]
7. 23-Chris Arnold[8]
8. 16A-Aaron Bollinger[9]
DNS: 16-Matt Campbell
Hunt Brothers Pizza Heat Race #3 (8 Laps):
1. 99M-Kyle Moody[3]
2. 50-Chase Dietz[2]
3. 69-Tim Glatfelter[4]
4. 51-Freddie Rahmer[1]
5. 99-Skylar Gee[6]
6. 5C-Dylan Cisney[5]
7. 5E-Tim Wagaman II[8]
8. 20-Tanner Thorson[7]
9. B15-Justin Foster[9]
Mobil 1 Heat Race #4 (8 Laps):
1. 57-Kyle Larson[2]
2. 87-Aaron Reutzel[1]
3. 2M-Kerry Madsen[4]
4. 26-Cory Eliason[3]
5. 14-Tony Stewart[5]
6. 88-Brandon Rahmer[6]
7. 75-Tyler Ross[7]
8. 90-Jordan Givler[9]
9. 97-Brie Hershey[8]
Kistler Racing Products Heat Race #5 (8 Laps):
1. 24-Rico Abreu[1]
2. 39M-Anthony Macri[2]
3. 5-Brent Marks[5]
4. 21-Brian Brown[3]
5. 48-Danny Dietrich[6]
6. 44-Dylan Norris[9]
7. 11T-TJ Stutts[4]
8. W20-Greg Wilson[8]
9. 2W-Glenndon Forsythe[7]
Ford Performance Heat Race #6 (8 Laps):
1. 18-Giovanni Scelzi[1]
2. 13-Paul McMahan[3]
3. 11-Zeb Wise[2]
4. 10X-Ryan Smith[5]
5. 21M-Brian Montieth[4]
6. 73B-Brett Michalski[7]
7. 19M-Landon Myers[6]
8. 54-Zach Newlin[8]
Ford Performance Heat Race #7 (8 Laps):
1. 87K-Alan Krimes[4]
2. 15-Adam Wilt[1]
3. 8-Billy Dietrich[2]
4. 19-Troy Wagaman Jr[3]
5. 39-Justin Peck[6]
6. 55K-Robbie Kendall[5]
7. 1X-Chad Trout[8]
8. 12-Brent Shearer[9]
9. 07-Gerard McIntyre Jr[7]
All Pro Aluminum Cylinder Heads Heat Race #8 (8 Laps):
1. 23-Chris Arnold[1]
2. 24W-Lucas Wolfe[2]
3. 91-Kyle Reinhardt[3]
4. 69K-Lance Dewease[5]
5. 17-Ian Madsen[7]
6. 59-Jim Siegel[4]
7. 3Z-Brock Zearfoss[8]
8. 16A-Aaron Bollinger[9]
DNS: 16-Matt Campbell
Hunt Brothers Pizza Heat Race #9 (8 Laps):
1. 5E-Tim Wagaman II[1]
2. 5C-Dylan Cisney[4]
3. 20-Tanner Thorson[2]
4. 99-Skylar Gee[3]
5. 69-Tim Glatfelter[5]
6. 99M-Kyle Moody[6]
7. 51-Freddie Rahmer[8]
8. 50-Chase Dietz[7]
9. B15-Justin Foster[9]
Mobil 1 Heat Race #10 (8 Laps):
1. 57-Kyle Larson[7]
2. 88-Brandon Rahmer[3]
3. 14-Tony Stewart[4]
4. 26-Cory Eliason[6]
5. 2M-Kerry Madsen[5]
6. 87-Aaron Reutzel[8]
7. 75-Tyler Ross[2]
8. 97-Brie Hershey[1]
9. 90-Jordan Givler[9]
Kistler Racing Products Heat Race #11 (8 Laps):
1. 48-Danny Dietrich[3]
2. 5-Brent Marks[4]
3. W20-Greg Wilson[1]
4. 39M-Anthony Macri[7]
5. 21-Brian Brown[6]
6. 24-Rico Abreu[8]
7. 11T-TJ Stutts[5]
8. 2W-Glenndon Forsythe[2]
9. 44-Dylan Norris[9]
All Pro Aluminum Cylinder Heads Heat Race #12 (8 Laps):
1. 10X-Ryan Smith[4]
2. 54-Zach Newlin[1]
3. 73B-Brett Michalski[2]
4. 19M-Landon Myers[3]
5. 21M-Brian Montieth[5]
6. 13-Paul McMahan[6]
7. 18-Giovanni Scelzi[8]
8. 11-Zeb Wise[7]
Computer Man Inc C-Main (10 Laps):
1. 19M-Landon Myers[1]
2. 20-Tanner Thorson[4]
3. 75-Tyler Ross[7]
4. 54-Zach Newlin[5]
5. 44-Dylan Norris[9]
6. W20-Greg Wilson[6]
7. 12-Brent Shearer[12]
8. 16A-Aaron Bollinger[11]
9. 97-Brie Hershey[10]
10. B15-Justin Foster[14]
DNS: 16-Matt Campbell
DNS: 2W-Glenndon Forsythe
DNS: 90-Jordan Givler
DNS: 88-Brandon Rahmer
DNS: 11T-TJ Stutts
Classic Ink USA B-Main (12 Laps):
1. 50-Chase Dietz[1]
2. 14-Tony Stewart[4]
3. 69-Tim Glatfelter[2]
4. 48-Danny Dietrich[3]
5. 5C-Dylan Cisney[8]
6. 07-Gerard McIntyre Jr[6]
7. 88-Brandon Rahmer[9]
8. 91-Kyle Reinhardt[7]
9. 11-Zeb Wise[5]
10. 19M-Landon Myers[19]
11. 24W-Lucas Wolfe[11]
12. 19-Troy Wagaman Jr[13]
13. 21M-Brian Montieth[10]
14. 59-Jim Siegel[14]
15. 99-Skylar Gee[12]
16. 73B-Brett Michalski[16]
17. 20-Tanner Thorson[20]
18. 23-Chris Arnold[15]
19. 5E-Tim Wagaman II[17]
DNS: 15-Adam Wilt
Ollies Bargain Outlet A-Main (40 Laps):
1. 57-Kyle Larson[1]
2. 87-Aaron Reutzel[5]
3. 5-Brent Marks[10]
4. 24-Rico Abreu[2]
5. 39M-Anthony Macri[3]
6. 3Z-Brock Zearfoss[7]
7. 26-Cory Eliason[11]
8. 99M-Kyle Moody[9]
9. 17-Ian Madsen[4]
10. 2M-Kerry Madsen[18]
11. 18-Giovanni Scelzi[6]
12. 39-Justin Peck[8]
13. 69K-Lance Dewease[16]
14. 10X-Ryan Smith[13]
15. 55K-Robbie Kendall[12]
16. 87K-Alan Krimes[14]
17. 14-Tony Stewart[22]
18. 50-Chase Dietz[21]
19. 21-Brian Brown[20]
20. 51-Freddie Rahmer[19]
21. 13-Paul McMahan[17]
22. 48-Danny Dietrich[24]
23. 1X-Chad Trout[15]
24. 69-Tim Glatfelter[23]
25. 59-Jim Siegel[26]
26. 88-Brandon Rahmer[25]