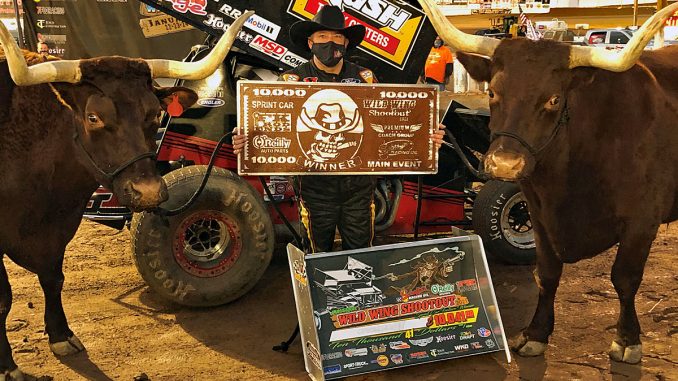 Lonnie Wheatley
SAN TAN VALLEY, Ariz. (January 24, 2021) – Elements be damned, as neither rain nor a talented field of 410-ci Sprint Cars could stop Tony Stewart from taking top honors in Sunday's "Wild Wing Shootout" weekend finale at Arizona Speedway.
After establishing a new track record of 12.395 seconds in qualifying, "Smoke" redrew the pole position for the feature after heat race action and then set the pace for the entirety of the 35 lap main event aboard the Ford-powered Rush Truck Centers/Advance Auto Parts No. 14 J&J en route to the $10,000 payday.
"This is the best track I think we've had all week, it's amazing what the weather will do to it," Stewart commented in victory lane. "It was just about not breaking the momentum when we got to lapped traffic, just trying to find the rights spots and right moments to get underneath people and put them a lap down."
After the initial start of the feature was waved off for a turn four tangle involving fifth-starting Carson Macedo and Tim Kaeding, Stewart jumped into the initial lead with fellow front row starter D.J. Netto and fourth-starter Dominic Scelzi giving chase.
With traffic coming into play after just a half-dozen circuits, Netto kept Stewart in his sights and was closing the gap when the race's only caution flew after 25 laps when Buddy Kofoid slowed. Kofoid, who was gunning for a sweep of the weekend, had worked his way forward from the 11th starting position up to sixth before the race-ending mechanical gremlins cut his race short.
Stewart jumped back into the lead on the restart with Scelzi making his way past Netto for second. While Stewart ripped around the upper portion of the track in the closing circuits, Scelzi dove to the middle of turns three and four in an effort to close in and challenge for the point.
Scelzi got within several car-lengths in the final laps but was unable to mount a serious challenge on Stewart, settling for his best finish of the weekend in second aboard the SE Inc. No. 41.
"Once I got to second, I just got greedy and started trying to get back to the gas earlier and earlier because I noticed I was getting closer in three and four," Scelzi explained.
After a fuel nozzle fitting cut short an apparent top-five run on Saturday, Netto filled out the podium in third aboard the Netto Ag No. 88n.
"I really didn't want to see that late caution, we were starting to get in traffic and I was starting to stay with him. I felt like our car was just as good in dirty air," Netto said. "We had a bit of stumble on that restart and that allowed Dominic to get by."
Rico Abreu worked his way to fourth with Cory Eliason rounding out the top five. Donny Schatz picked off three positions in the final five laps to snare sixth while Macedo rallied back through the field after the opening lap incident to salvage a seventh-place finish. After sliding past Scelzi momentarily for third in the early stages of the race, Aaron Reutzel settled for eighth with Giovanni Scelzi and Sammy Swindell completing the top ten.
After Stewart established the new track standard of 12.395 seconds in qualifying, D. Scelzi, Netto and Macedo picked off heat race wins.
"Wild Wing Shootout"
Arizona Speedway
San Tan Valley, Arizona
Saturday January 23, 2021
Fast Qualifier: 14-Tony Stewart, 12.395
Qualifying: 1. 14-Tony Stewart, 12.395; 2. 83-Aaron Reutzel, 12.396; 3. 26-Cory Eliason, 12.403; 4. 57-Rico Abreu, 12.442; 5. 15-Donny Schatz, 12.456; 6. 69k-Lance Dewease, 12.490; 7. 41-Dominic Scelzi, 12.511, 8. 42x-Tim Kaeding, 12.525, 9. 18-Giovanni Scelzi, 12.573; 10. 19az-Buddy Kofoid, 12.584; 11. 88n-D.J. Netto, 12.626; 12. 21-Carson Macedo, 12.635; 13. 18T-Tanner Holmes, 12.679; 14. 93-Kalib Henry, 12.694; 15. 1-Robbie Price, 12.761; 16. 5T-Ryan Timms, 12.775; 17. 37-Mitchell Faccinto, 12.791; 18. 56-Sammy Swindell, 12.829; 19. 14T-Tim Estenson, 13.105; 20. 18s-Jason Solwold, 13.408; 21. 21b-A.J. Bender, 13.462; 22. 75-Brian Boswell, 14.183.
Heat Race #1:
1. 41S-Dominic Scelzi
2. 14-Tony Stewart
3. 19AZ-Michael Kofoid
4. 57-Rico Abreu
5. 5T-Ryan Timms
6. 14T-Tim Estenson
7. 75-Brian Boswell
8. 18T-Tanner Holmes
Heat Race #2:
1. 88N D.J. Netto
2. 15-Donny Schatz
3. 42X-Tim Kaeding
4. 83-Aaron Reutzel
5. 93-Kalib Henry
6. 37-Mitchell Faccinto
7. 18S-Jason Solwold
Heat Race #3:
1. 21-Carson Macedo
2. 18-Giovanni Scelzi
3. 26-Cory Eliason
4. 56-Sammy Swindell
5. 69K-Lance Dewease
6. 1-Robbie Price
7. 21B-A.J. Bender
A-Main:
1. 14-Tony Stewart
2. 88N D.J. Netto
3. 41S-Dominic Scelzi
4. 83-Aaron Reutzel
4. 57-Rico Abreu
5. 26-Cory Eliason
6. 19AZ-Michael Kofoid
7. 18-Giovanni Scelzi
8. 15-Donny Schatz
9. 21-Carson Macedo
10. 56-Sammy Swindell
11. 1-Robbie Price
12. 42X-Tim Kaeding
13. 18T-Tanner Holmes
14. 37-Mitchell Faccinto
15. 5T-Ryan Timms
16. 14T-Tim Estenson
17. 21B A.J. Bender
18. 69K-Lance Dewease
19. 93-Kalib Henry
20. 75-Brian Boswell
21. 18S-Jason Solwold