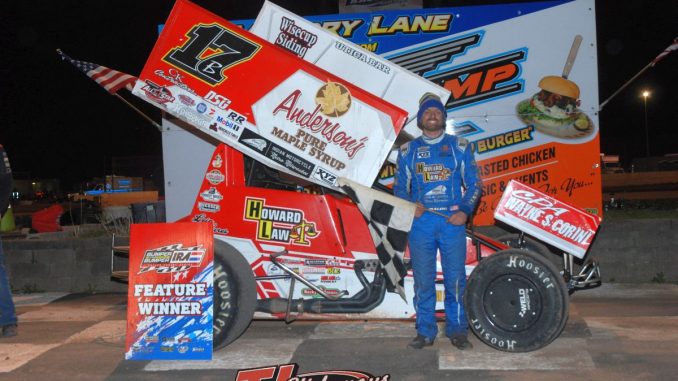 By Gared Tennyson
The 2021 Bumper to Bumper Interstate Racing Association season has been filled with changes. Over the off season, 10 time series champion Bill Balog vacated the seat of the Rhine Auto team and elected to take his own B Squared Motorsports team on the road with the All Star Circuit of Champions. Former champion Jake Blackhurst filled the Rhine Auto seat which made room for Scotty Thiel to combine his Scott Thiel Motorsports operations with the Oz Motorsports team which Blackhurst formally drove. Add to those changes a new class of rookies including Bailey Goldsberry, Jack Berger and Kyle Schuett, and everyone is excited to see what the new season has in store.
With the opening weekend washed out, Beaver Dam Raceway would play host to the first night of the season. 25 cars entered for the night, including Bill Balog who had an off weekend from his All Star commitments. The midweek choice to run Beaver Dam paid off in a big way for Balog, who had a Hans Lein owned Mopar engine under the hood, as he was able to time in 2nd quick and lock into the dash. After starting 6th in the A main, Balog used a great start to propel himself to the lead in less than a lap. The Anderson's Pure Maple Syrup 17B never looked back, leading all 30 laps en route to victory.
Behind Balog was Blake Nimee, who didn't make much noise in the off season, but returning to the seat of the SRF Painting and Staining 79 he proved that fans should not overlook him as he moved from 4th to 2nd in the dash and quickly moved from 3rd to 2nd in the A. He was able to keep Balog in his sights for the duration of the race but just could not quite beat the veteran in lapped traffic.
Nimee fended off challenges from three drivers who were possibly the most talked about over the off season as championship hopefuls. These challenges came from Scottt Thiel, Jake Blackhurst and eventual 3rd place finisher Jordan Goldesberry, who came into 2021 with a whole new look. Gone is Goldesberry's well known yellow and blue of old, and in their place are red and black Rockstar Energy colors.
While change has been the most talked about topic this off season, several drivers proved that keeping things the same could pay off as Jeremy Schultz set quick time and won a dash and Russel Borland picked up a heat race victory.
The IRA will be back in action May 1st at Wilmot Raceway in Wilmot, Wisconsin. For any fans that are unable to attend in person, be sure to check us out on Flo Racing!
Interstate Racing Association
Beaver Dam Raceway
Beaver Dam, Wisconsin
Saturday April 24, 2021
Osborn and Son Trucking Qualifying
1. 5J-Jeremy Schultz, 13.500[15]
2. 17B-Bill Balog, 13.603[3]
3. 10W-Mike Reinke, 13.699[6]
4. 73-Scotty Thiel, 13.792[16]
5. 65-Jordan Goldesberry, 13.812[1]
6. 14R-Sean Rayhall, 13.853[4]
7. 39-Jake Blackhurst, 13.895[18]
8. 79-Blake Nimee, 13.963[25]
9. 23-Russel Borland, 14.131[19]
10. 2W-Scott Neitzel, 14.133[17]
11. 20R-Rob Pribnow, 14.138[21]
12. 9K-Kyle Schuett, 14.217[7]
13. 35-Skylar Prochaska, 14.262[10]
14. 4K-Kris Spitz, 14.313[13]
15. 43-Jereme Schroeder, 14.495[9]
16. 4B-Scott Biertzer, 14.544[22]
17. 25-Danny Schlafer, 14.664[20]
18. 4-Bailey Goldesberry, 14.670[5]
19. 29-Hunter Custer, 14.944[14]
20. 45-Matt Wiese, 14.986[8]
21. 4TJ-Brian Kristan, 15.192[23]
22. 68-Dave Uttech, 15.354[12]
23. 39D-Michael Decker, 15.868[24]
24. 19B-Jack Berger[2]
25. 61-Zach Hansen[11]
All Star Performance \ Heat Race #1 (10 Laps)
1. 39-Jake Blackhurst[2]
2. 73-Scotty Thiel[3]
3. 2W-Scott Neitzel[1]
4. 5J-Jeremy Schultz[4]
5. 4B-Scott Biertzer[6]
6. 35-Skylar Prochaska[5]
7. 68-Dave Uttech[8]
8. 29-Hunter Custer[7]
DNS: 61-Zach Hansen
Vahlco Wheels Heat Race #2 (10 Laps)
1. 79-Blake Nimee[2]
2. 65-Jordan Goldesberry[3]
3. 17B-Bill Balog[4]
4. 25-Danny Schlafer[6]
5. 20R-Rob Pribnow[1]
6. 4K-Kris Spitz[5]
7. 45-Matt Wiese[7]
8. 39D-Michael Decker[8]
AutoMeter / DMI Heat Race #3 (10 Laps)
1. 23-Russel Borland[2]
2. 14R-Sean Rayhall[3]
3. 10W-Mike Reinke[4]
4. 4TJ-Brian Kristan[7]
5. 43-Jereme Schroeder[5]
6. 9K-Kyle Schuett[1]
7. 4-Bailey Goldesberry[6]
8. 19B-Jack Berger[8]
Dash #1 (4 Laps)
1. 5J-Jeremy Schultz[1]
2. 79-Blake Nimee[4]
3. 39-Jake Blackhurst[5]
4. 2W-Scott Neitzel[2]
5. 14R-Sean Rayhall[3]
Dash #2 (4 Laps)
1. 65-Jordan Goldesberry[1]
2. 10W-Mike Reinke[2]
3. 17B-Bill Balog[3]
4. 73-Scotty Thiel[4]
5. 23-Russel Borland[5]
Bumper to Bumper Auto Parts and Service Centers A-Main (30 Laps)
1. 17B-Bill Balog[6]
2. 79-Blake Nimee[3]
3. 65-Jordan Goldesberry[2]
4. 73-Scotty Thiel[8]
5. 39-Jake Blackhurst[5]
6. 2W-Scott Neitzel[7]
7. 5J-Jeremy Schultz[1]
8. 10W-Mike Reinke[4]
9. 14R-Sean Rayhall[9]
10. 23-Russel Borland[10]
11. 20R-Rob Pribnow[13]
12. 4K-Kris Spitz[18]
13. 9K-Kyle Schuett[16]
14. 43-Jereme Schroeder[14]
15. 19B-Jack Berger[24]
16. 25-Danny Schlafer[11]
17. 68-Dave Uttech[22]
18. 29-Hunter Custer[20]
19. 45-Matt Wiese[21]
20. 4TJ-Brian Kristan[12]
21. 35-Skylar Prochaska[17]
22. 4-Bailey Goldesberry[19]
23. 4B-Scott Biertzer[15]
24. 39D-Michael Decker[23]