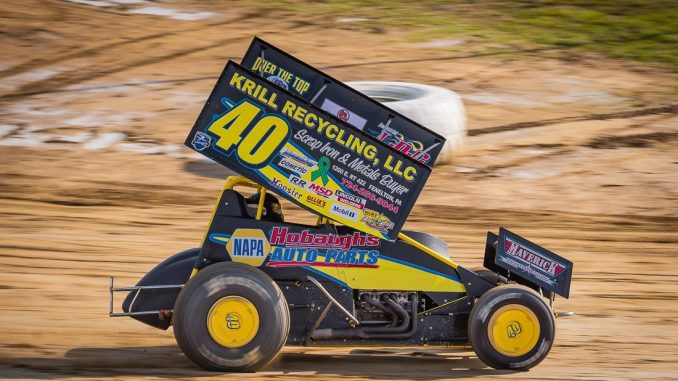 From Sharon Speedway
HARTFORD, Ohio (May 15, 2021) — After the first cancellation of 2021 last week, Sharon Speedway returned to action on Saturday night for race three of the 92nd anniversary season. The first "Super Series" event of the year saw George Hobaugh-Hovis Auto & Truck Supply "410" Sprint Cars, Curt J. Bish-Gibson Insurance Agency Pro Stocks, Garrett Krummert-HTMA/Precise Racing Products RUSH Sportsman Modifieds, and Will Thomas III-Whelen Econo Mods pick up victories on Krill Recycling and Mark Thomas Ford Night. A big field of 102 race cars filled the pits for the four-division show.
Back on July 7, 2018, George Hobaugh finished runner-up to Dave Blaney in the All Star Circuit of Champions "Lou Blaney Memorial" at Sharon. Then at the very next Sprint Car event at Sharon on August 4, Hobaugh was victorious for the very first time in his "410" career. Since then, it's been up and down for Hobaugh, who has bounced around running full-time with the All Stars, central Pennsylvania, and regional events failing to return to victory lane.
On Saturday night, Hobaugh took the lead on lap two from 2009 and 2010 track champion, Jack Sodeman, Jr., and never looked back dominating the 30-lap Hovis Auto & Truck Supply "410" Sprint Car feature. The $3,000 victory ended nearly a three-year winless drought for the 38-year-old Chicora, Pa. driver of the Krill Recycling/Laskowski Plumbing/Over the Top Truck Wash/Hobaugh`s Auto Parts-sponsored #40. Hobaugh's margin of victory was 1.932 seconds over sixth starting A.J. Flick, who backed up his Friday night runner-up finish at Lernerville Speedway with another P2.
Sye Lynch raced from 10th to third. Darren Pifer's fourth place was a career best "410" finish. Carl Bowser was fifth. Brandon Spithaler was the hard charger going 15th to sixth. Sodeman dropped to seventh. The father-son of Brent and Brandon Matus were eighth and ninth respectively. Leyton Wagner completed the top 10. Bob Felmlee set fast time overall against the 30-car field in qualifying with a lap of 14.714. Sodeman, Flick, and Kekich won the heat races, while Lernerville winner, Jason Shultz, went 10th to first in the last chance B main.
Sharon Speedway
Hartford, Ohio
Saturday, May 15, 2021
Winged 410 Sprint Cars
Feature:
1. 40-George Hobaugh
2. 2 A.J. Flick
3. 42-Sye Lynch
4. 23-Darren Pifer
5. 11-Carl Bowser
6. 22-Brandon Spithaler
7. 23J-Jack Sodeman Jr.
8. 33-Brent Matus
9. 13-Brandon Matus
10. 38-Leyton Wagner
11. 35W-Jeremy Weaver
12. 11J-David Kalb
13. 12J-Jonathan Jones
14. 19-Joe Kubiniec
15. 4w Eric L. Williams
16. 6-Bob Felmlee
17. 08-Dan Kuriger
18. 5K-Adam Kekich
19. 7K-Dan Shetler
20. 20B-Cody Bova
21. 35-Jason Shultz
22. 27K-Jeremy Kornbau
23. 16-Gerard McIntyre
24. 76-Davey Jones