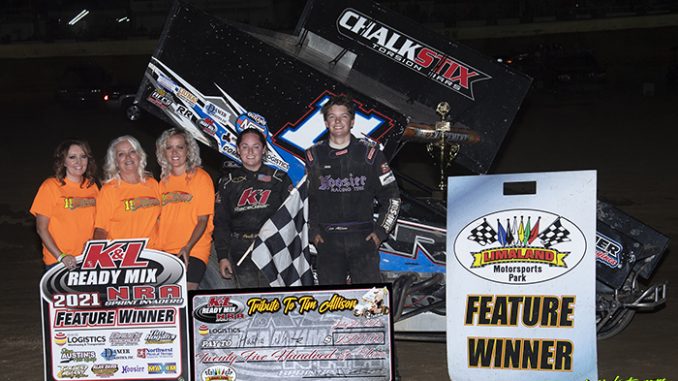 From Gerald Keysor
LIMA, Ohio (July 30, 2021) — Limaland Motorsports Park swung open the gates on Friday night to a huge crowd and a huge field of cars for the 24th Annual Season Championship Night / Family Fun Night / Tim Allison Tribute presented by Alexander and Bebout. Lindsay Oklahoma's Harli White would lead green to checkered in the K&L Ready Mix NRA Sprint Invader feature honoring the late Tim Allison. Andy Welch would secure his first ever Limaland Bud Thunderstock regular season feature win. Steve Irwin would grab the Non Wing Sprint feature victory, and Kyle Moore would pick up the Northwest Physical Therapy UMP Modified win. Todd Sherman wrapped up the Modified points title, and Tony Anderson would add yet another Thunderstock championship to his illustrious resume.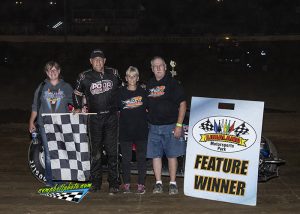 Kicking off the nights action were the K&L Ready Mix NRA Sprint Invaders in their 33 lap feature, honoring the memory of their fellow racer, "Mr. Excitement" Tim Allison. A full field of 22 cars hit the track for the A Main, presenting the crowd with a 4 abreast parade lap with Tim's grandson Caleb Harmon pacing the field behind the wheel of the Texas Roadhouse, Eagle 104.9, Conrad Construction No. 11 Sprint Car. After the parade lap, the field was ready to do battle with No. 11 Harli White on the pole and No. 17 Jared Horstman lined up to the outside of row 1. White would surge to the front and try to run away from the field. White would see lapped traffic by lap 5, and expertly manuevered her way through the heavy traffic. No. 22H Randy Hannagan made his way to 2nd and weaved his way through the traffic and began to close the gap on White. The yellow flag would come out on lap 15 for No. 16B Zane Devault coming to a stop with a flat right front. On the restart, White would take back off with the lead, stretching her advantage to over 2 seconds over Hannagan at the end. Horstman would finish 3rd, No. 66 Chase Dunham 4th, and No. 49 Shawn Dancer would complete the top 5.
Next up were the Bud Thunderstock in their 15 lap A Main. No. 22T Tony Anderson, and No. 87 Andy Welch would lead the field to green with Anderson grabbing the early lead, but Welch would get by on lap 2. Caution would fly on laps 2 and 6 involving No 89 Keith Shockency and No. 00 Jamie Sullivan. Anderson would battle back past Welch for the lead on lap 7, meanwhile No. 7C Jordan Conover who came into the night with a slim 2 point lead over No. 74D Crag Dippman, and 6 point over Anderson, found himself in a battle for 3rd with UNOH Racer Randy Giroux in the UNOH No. 11. Dippman's car would slow to a stop near the halfway point, ending his chance at the championship. Anderson needed to beat Conover by at least 4 spots in the A Main to surpass the 7C. It looked like Conover was set to pick up the championship, until a broken right front suspension ended his night and dashed his championship hopes. Welch would grab the feature win, with Anderson finishing 2nd and wrapping the points title. Giroux would finish 3rd, with No. 1M Jeff Matheny 4th, and No. 23 Casey Barr completing the top 5.
The always exciting Non Wing Sprint Cars were next on the track with No. 1H Korbyn Hayslett, and No. 0 Steve Irwin leading the field to green with Irwin getting out front early over Hayslett. No. 33M Matt Westfall would work his way past Hayslett on lap 4 but all eyes were on No. 24 Landon Simon, as he was riding the cushion to perfection and charging through the field until motor problems would bring his night to an end on lap 8. His cousin Kyle Simon in the No. 23s would battle for several laps with No. 21B Ryan Barr before getting by for the 4th spot for good on lap 9. Irwin would hold off a charge from Westfall to pick up the win. Westfall would come home 2nd with No. 2DI Dustin Ingle 3rd, Kyle Simon 4th, and Hayslett completing the top 5.
Completing the nights racing action were the Northwest Physical Therapy UMP Modifieds in their 20 lap A Main. Churubusco, Indiana's Todd Sherman only needed to start the A Main to seal the track championship, and he did that and more. No. 34X Shane O'Connor and No. 22T Tony Anderson led the field to green with Anderson grabbing the early lead after multiple attempts at the initial start. Mansfield, Ohio's Kyle Moore, in the Arnold Motorsports Kryptonite Chassis 1* would grab the lead on lap 4 and take off. Moore would never be seriusly challenged despite several cautions in the first half of the race. Sherman would charge to 2nd on lap 16, but Moore had too big of a lead for the Shermanator to overcome. Anderson would come home 3rd, with No 65x Terry Hull finishing 4th. Hull made his first start in several years since battling cancer and looked tremendous, battling from deep in the field. No 5A Brent Hole would complete the top 5
Limaland Motorsports Park will be back in action one final time in 2021 next Friday night August 6th for the 2021 Awards Celebration Night, King of the Quarter Mile , Pit Party – Presented By: Lock Sixteen, K&L Ready Mix, and the Ohio State Beauty Academy. Invitational events will be ran for the K&L Ready Mix NRA Sprint Invaders, Northwest Physical Therapy UMP Modifieds and Bud Thunderstocks. Then, drivers and teams will come to the grandstand side, where the 2021 Season Awards will be handed out. The drivers will head back to the track to compete in the King of the Quarter Mile events. Afterwards everyone is invited to head over to the pits for teh annual pit party with food and beverages provided as part of your admission. General admission is $15 for ages 16 and older for this final event of 2021, ages 11-15 are $7, and kids 10 and under admitted FREE. Pit passes are $30 for all ages. Pit passes are not needed to be a part of the pit party after the races. Pit gates open at 4PM, grandstand gates open at 5PM, with a special start time of 7PM for racing. A raindate of Saturday August 7th is set for this great event.
Limaland Motorsports Park
Lima, Ohio
Friday, July 31, 2021
K&L Ready Mix NRA Sprints
Qualifying –
1. 11W-Harli White, 11.43; 2. 28M-Conner Morrell, 11.59; 3. 17-Jared Horstman, 11.64; 4. 22H-Randy Hannagan, 11.66; 5. 66-Chase Dunham, 11.72; 6. 23-Devon Dobie, 11.76; 7. 17H-Hud Horton, 11.87; 8. 2S-Kyle Sauder, 11.89; 9. 49-Shawn Dancer, 11.99; 10. 22M-Dan Mccarron, 12.01; 11. 10X-Dustin Stroup, 12.06; 12. 16B-Zane Devault, 12.08; 13. 2-Ricky Peterson, 12.09; 14. 35-Ron Blair, 12.09; 15. 5J-Jake Hesson, 12.09; 16. 96J-Stuart Williams, 12.13; 17. 24TN-Landon Simon, 12.14; 18. 9R-Logan Riehl, 12.17; 19. 28V-Shawn Valenti, 12.20; 20. 11N-Ed Neumister, 12.27; 21. 3X-Brandon Riehl, 12.30; 22. 37-Noah Dunlap, 12.38; 23. 24-Kobe Allison, 12.41; 24. 48-Nicholas Hull, 12.46; 25. 11G-Luke Griffith, 12.57; 26. 51-Garrett Craine, 12.62; 27. 6-Jimmy Ward Jr, 12.64; 28. 1-Steve Niese, 12.88; 29. 20I-Kelsey Ivy, 100.00
Heat 1 – (8 Laps – Top 4 Transfer)
1. 49-Shawn Dancer; 2. 66-Chase Dunham; 3. 11W-Harli White; 4. 11G-Luke Griffith; 5. 3X-Brandon Riehl; 6. 2-Ricky Peterson; 7. 24TN-Landon Simon; 8. 20I-Kelsey Ivy
Heat 2 – (8 Laps – Top 4 Transfer)
1. 23-Devon Dobie; 2. 35-Ron Blair; 3. 22M-Dan Mccarron; 4. 9R-Logan Riehl; 5. 28M-Conner Morrell; 6. 37-Noah Dunlap; 7. 51-Garrett Craine
Heat 3 – (8 Laps – Top 4 Transfer)
1. 17-Jared Horstman; 2. 17H-Hud Horton; 3. 24-Kobe Allison; 4. 10X-Dustin Stroup; 5. 5J-Jake Hesson; 6. 28V-Shawn Valenti; 7. 6-Jimmy Ward Jr
Heat 4 – (8 Laps – Top 4 Transfer)
1. 16B-Zane Devault; 2. 22H-Randy Hannagan; 3. 96J-Stuart Williams; 4. 2S-Kyle Sauder; 5. 11N-Ed Neumister; 6. 48-Nicholas Hull; 7. 1-Steve Niese
Dash – (6 Laps – Top 8 Transfer)
1. 11W-Harli White; 2. 17-Jared Horstman; 3. 22H-Randy Hannagan; 4. 49-Shawn Dancer; 5. 17H-Hud Horton; 6. 23-Devon Dobie; 7. 66-Chase Dunham; 8. 16B-Zane Devault
B-Main – (10 Laps – Top 6 Transfer)
1. 28M-Conner Morrell; 2. 5J-Jake Hesson; 3. 37-Noah Dunlap; 4. 3X-Brandon Riehl; 5. 28V-Shawn Valenti; 6. 6-Jimmy Ward Jr; 7. 11N-Ed Neumister; 8. 48-Nicholas Hull; 9. 1-Steve Niese; 10. 51-Garrett Craine; 11. 2-Ricky Peterson; 12. 20I-Kelsey Ivy; 13. 24TN-Landon Simon
A-Main – (25 Laps) [#]-Starting Position
1. 11W-Harli White[1]; 2. 22H-Randy Hannagan[3]; 3. 17-Jared Horstman[2]; 4. 66-Chase Dunham[5]; 5. 49-Shawn Dancer[5]; 6. 22M-Dan Mccarron[9]; 7. 23-Devon Dobie[9]; 8. 10X-Dustin Stroup[15]; 9. 5J-Jake Hesson[18]; 10. 2S-Kyle Sauder[16]; 11. 24-Kobe Allison[11]; 12. 11G-Luke Griffith[13]; 13. 96J-Stuart Williams[12]; 14. 35-Ron Blair[12]; 15. 28V-Shawn Valenti[21]; 16. 28M-Conner Morrell[17]; 17. 37-Noah Dunlap[19]; 18. 3X-Brandon Riehl[20]; 19. 6-Jimmy Ward Jr[22]; 20. 9R-Logan Riehl[14]; 21. 16B-Zane Devault[8]; 22. 17H-Hud Horton[8]
Bud Thunderstocks
Heat 1 – (8 Laps – Top 7 Transfer)
1. 7C-Jordan Conover; 2. 22T-Tony Anderson; 3. 11-Randy Giroux; 4. 26-Justin Long; 5. OOP-Dean Pitts; 6. 7W-Dan Wooten; 7. 68V-Trenten Vogts
Heat 2 – (8 Laps – Top 7 Transfer)
1. 17J-Jarrod Klay; 2. 23-Casey Barr; 3. 89-Keith Shockency; 4. 82-Chris Douglas; 5. 74DX-Taylor Dippman; 6. 27-Frank Paladino
Heat 3 – (8 Laps – Top 7 Transfer)
1. 87-Andy Welch; 2. 74D-Craig Dippman; 3. 1W-Mark Wooten; 4. OO-Jamie Sullivan; 5. 1M-Jeff Matheny; 6. 92-Brandon Mcdaries
A-Main – (15 Laps) [#]-Starting Position
1. 87-Andy Welch[2]; 2. 22T-Tony Anderson[1]; 3. 11-Randy Giroux[7]; 4. 1M-Jeff Matheny[15]; 5. 23-Casey Barr[5]; 6. 27-Frank Paladino[17]; 7. 74DX-Taylor Dippman[14]; 8. OOP-Dean Pitts[13]; 9. OO-Jamie Sullivan[12]; 10. 82-Chris Douglas[11]; 11. 26-Justin Long[10]; 12. 7C-Jordan Conover[4]; 13. 1W-Mark Wooten[9]; 14. 17J-Jarrod Klay[3]; 15. 7W-Dan Wooten[16]; 16. 74D-Craig Dippman[6]; 17. 89-Keith Shockency[8]
Non Wing Sprints
Heat 1 – (8 Laps – Top 7 Transfer)
1. 33M-Matt Westfall; 2. 1H-Korbyn Hayslett; 3. 26W-Cody White; 4. 14-Chad Wilson; 5. 87X-Bryce Dues; 6. 9X-Ricky Peterson; 7. 11G-Luke Griffith
Heat 2 – (8 Laps – Top 7 Transfer)
1. 2DI-Dustin Ingle; 2. 21B-Ryan Barr; 3. 24-Landon Simon; 4. 23S-Kyle Simon; 5. 99-Gage Etgen; 6. 53-Steve Little; 7. 19-Matt Cooley
Heat 3 – (8 Laps – Top 7 Transfer)
1. O-Steve Irwin; 2. 9-Dustin Webber; 3. 24L-Lee Underwood; 4. 87-Paul Dues; 5. 99J-Jack James; 6. 11-Rickey Lewis
A-Main – (25 Laps) [#]-Starting Position
1. O-Steve Irwin[2]; 2. 33M-Matt Westfall[4]; 3. 2DI-Dustin Ingle[3]; 4. 23S-Kyle Simon[11]; 5. 1H-Korbyn Hayslett[1]; 6. 87-Paul Dues[12]; 7. 53-Steve Little[17]; 8. 24L-Lee Underwood[9]; 9. 21B-Ryan Barr[5]; 10. 26W-Cody White[7]; 11. 99J-Jack James[15]; 12. 14-Chad Wilson[10]; 13. 19-Matt Cooley[20]; 14. 87X-Bryce Dues[13]; 15. 24-Landon Simon[8]; 16. 9-Dustin Webber[6]; 17. 99-Gage Etgen[14]; 18. 9X-Ricky Peterson[16]
Northwest Physical Therapy Modifieds
Heat 1 – (8 Laps – Top 4 Transfer)
1. 1-Kyle Moore; 2. 16-Jeff Koz; 3. 9PG-Percy Gendreau; 4. 82-Dalton Lane; 5. 32-Scott Boyd Jr; 6. 117-Mike Holler; 7. O9C-Chris Bitters; 8. 4G-Bill Griffith
Heat 2 – (8 Laps – Top 4 Transfer)
1. 4M-Timothy Monroe; 2. 17F-Nick Felkey; 3. 12B-Brandon Jacobs; 4. 71-Chris Hicks; 5. 1X-Jerry Butler; 6. 17M-Matt Hundley; 7. 19B-Brandon Ordway; 8. 95J-Jerry Bowersock
Heat 3 – (8 Laps – Top 4 Transfer)
1. 22T-Tony Anderson; 2. 5A-Brent Hole; 3. 71S-Drew Smith; 4. 65X-Terry Hull; 5. 19-Ryan Ordway; 6. 9C-Troy Cattarene; 7. 74-Lenny Guyton
Heat 4 – (8 Laps – Top 4 Transfer)
1. 34X-Shane O'Connor; 2. 36-Brandon Vaughan; 3. 3W-Dylan Woodling; 4. 56-Matt Twining; 5. 65-Todd Sherman; 6. 71JS-Joe Smith; 7. O1-Bryce Nichols
B-Main – (8 Laps – Top 4 Transfer)
1. 65-Todd Sherman; 2. 19B-Brandon Ordway; 3. 4G-Bill Griffith; 4. 1X-Jerry Butler; 5. 17M-Matt Hundley; 6. 71JS-Joe Smith; 7. O1-Bryce Nichols; 8. O9C-Chris Bitters; 9. 117-Mike Holler; 10. 32-Scott Boyd Jr
A-Main – (20 Laps) [#]-Starting Position
1. 1-Kyle Moore[4]; 2. 65-Todd Sherman[17]; 3. 22T-Tony Anderson[2]; 4. 65X-Terry Hull[15]; 5. 5A-Brent Hole[7]; 6. 36-Brandon Vaughan[8]; 7. 9PG-Percy Gendreau[9]; 8. 56-Matt Twining[16]; 9. 4G-Bill Griffith[19]; 10. 71-Chris Hicks[14]; 11. 19B-Brandon Ordway[18]; 12. 12B-Brandon Jacobs[10]; 13. 34X-Shane O'Connor[1]; 14. 16-Jeff Koz[5]; 15. 3W-Dylan Woodling[12]; 16. 17F-Nick Felkey[6]; 17. 82-Dalton Lane[13]; 18. 1X-Jerry Butler[20]; 19. 71S-Drew Smith[11]