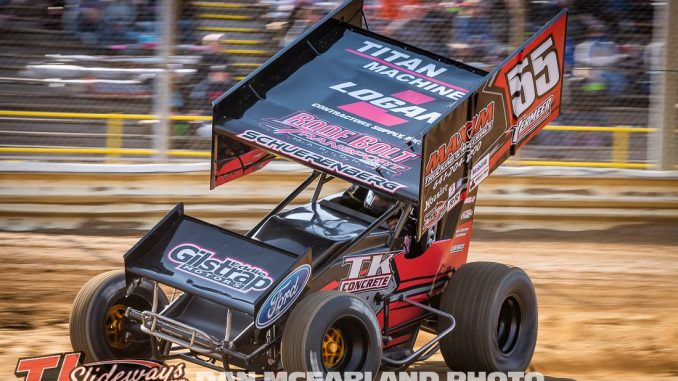 From Tyler Altmeyer
SARVER, PA (April 19, 2022) — For the first time in 2022, and for the second time in his career, "Hunter Percent" Hunter Schuerenberg is a Tezos All Star Circuit of Champions presented by Mobil 1 main event winner, doing so in exciting fashion at the famed Lernerville Speedway in Sarver, Pennsylvania. Schuerenberg's first-ever All Star victory occurred on July 9 a season ago, winning at Stateline Speedway in Busti, New York.
Utilizing the outside-pole position by way of dash result, Schuerenberg spent most of the first half of the 30-lap program chasing Buch Motorsports' Justin Peck, eventually using heavy lapped traffic to his advantage to track down the Monrovia, Indiana, native, by lap 11. Racing nose to tail at the flagstand, Schuerenberg made his move the following circuit, using momentum at the exit of turn two to slingshot by Peck down the backstretch. Their near nose-to-tail battle would continue on, but a caution on lap 14 would give Schuerenberg the break that he needed, bringing down a wall of slower traffic.
From that point forward, Schuerenberg remained in control, surviving periods of additional traffic, which made its return in the final six circuits, and a few late surges by Benton Ridge, Ohio's Greg Wilson to earn the $6,000 payday. Tyler Courtney slipped by Wilson for second in the final corner, followed by Justin Peck, and a hard charging Logan Wagner, who climbed 16 spots to finish fifth.
"I'm so proud of my crew. We've decided to give them a little bit more responsibility this year. I'm not calling any shots on this race car. They have the work ethic to go along with what we need. They may not have everything figured out like a super experienced team, but the work they put in shows," Hunter Schuerenberg said in Lernerville Speedway victory lane, ace of the Vermeer Motorsports/Logan Contracting/No. 55 sprint car. "They are constantly studying their notes and working on ways to make the car better…and they tell me what I can do better. I think it's all the difference. And I can't thank the Vermeers enough. They are the ones who took a chance on me in the first place."
Tezos All Star Circuit of Champions presented by Mobil 1
Lernerville Speedway
Sarver, Pennsylvania
Friday, April 28, 2022
Dixie Vodka Qualifying
1. 1-Logan Wagner, 13.373[13]
2. 55-Hunter Schuerenberg, 13.468[9]
3. 7BC-Tyler Courtney, 13.472[4]
4. 11-Parker Price Miller, 13.478[17]
5. 13-Justin Peck, 13.483[20]
6. 42-Sye Lynch, 13.536[23]
7. 99-Skylar Gee, 13.569[3]
8. 9K-Kevin Thomas Jr, 13.577[7]
9. 22C-Cole Duncan, 13.598[1]
10. 20B-Cody Bova, 13.606[16]
11. 19M-Brent Marks, 13.666[44]
12. 73-Scotty Thiel, 13.687[31]
13. 26-Cory Eliason, 13.775[22]
14. 11B-Carl Bowser, 13.792[21]
15. 91-Kyle Reinhardt, 13.795[14]
16. 11K-Michael Kofoid, 13.818[30]
17. 17B-Bill Balog, 13.823[37]
18. 23JR-Jack Sodeman Jr, 13.829[2]
19. 40-George Hobaugh Jr, 13.849[8]
20. 19-Chris Windom, 13.867[6]
21. 07-Bradley Howard, 13.908[5]
22. 7-Scott Bogucki, 13.918[25]
23. 2-AJ Flick, 13.923[39]
24. 4-Cap Henry, 13.942[34]
25. 29S-Dan Shetler, 13.959[19]
26. 17-Josh Baughman, 13.970[24]
27. 70-Sammy Swindell, 13.983[10]
28. 5K-Adam Kekich, 13.985[18]
29. 6-Ryan Smith, 14.132[28]
30. 97-Greg Wilson, 14.189[40]
31. 12-Darin Gallagher, 14.243[41]
32. 7NY-Matt Farnham, 14.293[15]
33. 29-Logan McCandless, 14.352[29]
34. 28-Tim Shaffer, 14.397[42]
35. 35-Jared Zimbardi, 14.436[35]
36. 22-Brandon Spithaler, 14.553[43]
37. 55S-Matt Sherlock III, 14.611[27]
38. 38-Leyton Wagner, 14.689[26]
39. 33-Brent Matus, 14.700[32]
40. 13M-Brandon Matus, 14.706[38]
41. 6F-Bob Felmlee, 14.729[36]
42. 4K-Bill Kiley, 15.523[11]
43. 23-Darren Pifer, 15.598[12]
DNS: 10-Zeb Wise, 59.999
Hunt Brothers Pizza Heat Race #1 (8 Laps)
1. 7BC-Tyler Courtney[1]
2. 9K-Kevin Thomas Jr[3]
3. 55-Hunter Schuerenberg[4]
4. 99-Skylar Gee[2]
5. 19-Chris Windom[8]
6. 22C-Cole Duncan[5]
7. 40-George Hobaugh Jr[7]
8. 23JR-Jack Sodeman Jr[6]
9. 07-Bradley Howard[9]
CSI Shocks Heat Race #2 (8 Laps)
1. 11-Parker Price Miller[1]
2. 91-Kyle Reinhardt[3]
3. 20B-Cody Bova[2]
4. 70-Sammy Swindell[5]
5. 1-Logan Wagner[4]
6. 5K-Adam Kekich[6]
7. 7NY-Matt Farnham[7]
8. 4K-Bill Kiley[8]
DNS: 23-Darren Pifer
All Pro Aluminum Cylinder Heads Heat Race #3 (8 Laps)
1. 42-Sye Lynch[1]
2. 13-Justin Peck[4]
3. 26-Cory Eliason[2]
4. 11B-Carl Bowser[3]
5. 7-Scott Bogucki[5]
6. 29S-Dan Shetler[6]
7. 38-Leyton Wagner[9]
8. 55S-Matt Sherlock III[8]
9. 17-Josh Baughman[7]
Mobil 1 Heat Race #4 (8 Laps)
1. 11K-Michael Kofoid[1]
2. 4-Cap Henry[2]
3. 6-Ryan Smith[3]
4. 73-Scotty Thiel[4]
5. 10-Zeb Wise[9]
6. 35-Jared Zimbardi[6]
7. 29-Logan McCandless[5]
8. 6F-Bob Felmlee[8]
9. 33-Brent Matus[7]
Kistler Racing Products Heat Race #5 (8 Laps)
1. 97-Greg Wilson[3]
2. 19M-Brent Marks[4]
3. 2-AJ Flick[2]
4. 17B-Bill Balog[1]
5. 28-Tim Shaffer[6]
6. 22-Brandon Spithaler[7]
7. 12-Darin Gallagher[5]
DNS: 13M-Brandon Matus
Computer Man Inc C-Main (8 Laps)
1. 17-Josh Baughman[7]
2. 23JR-Jack Sodeman Jr[1]
3. 07-Bradley Howard[6]
4. 6F-Bob Felmlee[4]
5. 33-Brent Matus[8]
6. 55S-Matt Sherlock III[2]
7. 4K-Bill Kiley[5]
8. 23-Darren Pifer[9]
DNS: 13M-Brandon Matus
Elliotts Custom Trailers and Carts Dash (6 Laps)
1. 13-Justin Peck[2]
2. 55-Hunter Schuerenberg[5]
3. 7BC-Tyler Courtney[3]
4. 11K-Michael Kofoid[4]
5. 97-Greg Wilson[7]
6. 42-Sye Lynch[1]
7. 11-Parker Price Miller[10]
8. 73-Scotty Thiel[8]
9. 19M-Brent Marks[9]
10. 20B-Cody Bova[6]
Classic Ink USA B-Main (12 Laps)
1. 1-Logan Wagner[1]
2. 22C-Cole Duncan[2]
3. 28-Tim Shaffer[5]
4. 19-Chris Windom[3]
5. 10-Zeb Wise[6]
6. 7-Scott Bogucki[4]
7. 29S-Dan Shetler[7]
8. 22-Brandon Spithaler[10]
9. 40-George Hobaugh Jr[11]
10. 5K-Adam Kekich[8]
11. 35-Jared Zimbardi[9]
12. 12-Darin Gallagher[12]
13. 29-Logan McCandless[14]
14. 7NY-Matt Farnham[13]
15. 17-Josh Baughman
16. 23JR-Jack Sodeman Jr
17. 38-Leyton Wagner[15]
Tezos A-Main (30 Laps)
1. 55-Hunter Schuerenberg[2]
2. 7BC-Tyler Courtney[3]
3. 97-Greg Wilson[5]
4. 13-Justin Peck[1]
5. 1-Logan Wagner[21]
6. 19M-Brent Marks[9]
7. 11-Parker Price Miller[7]
8. 4-Cap Henry[13]
9. 11K-Michael Kofoid[4]
10. 22C-Cole Duncan[22]
11. 2-AJ Flick[15]
12. 6-Ryan Smith[16]
13. 42-Sye Lynch[6]
14. 91-Kyle Reinhardt[12]
15. 19-Chris Windom[24]
16. 26-Cory Eliason[14]
17. 99-Skylar Gee[17]
18. 9K-Kevin Thomas Jr[11]
19. 17B-Bill Balog[19]
20. 20B-Cody Bova[10]
21. 7-Scott Bogucki[26]
22. 70-Sammy Swindell[20]
23. 73-Scotty Thiel[8]
24. 28-Tim Shaffer[23]
25. 11B-Carl Bowser[18]
26. 10-Zeb Wise[25]