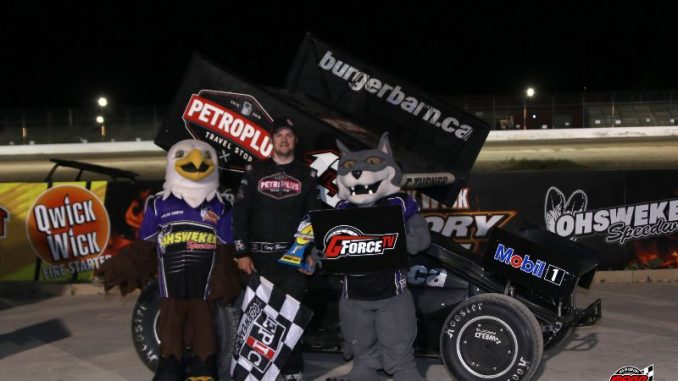 By Brent Otchere
OHSWEKEN, Ont. (June 17, 2022) – The Sprint Cars returned to Ohsweken Speedway on Friday night following a week off for Modified Madness. Cory Turner, Darren Dryden, Kyle Wert, and Tyler Lafantaisie won their division's A-Main races respectively.
Kool Kidz-Corr/Pak 360 Sprint Cars
Cory Turner and Ryan Coniam were on the front row to start the 20 lap 360 Sprint Car A-Main. It only took until turn two for the excitement to really pick up as Coniam spun on the high side; he was able to gather his car back up and blend back into the middle of the pack while Turner began to encounter traffic by lap six. The first caution came on lap 11 when Kevin Pauls spun and was unable to restart. The green flag waved again with the field back tightly together with nine laps to go. Mikey Kruchka was hot on Turner's heels until the next yellow flag waved when Travis Cunningham stopped with a flat left front tire. Turner was able to hold off Kruchka for the next six laps and win the race, leading every single lap. Kruchka and Ryan Turner took the final podium spots, followed by Josh Hansen and Liam Martin. 19 of the 24 cars finished on the lead lap, showing the calibre of drivers racing at Ohsweken each week. Cory Turner's win moved him to the top of the championship standings, two points ahead of his brother Ryan.
Strickland's Crate Sprint Cars
Eric Gledhill and Ryan Fraser brought the 28 car field to the green flag for the 20 lap Crate Sprint Car A-Main. The yellow flag made its first appearance on lap one as Travis Hofstetter and Joshua Hill got tangled up. Darren Dryden quickly became the star of the race as he stole first from polesitter Gledhill on lap seven. The battle for second place began to heat up on lap 12 between Gledhill and Austin Roes. Roes was able to pull away from Gledhill with four laps to go, while Gledhill was passed by A.J. Lewis in the closing laps. Dryden cruised to his second win of the year, moving up six positions from his starting spot on the grid. Roes secured second and A.J. Lewis rounded out the final podium spot, followed by Brett Stratford and Eric Gledhill. Dryden extended his lead in the championship standings to 20 points with the win.
Ohsweken Speedway
Ohsweken, Ontario
Friday, June 17, 2022
Winged 360 Sprint Cars
Heat Race #1 (8 Laps)
1. 01K-Mikey Kruchka[4]
2. 9-Liam Martin[5]
3. 1 10-Jake Brown[3]
4. 88H-Josh Hansen[8]
5. 17X-Mack DeMan[1]
6. 1-Holly Porter[6]
7. 45-Nick Sheridan[7]
8. (DQ) 0-Glenn Styres[2]
Heat Race #2 (8 Laps)
1. 46C-Ryan Coniam[1]
2. 7NY-Matt Farnham[2]
3. 91-Ryan Turner[6]
4. 10-Mitch Brown[3]
5. 87X-Shone Evans[5]
6. 14H-Jim Huppunen[8]
7. 11-Jamie Turner[4]
8. 46-Kevin Pauls[7]
Heat Race #3 (8 Laps)
1. 90-Travis Cunningham[2]
2. 13-Cory Turner[6]
3. 68-Aaron Turkey[7]
4. 70-Baily Heard[1]
5. 5-DJ Christie[5]
6. 70MM-Dave McKnight Jr[4]
7. 84-Tyler Rand[3]
8. 5D-Jacob Dykstra[8]
A-Main (20 Laps)
1. 13-Cory Turner[1]
2. 01K-Mikey Kruchka[4]
3. 91-Ryan Turner[6]
4. 88H-Josh Hansen[3]
5. 9-Liam Martin[7]
6. 7NY-Matt Farnham[9]
7. 68-Aaron Turkey[8]
8. 87X-Shone Evans[14]
9. 46C-Ryan Coniam[2]
10. 17X-Mack DeMan[16]
11. 14H-Jim Huppunen[12]
12. 45-Nick Sheridan[19]
13. 5D-Jacob Dykstra[22]
14. 0-Glenn Styres[24]
15. 10-Mitch Brown[11]
16. 5-DJ Christie[15]
17. 1 10-Jake Brown[10]
18. 70-Baily Heard[13]
19. 1-Holly Porter[17]
20. 90-Travis Cunningham[5]
21. 84-Tyler Rand[21]
22. 70MM-Dave McKnight Jr[18]
23. 46-Kevin Pauls[23]
24. 11-Jamie Turner[20]
Winged Crate Sprint Cars
Heat Race #1 (8 Laps)
1. 3S-Austin Roes[4]
2. 5X-Seth Roy[6]
3. 12DD-Darren Dryden[8]
4. 7-Eric Gledhill[9]
5. 51-Trevor Young[7]
6. 74-Rob Neely[5]
7. 7W-Caleb Wood[10]
8. 14T-Noelle Teal[2]
9. 48-Andrew Marshall[1]
10. 77E-Ashton VanEvery[3]
Heat Race #2 (8 Laps)
1. BS39-Brett Stratford[3]
2. 49L-Lucas Smith[2]
3. 2M-Steve Murdock[9]
4. 4-Jesse Costa[5]
5. 45-Curtis Gartly[6]
6. 99-Joshua Hill[4]
7. 77T-Tyeller Powless[7]
8. 9C-Brian Nanticoke[1]
9. 88-Lance Erskine[8]
10. 420-Victor Bomberry[10]
Heat Race #3 (8 Laps)
1. 24A-AJ Lewis[2]
2. 94-Ryan Fraser[5]
3. 14-Larry Gledhill[1]
4. 28-Jordan Hill[4]
5. 19D-Allan Downey[8]
6. 2-Travis Hofstetter[6]
7. 29W-Tyler Ward[3]
8. MK8-Matthew Hill[7]
9. 20-Johnny Miller[9]
B-Main (12 Laps)
1. MK8-Matthew Hill[3]
2. 88-Lance Erskine[5]
3. 9C-Brian Nanticoke[2]
4. 20-Johnny Miller[6]
5. 14T-Noelle Teal[1]
6. 48-Andrew Marshall[4]
7. 420-Victor Bomberry[8]
DNS: 77E-Ashton VanEvery
A-Main (20 Laps)
1. 12DD-Darren Dryden[7]
2. 3S-Austin Roes[4]
3. 24A-AJ Lewis[8]
4. BS39-Brett Stratford[6]
5. 7-Eric Gledhill[1]
6. 49L-Lucas Smith[9]
7. 94-Ryan Fraser[2]
8. 28-Jordan Hill[14]
9. 4-Jesse Costa[11]
10. 2M-Steve Murdock[3]
11. 7W-Caleb Wood[16]
12. 74-Rob Neely[18]
13. 77T-Tyeller Powless[20]
14. 45-Curtis Gartly[15]
15. 5X-Seth Roy[5]
16. 19D-Allan Downey[10]
17. 88-Lance Erskine[23]
18. 20-Johnny Miller[25]
19. 9C-Brian Nanticoke[24]
20. MK8-Matthew Hill[22]
21. 14-Larry Gledhill[12]
22. 2-Travis Hofstetter[17]
23. 51-Trevor Young[13]
24. 14T-Noelle Teal[26]
25. 48-Andrew Marshall[27]
26. 29W-Tyler Ward[21]
27. 99-Joshua Hill[19]
DNS: 420-Victor Bomberry