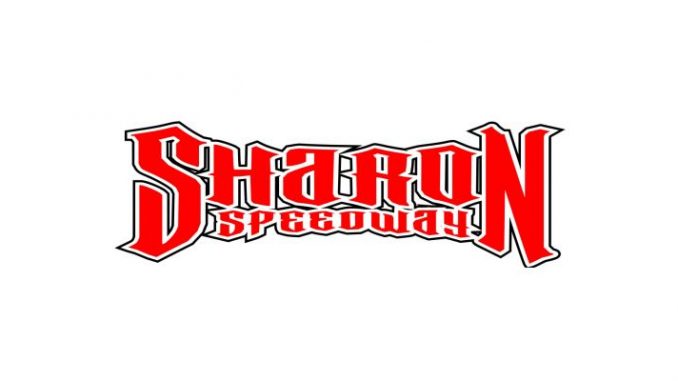 HARTFORD, Ohio (August 5, 2022) A.J. Flick has taken a liking to Sharon Speedway in 2022. Flick passed last week's winner, George Hobaugh, coming to the white flag to earn his third "410" Sprint Car win in as many starts at the track this season. Flick's 30-lap Hovis Auto & Truck Supply feature win was worth $3,000, and was his 11th overall "410" Sprint Car win of 2022!
"Three-for-three is pretty cool," expressed the 29-year-old Apollo, Pa. racer. "I tried to be as patient as I could, but every single time I hit the bottom and needed to get a run on him (Hobaugh) there was a lapped car there. It had to happen six, seven or eight times. I had him going into the bottom and then the 29 (Logan McCandless) was there. He wasn't taking up anyone's lane, he was just doing what he needed to do. It was just bad timing or whatever and that's how races play out sometimes. I think I was doing a good job on the bottom, keeping my momentum up, and the wing back. I showed George the bottom and he runs around here on the bottom. I was able to get him off my line in turns one and two, was able to hit it pretty hard one lap and was able to roll down the backstretch and get him in (turn) three."
"I almost junked a car in turn two a couple times the way we were racing," added Flick. "If we ever come here against the Outlaws or All Stars that's exactly what those guys are going to do so I needed to push my limits and see what kind of abilities I have and tonight it paid off for us. I have to give a shout-out to Sharon's officials. When this track has moisture in the top and bottom, it's the best race track in the area. Thank you to all you fans for coming out. When I woke up this morning I didn't think anyone was going to race within a 300-mile radius."
Flick started fifth and moved into fourth on the opening lap. Flick then grabbed third from Cody Bova on lap two and took over runner-up from Carl Bowser on lap 10. After some half-dozen attempts at overtaking Hobaugh throughout the rest of the event, Flick's winning move came on lap 29 to earn his fourth career Sharon win in his Ferguson Heating & Air Conditioning/Fence by Maintenance Service/Red Robin/Chernega Construction-sponsored #2.
After his $3,000 win the week before, Hobaugh earned $1,300 for second place. Bowser was third for $1,000 for the second straight week. Sodeman returned to Sharon for the first time since his only start of the season on June 4 and finished fourth after starting seventh. Brandon Matus was fifth. Completing the top 10 were Brandon Spithaler, Dan Kuriger from 11th, Vivian Jones, Darren Pifer, and Bob Felmlee from 15th as he received the $100 Summit Racing Equipment gift card for being the hard charger. Flick set fast time overall in qualifying with a lap of 14.846. Heat winners were Matus and Flick.
Sharon Speedway
Hartford, Ohio
Saturday, August 6, 2022
Winged 410 Sprint Cars
Hovis Auto Truck Supply 410 Sprint TT Group 1
1. 23JR-Jack Sodeman Jr, 15.099[7]
2. 40-George Hobaugh Jr, 15.250[6]
3. 20B-Cody Bova, 15.552[9]
4. 13-Brandon Matus, 15.664[5]
5. 22-Brandon Spithaler, 15.684[2]
6. 6-Bob Felmlee, 15.704[3]
7. 08-Danny Kuriger, 15.816[1]
8. 33-Brent Matus, 15.997[8]
9. 29M-Logan McCandless, 16.505[4]
Hovis Auto Truck Supply 410 Sprint TT Group 2
1. 2-AJ Flick, 14.846[7]
2. 32V-Vivian Jones, 15.376[2]
3. 11-Carl Bowser, 15.448[5]
4. 32-Adam Kekich, 15.651[4]
5. 23-Darren Pifer, 15.767[6]
6. 16-Jimmy Morris III, 15.912[3]
7. 22R-Ryan Fredericks, 16.404[8]
8. 11X-George Englert, 17.098[1]
Hovis Auto Truck Supply 410 Sprint Heat Race #1 (8 Laps)
1. 13-Brandon Matus[1]
2. 23JR-Jack Sodeman Jr[4]
3. 40-George Hobaugh Jr[3]
4. 22-Brandon Spithaler[5]
5. 08-Danny Kuriger[7]
6. 20B-Cody Bova[2]
7. 29M-Logan McCandless[9]
8. 6-Bob Felmlee[6]
9. 33-Brent Matus[8]
Hovis Auto Truck Supply 410 Sprint Heat Race #2 (8 Laps)
1. 2-AJ Flick[4]
2. 11-Carl Bowser[2]
3. 23-Darren Pifer[5]
4. 32-Adam Kekich[1]
5. 16-Jimmy Morris III[6]
6. 32V-Vivian Jones[3]
7. 22R-Ryan Fredericks[7]
8. 11X-George Englert[8]
Hovis Auto Truck Supply 410 Sprint A-Main (30 Laps)
1. 2-AJ Flick[5]
2. 40-George Hobaugh Jr[2]
3. 11-Carl Bowser[3]
4. 23JR-Jack Sodeman Jr[7]
5. 13-Brandon Matus[6]
6. 22-Brandon Spithaler[9]
7. 08-Danny Kuriger[11]
8. 32V-Vivian Jones[8]
9. 23-Darren Pifer[4]
10. 6-Bob Felmlee[15]
11. 32-Adam Kekich[10]
12. 33-Brent Matus[17]
13. 29M-Logan McCandless[13]
14. 16-Jimmy Morris III[12]
15. 20B-Cody Bova[1]
16. 11X-George Englert[16]
17. 22R-Ryan Fredericks[14]