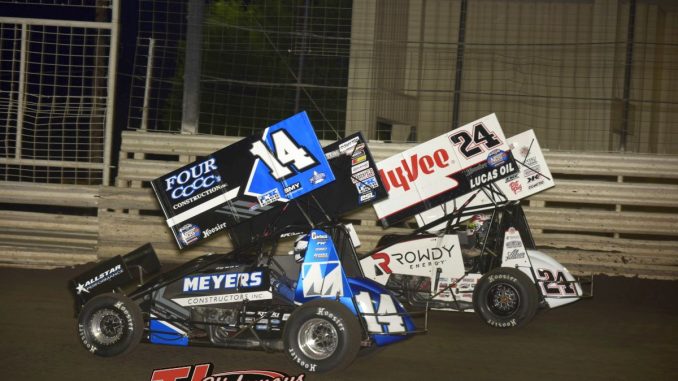 By T.J. Buffenbarger
KNOXVILLE, Iowa (August 12, 2022) — The "Hard Knox" program has cemented itself as one of the most entertaining nights of racing during the four days of action at the NOS Energy Drink Knoxville Nationals. This year the Friday program stole the show again producing the best racing we have seen on track of the week. Here are my four takeaways after an entertaining night of racing at Knoxville.
The Hard Knox program that is now part of Friday at the Knoxville Nationals was a day of redemption for those that did not meet expectations this year during their qualifying nights at Knoxville.

Brian Brown used some late race heroics to secure the final transfer position. It took a two for one slide job during a late race restart with an assist from one of the wildest bicycles and saves I've seen from a winged sprint car on a half mile by Spencer Bayston for Brown to secure his spot in the A-Main.

Credit Brown and his team finding a way into Saturday's A-Main when they haven't shown the speed this week compared to other points in the season. Performances like Brown had on Thursday in the past may have sunk the entire week for him and his team, but it shows the maturity Brown has gained and was rewarded with an opportunity late in Friday's feature that he was able to utilize.

Sheldon Haudenschild up until Friday had been a non-factor at the Kings Royal and Knoxville Nationals. After changing to an engine that powered Haudenschild to all but one of his feature victories this season, Haudenschild performance seemed more like what we anticipated from a driver with eight feature wins this year.

Kerry Madsen didn't even bother running his preliminary night after a disastrous qualifying run on his preliminary night. Madsen did not let the performance phase him and drove a very patient race to minimize mistakes and secure the second position and lock his Toyota powered sprint car into the finale on Saturday.

There is something about the Friday night format that seems to suit Rico Abreu. With three feature victories during the "Hard Knox" programs over the years, Abreu's performance on restarts was impressive all night. Abreu was able to motor away from the field after every stoppage with ease. If Saturday's finale ends up with multiple caution flags, I could see Abreu making a run towards the front if he can do the same things in dirty as we witnessed in clean air tonight.
The hype surrounding Corey Day's talent in a sprint car was around long before he was old enough to have a drivers license. Friday night was one of the moments that showed the sprint car world why that is the case.

After spending several weeks getting acclimated to the Knoxville Raceway, Day appeared to be in prime position earn his way into the Saturday finale at the Knoxville Nationals through the Hard Knox program. While racing with Sheldon Haudenschild early in the main event Day hooked the berm, backed into the fence, and got upside down.

After his crew made repairs, Day worked his way from the back of the field up to seventh position at the finish, passing 24th starting Justin Henderson who finished 8th in the process.

It is that kind of moxie that is going to make Day a superstar in whatever racing discipline he chooses to pursue. Bouncing back from that hard of a hit at the biggest race of the year, returning from the work area for a top-10 finish showed me what I needed to know during the first weekend I've seen Day compete in person.
Friday was also a night of near missed on several fronts. Anthony Macri seemingly is one spot out of transferring in almost ever race he has competed in during this year's Nationals. Friday continued the trend after finishing fifth in the main event, which will put him 11th in the B-Main on Saturday.

Spencer Bayston was in the thick of the race for the final transfer spot in the closing stages of Friday's main event until the massive bicycle into turn one mentioned earlier in this piece and subsequent save. That moment not only ended Bayston's chances of catching Brown for the final transfer spot, but also everyone behind him who checked up and lost all momentum as the top four pulled away.

Ayrton Gennetten and Brock Zearfoss made contact racing for position which sent Zearfoss into a helicopter type crash and somehow stayed airborne with only damage to a wheel cover while Gennetten had damage to the front of his frame that will force the team to use a backup car tomorrow. That touch while racing for position

These were just three of the near misses of all different varieties we saw on a wild night of racing at Knoxville.
After three nights of racing at Knoxville where I had no strong feelings about who would win the Knoxville Nationals before the event started, that has changed. Seeing how Donny Schatz and Kyle Larson have performed in dirty air and in the open this week I am convinced that it's Schatz, Larson, or the field to win on Saturday.

I believe we see a rematch of the first and second place finishers in last year's Nationals as the drivers that will race for the win on Saturday.

I also would be surprised if someone wins the race from further back than the third row. The front runners have been difficult to pass in every event this week, and if you are Austin McCarl or Tyler Courtney you should feel excellent about that from the front row.

I think Schatz and Larson are the two drivers with equipment capable running well in the open and in traffic. Going into Saturday unless something dramatic happens I think we are in for another Larson/Schatz showdown.