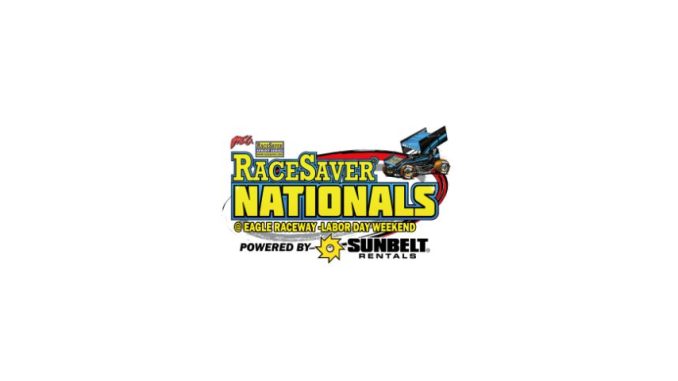 EAGLE, Neb. (September 3, 2022) — Defending IMCA RaceSaver Nationals champion Tyler Drueke returned to Eagle Raceway Friday night winning the preliminary feature event. After spending an entire season racing in the winged 410 sprint car class at Knoxville Raceway, Drueke returned to his home track to lock himself into the Sunday finale of the RaceSaver Nationals.
Adam Gullion, Ethan Barrow, Justin Clark, Mitchell Moore, Landon Thompson, Trevor Serbus, Clint Benson and Josh Riggins also locked into Sunday's finale based on finishing in the top seven in Saturday's preliminary feature.
Sunday features the finale of the 10th IMCA RaceSaver Sprint Car Nationals and it's famous 27 car, three wide start for the A-Main. Gates open at 4:30 p.m. with an hour long driver autograph session, hot laps start at 5:30, and racing begins at 6:30.
10th IMCA RaceSaver Sprint Car Nationals
Eagle Raceway
Eagle, Nebraska
Saturday, September 3, 2022
Feature:
1. 12-Tyler Drueke
2. 91-Adam Gullion
3. 14S-Ethan Barrow
4. 78-Justin Clark
5. 57-Mitchell Moore
6. 7T-Landon Thompson
7. 14J-Josh Riggins
8. 10-Trevor Serbus
9. 100-Clint Benson
10. 76-Jay Russell
11. 7m-Kevin Ramey
12. 2J-Zach Blurton
13. 9H-Robert Herrera
14. 20C-Luke Cranston
15. 03-Shayle Bade
16. 35-Trevor Grossenbacher
17. 33$-Shane Obanion
18. 1B-Brandon Horton
19. 0-Chase Weiler
20. 88J-Jeremy Huish