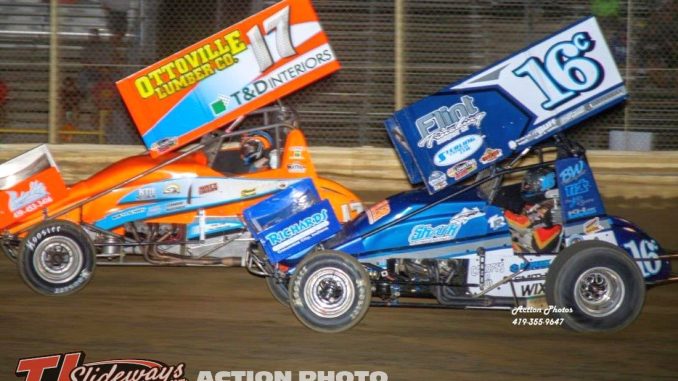 By T.J. Buffenbarger
(September 8, 2022) — While eating lunch on a sunny September day referring to the 80's group Timbuk 3's song, " The Future's So Bright, I Gotta Wear Shades" seems appropriate. I would have to go back a long way in my tenure to find a season where I felt this positively about how things were going with dirt sprint car racing in the state of Michigan. After a great season of racing in Michigan we still have two weekends of sprint car action left on the calendar after the Great Lakes Super Sprints and Great Lakes Traditional Sprints wrapped their 2022 point races for the season.
GLSS and National Racing Alliance finale last Saturday at Attica Raceway Park sent both groups of cars into the off season with a bang thanks to a strong field of cars and excellent on track action.

When series that typically race on their own traveling to facilities to serve as their sprint car event of the year you wonder how that show stacks up at a facility like Attica that has two top quality sprint car programs every Friday night along with some of the biggest sprint car specials in the area.

I felt the GLSS and NRA met that challenge Saturday at Attica with a highly entertaining feature that had much of the same action we have seen throughout the year. From Tyler Rankin climbing over Jared Horstman's left side wheels and kept going without a caution, Max Stambaugh coming out on top in a tight point race that had four drivers in contention most of the GLSS season, to Jared Horstman winning the feature event and another NRA championship one would be hard pressed to find a better overall ending to a season for both series.

While the teams deserve the bulk of the accolades for putting on such an entertaining on track product all year long proper credit needs to be given to Barry Marlow and Ron Hammons behind the scenes for mending fences between both organizations and laying down a future that should be positive for the 360 sprint cars in the Great Lakes region. As soon as their partnership was announced the temperature in the room changed and you could feel momentum that was already trending in the right direction pick up pace and build excitement towards the end of the year.

Now under one umbrella for 2023 one of the biggest problems GLSS will have going into the off season will be how to top the 2022 campaign. There likely will be some growing pains next year with running two regions of 360 sprint cars, some of the concepts I've heard throughout the season on how the series will be structured is exciting and has me ready to see how the storylines develop for 2023.
While I've sung the praises of GLSS all season and their great improvement in the quality of show from the on-track action to how the program is run, Butler Motor Speedway is in a different stratosphere compared to a season ago under the leadership of the Wilber family.

One of the biggest programs of the season takes place at Butler on Saturday with the John C Reeve Memorial paying $3,045 to win for sprint cars along with a special paying fast car dash on Saturday.

Joshua Turner carries a 57 point lead over Logan Easterday going into the next to last race of the season at Butler. While veterans like Turner and Jason Blonde have been fixtures at the front of the field, one of the most encouraging things this season at Butler has been the further development of some of the younger drivers in the area.

Easterday, Jett Mann, Boston Mead, and Trey McGanahan have all visited victory lane for the first time in their career's this season at Butler. They didn't do it against just a handful of cars either as Butler has boasted a full field of sprint cars all season. After seeing generations of young drivers in Michigan cut their teeth at Butler followed by several years of short fields and turmoil, I find it refreshing to have these storylines to talk about this season.

While there is still a lot of room for improvement at Butler (something Wilber himself would admit) the gains made is just one racing season while not having a full off season to prepare is remarkable. If Wilber doesn't earn a promoter of the year honor or two by the end of the season than something is wrong. I spoke to a lot of more seasoned, successful people that have run racing facilities that wouldn't have taken on the daunting task Wilber did this year due to how much needed to be done. If Butler can start out anywhere near as well as they have done at the end of the season and gain half as much as they did during this remarkable season, then the future will remain bright at Butler.
Pavement sprint cars also take on the spotlight this week as the 500 sprint car tour makes their final Great Lakes state appearance Saturday at Berlin Raceway. 21 cars are already on the pre-entry list for Saturday. While I typically don't put much stock into these entries, both series and track officials have been doing their due diligence where I feel confident saying that I expect a vast majority of these teams to show up at Berlin.

Dakota Armstrong leads the tour point standings coming into Berlin by two points over Kody Swanson coming into Berlin. Defending Little 500 champion and feature winner June 11th at Berlin, Tyler Roahrig, returns to see if he can sweep both appearances for the 500 sprint car tour this season at the Marne, Michigan oval.

Michigan drivers such as Taylor Ferns (a previous 500 tour winner at Berlin), Jason Blonde, National Sprint Car Hall of Fame and Museum inductee Jeff Bloom, Teddy Alberts, Nick Landon, and potentially others will look to defend their home turf against a formidable group of travelers making the trip up to the mitten on Saturday.

As of Thursday, my plan is to return from Attica Raceway Park on Friday to attend Berlin on Saturday to check out the 500 series for the first time and see some of the great improvements that have been put into place since noted MRN Radio personality Jeff Striegle took over general manager duties.
Congratulations to Keith Sheffer II for locking up the Great Lakes Traditional Sprints point title Sunday night at Crystal Motor Speedway. Sheffer has continued to get faster over the past two seasons. The Great Lakes Traditional Sprints will finish out their 2022 season with a non-points event during the Great Lakes Nationals at Crystal Motor Speedway in Crystal, Michigan September 17th.