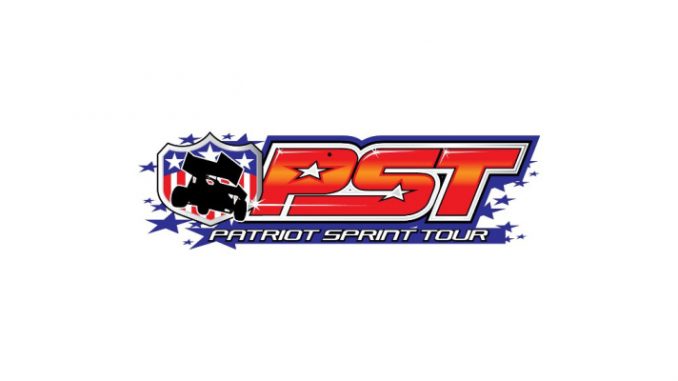 (Dundee, NY) After being scheduled off for over a month, the Patriot Sprint Tour rolled back into Outlaw Speedway for the seventh annual Outlaw Fall Nationals. 22 cars signed in for action with drivers from all over the North East, including teams from New York, Pennslyvania, New Jersey, Massachusetts, and the province of Ontario.
As a result of getting into the redraw, Jonathan Preston and Paulie Colagiovanni would start on the front row and bring the field to the green. Preston would jump out early to take command and pull away from Colagiovanni and the rest of the field.
One driver who wasted no time getting to the front was current point leader Davie Franek, who started seventh and made it a three-car battle for third on the second lap with Robbie Stillwaggon and Matt Farnham.
Following Franek to the front was Jordan Thomas, who started in ninth after winning the Bonnell's Rod Shop Dash for Cash and found himself in the top five early.
Laps would continue to click by, with Preston having a slim margin over Colagiovanni and Franek.
On lap 22, Colagiovanni would get his car wing to wing with Preston, but Preston would still maintain the race lead coming out of turn two.
As the leaders encountered lap traffic throughout most of the race, Colagiovanni would use it to his advantage on lap 28 and get by Preston on the bottom for the race lead and win the 30-lap A-Main, paying $4,000 to win.
Preston would need to settle for second, while Jordan Thomas, who battled Franek the entire second half of the race, finished third over Franek, who finished fourth, while Matt Farnham came home in fifth.
As mentioned earlier, Jordan Thomas won Bonnell's Rod Shop Dash for Cash, while Jared Zimbardi, Jonathan Preston, and Paulie Colagiovanni were the heat race winner.
Next up for the Patriots is the Cole Cup at Utica Rome Speedway on Tuesday, October 4, the highest paying sprint car race for $5,000 to win and $400 to start. The 2022 season will conclude Friday, October 21, back at Outlaw Speedway for the Dutch Hoag Memorial weekend, which will pay $3,000 to win. It was also recently announced that the 2021 Outlaw Fall Nationals Event will be made up on Friday, October 21, as well as a "Non-Points" event. The only drivers eligible to compete are the 25 drivers who took the green flag on the originally scheduled event a season ago.
Patriot Sprint Tour
Outlaw Fall Nationals
Outlaw Speedway
Dundee, New York
Friday, September 23, 2022
Heat Race #1:
1. 35-Jared Zimbardi
2. 75-Tommy Wickham
3. 79-Jordan Thomas
4. 22k-Mike Koehler
5. 98-Joe Trenca
6. 11J-Chris Jones
7. 21-Steve Glover
Heat Race #2:
1. 22-Jonathan Preston
2. 89-Robbie Stillwaggon
3. 2-Dave Axton
4. 7ny-Matt Farnham
5. 47-Kyle Drum
6. 41-Dalton Rombough
7. 17E-Devin Gundrum
Heat Race #3:
1. 10c-Paulie Colagiovanni
2. 28f-Davie Franek
3. 3-Denny Peebles
4. 61-Parker Evans
5. 32-Kyle Smith
6. 18c-Dan Craun
7. 66-Jordan Hutton
Dash:
1. 79-Jordan Thomas
2. 2-Dave Axton
3. 47-Kyle Drum
4. 3-Denny Peebles
5. 98-Joe Trenca
6. 22k-Mike Koehler
7. 66-Jordan Hutton
Feature:
1. 10c-Paulie Colagiovanni
2. 22-Jonathan Preston
3. 79-Jordan Thomas
4. 28f-Davie Franek
5. 7ny-Matt Farnham
6. 75-Tommy Wickham
7. 32-Kyle Smith
8. 61-Parker Evans
9. 47-Kyle Drum
10. 2-Dave Axton
11. 35-Jared Zimbardi
12. 22k-Mike Koehler
13. 98-Joe Trenca
14. 21-Steve Glover
15. 18c-Dan Craun
16. 7-Andrew Jacobus
17. 41-Dalton Rombough
18. 3-Denny Peebles
19. 17E-Devin Gundrum
20. 89-Robbie Stillwaggon
21. 11J-Chris Jones
DNS: 66-Jordan Hutton