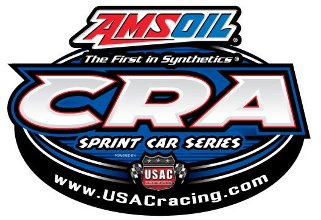 By Lance Jennings
SOMERTON, ARIZONA – JANUARY 27, 2023… Taking the lead from Tommy "Thunder" Malcolm on lap nineteen, "The Pride of Garden Grove" Brody Roa (Garden Grove, CA) led the rest of the way to capture the opening night for the AMSOIL USAC/CRA Sprint Car Series at Cocopah Speedway. Piloting Tom and Christy Dunkel's #17R Inland Rigging / Dunkel Farms DRC, Roa earned the fourteenth series win of his career and the first for his brand new car owners in their first ever USAC/CRA event. "KTJ" Kevin Thomas Jr., Malcolm, "The Cadillac" Cody Williams, and "Chargin" Charles Davis Jr. followed Brody to the checkered flag.
Cody Williams (Corona, CA) opened the night by earning the tenth Woodland Auto Display Fast Time Award of his career. "The Cadillac" posted a time of 16.250 seconds over the 19-car roster and is now tied with Matt Mitchell for eighth in series history.
"The Big Game Hunter" Austin Williams (Yorba Linda, CA) and Tommy "Thunder" Malcolm (Corona, CA) raced to victory in their 10-lap heat races.
Making his first start in Ikaika O'Brien's #11O Surecan LLC entry, Ricky Lewis (Oxnard, CA) earned the night's Hard Charger Award with a sixth place run from eleventh.
By virtue of his thirteenth place finish, Logan Calderwood (Phoenix, AZ) earned the Wilwood Disc Brakes Lucky 13 Award. Last year's ASCS Southwest Sprint Car Champion will have to contend with Grant Sexton, who finished sixteenth for rookie of the year honors.
The non-winged 410 sprint cars will return to "The Diamond in the Desert," tomorrow night for the conclusion of the season opening doubleheader at Cocopah Speedway.
For more information on the AMSOIL USAC/CRA Sprint Car Series, visit usacracing.com and the social media for USAC Racing. You can also find exclusive content on the USAC/CRA Facebook, Twitter, and Instagram pages.
AMSOIL USAC/CRA SPRINT CAR SERIES RACE RESULTS: January 27, 2023 – Cocopah Speedway – Yuma, Arizona
WOODLAND AUTO DISPLAY QUALIFICATIONS: 1. Cody Williams, 44, Williams-16.250; 2. Chase Johnson, 73, Ford-16.504; 3. Brody Roa, 17R, Dunkel-16.575; 4. R.J. Johnson, 51, Martin-16.612; 5. Kevin Thomas Jr., 2J, Yeley-16.684; 6. Tommy Malcolm, 5X, Napier-16.711; 7. Mike Martin, 16, Martin-16.736; 8. Charles Davis Jr., 47, Davis-16.758; 9. Austin Williams, 2, Williams-16.835; 10. Verne Sweeney, 98, Tracy-16.871; 11. Austin Grabowski, 72, Grabowski-16.906; 12. Sterling Cling, 34, Cling-17.046; 13. Ricky Lewis, 11O, O'Brien-17.112; 14. Logan Calderwood, 6, Calderwood-17.173; 15. A.J. Bender, 21, Bender-17.304; 16. Drake Edwards, 2E, Yeley-17.519; 17. Grant Sexton, 22, Sexton-17.681; 18. Jim Vanzant, 3V, Vanzant-17.856; 19. Jess Beckett, 10, Powers-18.101.
FLOWDYNAMICS INCORPORATED FIRST HEAT: (10 laps) 1. A.Williams, 2. C.Williams, 3. Thomas, 4. Roa, 5. Lewis, 6. Martin, 7. Sexton, 8. Grabowski, 9. Beckett. NT.
BILLSJERKY.NET SECOND HEAT: (10 laps) 1. Malcolm, 2. Davis, 3. C.Johnson, 4. Cling, 5. R.Johnson, 6. Calderwood, 7. Edwards, 8. Vanzant, 9. Sweeney. NT.
FEATURE: (30 laps, With Starting Positions) 1. Brody Roa (4), 2. Kevin Thomas Jr. (3), 3. Tommy Malcolm (2), 4. Cody Williams (6), 5. Charles Davis Jr. (1), 6. Ricky Lewis (11), 7. Chase Johnson (5), 8. Austin Williams (9), 9. A.J. Bender (13), 10. R.J. Johnson (7), 11. Sterling Cling (10), 12. Mike Martin (8), 13. Logan Calderwood (12), 14. Drake Edwards (14), 15. Jim Vanzant (16), 16. Grant Sexton (15). NT.
—————————-
**Grabowski flipped on lap one of the first heat.
FEATURE LAP LEADERS: Laps 1-18 Malcolm, Laps 19-30 Roa.
HARD CHARGER: Ricky Lewis (11th to 6th)
WILWOOD DISC BRAKES LUCKY 13 AWARD: Logan Calderwood
NEW AMSOIL USAC/CRA SPRINT CAR POINTS:
NEXT AMSOIL USAC/CRA SPRINT CAR RACE: January 28 – Cocopah Speedway – Yuma, Arizona