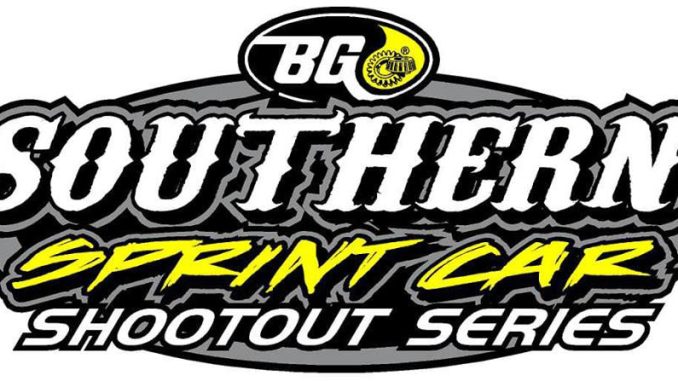 February 18, 2023 – Pinellas Park, Florida – Davey Hamilton Jr. captured Saturday nights BG Products Southern Sprint Car Shootout Series (SSSS) event at Showtime Speedway in Pinellas Park, Florida driving the Morgan Motorsports #14. It was race #2 of the 2023 SSSS championship chase.
After starting tenth, Hamilton locked behind Daniel Miller and the duo quickly moved to the front. Once Miller got the lead Hamilton began trying to make the pass for the lead repeatedly entering turn 1. Each time Miller slammed the door on him. It appeared as if turn 1 would be Hamilton's best opportunity to take the lead as Hamilton could run lower than Miller at that end of the track.
With less than 15 laps remaining, Hamilton got a good run on Miller entering turn 1 and slid in front of him to overtake the lead. After a several laps of battling with Miller, Hamilton then pulled away over the remaining 15 laps to win by a margin of 2.882 seconds. It was Hamilton's ninth career SSSS victory.
With Hamilton's most recent win, he has won 7 consecutive series wins dating back to October 8 of last year at four different Florida asphalt speedways.
In victory lane Hamilton explained how he got a good run on Miller for the lead. "He (Miller) didn't have a good drive off of turn four. It let me get a good run on him going into one. I was surprised I was still able to pass him going into 1 because I had tried that five plus times prior to the pass for the lead. I figured he would have seen that and played the defensive role a little bit".
"It was a good race, and we were able to add to our win list. I'm on a high right now but we all know it doesn't last forever. We're gonna stay humble. Wherever we go this year I know we're gonna be a contender in the winged car. I'm very fortunate to be the driver for this team" concluded Hamilton.
Showtime Speedway will be right back at it next weekend with another high-profile sprint car race. The 4th annual Dave Steele 125 will see the wings taken off and a $5,000 winner's prize will be up for grabs next weekend February 24-25. The 4th annual Dave Steele 125 will officially end the sprint car portion of Florida Speedweeks.
40-LAP FEATURE RESULTS
1)14-Davey Hamilton Jr.; 2) 5-Daniel Miller; 3) 88a-Sport Allen; 4) 13-Scotty Adema; 5) 93-Dude Teate; 6 ) 61-Colton Bettis; 7) 14h-Davey Hamilton Sr.; 8) 55-Tommy Nichols; 9) 32-Bo Hartley; 10) 83-Bryan Riddle; 11) 33-Robert Yoho; 12) 59x-John Inman; 13) 1-Steven Hollinger; 14)