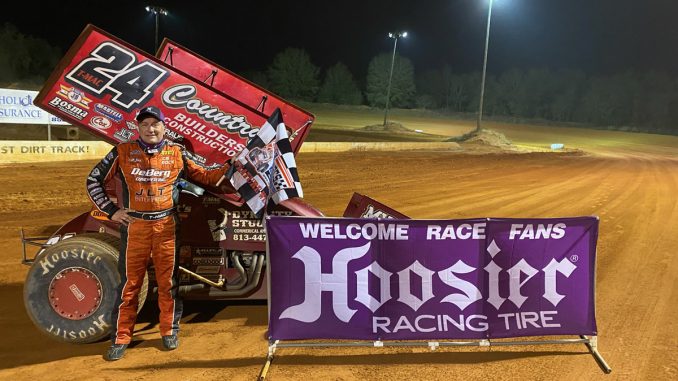 By Pete Walton
Milton, FL – February, 24, 2023 – Altoona Iowa's Terry McCarl charged from his pole position start in to the USCS Victory Lane on Friday night to capture a career fifth USCS win at Southern Raceway. But, it wasn't an easy task as hard charging Mark Smith from Sunbury, Pennsylvania, who started eighth, worked his way through, caution periods to challenge McCarl over the last 11 Laps of the contest even taking the lead several times during mid-lap.
The two raced wheel to wheel through lap traffic for most of those final 11 Laps while 22 cars finished the 25-lap contest.
McCarl raced past the checks with a one car length lead with Mark Smith in tow in the runner-up spot.
2021 USCS National Champion, Danny Smith from Chillicothe, Ohio followed the lead duo across in third place with Cherryville, North Carolina's Lance Moss in fourth place. Ankeny, Iowa's Chris Martin rounded out the top five.Media Results for 2/24/2023 at Southern Raceway – Milton, FL
USCS Outlaw Thunder Sprint Cars 25 Entries
Feature 25 Laps
1. 24-Terry McCarl[1]; 2. 43-Mark Smith[8]; 3. 66-Danny Smith[5]; 4. 23-Lance Moss[2]; 5. 44-Chris Martin[10]; 6. 28F-Davie Franek[4]; 7. 14-Jordon Mallett[12]; 8. 12-Corbin Gurley[11]; 9. 938-Bradley Fezard[9]; 10. 21-Gavan Boschele[14]; 11. 22-Riley Goodno[13]; 12. 31-Casey Wills[6]; 13. 55B-Brandon Anderson[7]; 14. 21M-Adam Cruea[18]; 15. 10-Terry Gray[16]; 16. 88-Terry Easum[20]; 17. 32-Rusty Sanford[17]; 18. 7E-Eric Gunderson[23]; 19. 28-Jeff Willingham[15]; 20. 33-Joe Larkin[24]; 21. 4X-Scott Baldwin[19]; 22. 61-Sean Wimpey[21]; 23. (DNF) 2H-Tommy Hall[22]; 24. (DNF) 95-Matt Covington[3]; 25. (DNS) 8X-Tony Higgins
Hoosier Speed Dash 6 Laps | 00:10:25.062
1. 24-Terry McCarl[2]; 2. 23-Lance Moss[5]; 3. 95-Matt Covington[1]; 4. 28F-Davie Franek[4]; 5. 66-Danny Smith[3]; 6. 31-Casey Wills[6]
Engler Machine & Tool Heat 1 8 Laps | 00:05:43.652
1. 95-Matt Covington[4]; 2. 938-Bradley Fezard[2]; 3. 23-Lance Moss[6]; 4. 22-Riley Goodno[3]; 5. 12-Corbin Gurley[7]; 6. 21M-Adam Cruea[1]; 7. 4X-Scott Baldwin[5]; 8. 61-Sean Wimpey[8]
JJ Supply of NC Heat 2 8 Laps | 00:08:11.566
1. 55B-Brandon Anderson[1]; 2. 66-Danny Smith[5]; 3. 31-Casey Wills[7]; 4. 43-Mark Smith[8]; 5. 28-Jeff Willingham[4]; 6. 32-Rusty Sanford[6]; 7. 2H-Tommy Hall[2]; 8. (DNS) 8X-Tony Higgins
Racing Electronics Heat 3 8 Laps | 00:06:31.045
1. 24-Terry McCarl[3]; 2. 28F-Davie Franek[5]; 3. 44-Chris Martin[4]; 4. 21-Gavan Boschele[2]; 5. 14-Jordon Mallett[8]; 6. 10-Terry Gray[7]; 7. 88-Terry Easum[6]; 8. 7E-Eric Gunderson[1]