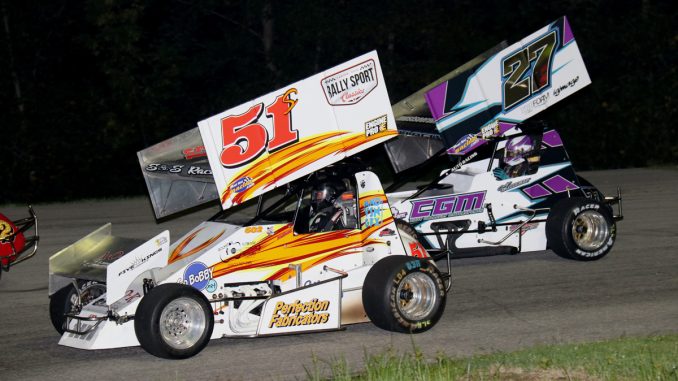 From Must See Racing
FEBRUARY 28, 2022 – Holly, Michigan – The Maxima Racing Oils Must See Racing Lights Series will kick off it's 2023 season on April 22 at the Lorain Raceway Park's Autism Awareness Opening Night in South Amherst, Ohio.
Defending series champion Cody Gallogly will begin the defense of his title. The Baltimore, Ohio veteran collected three feature wins and four fast times on route to the 2022 Championship that was not decided until the last event of the year.
The Maxima Racing Oils Must See Racing Lights Series was created as affordable racing for veteran sprint car teams, a venue to provide younger drivers seat time in a winged asphalt sprint car and a MSR National 410 series feeder system of top-notch young talent.
"The concept, structure and format of our MSR Lights Series, with strong support from the loyal race teams, is operating extremely well for everyone. We are definitely growing with a substantial number of new teams, tracks and events for this coming 2023 season" said MSR President and founder Jim Hanks.
This year's expanded roster of drivers will be a mixture of youth and veterans. Former Supermodified veteran and 2022 MSR National 410 Champion Charlie Shultz is expected to compete along side newcomers JD Evans, Matt Double and Bob Komisarski.
Returning front runners JJ Henes, the 2021 series champion and the 2022 most improved driver Joshua Sexton are anticipated strong championship contenders. Other drivers include 20-year-old lady racer Lauren DePasquale, teenagers Charlie Baur, 2022 Rookie of the year Andrew Bogusz and Sawyer Stout. Joining the chase will be veterans Todd and Dale McQuillen. Additionally, several new cars are currently being constructed with drivers to be announced.
It is only fitting that the season opener will again be hosted by Lorain Raceway Park as many drivers in the series call LRP home. LRP will also host the series in August joining the MSR National Series in the BOB FREY CLASSIC and again in September for the series championship.
This season MSR/MAVTV will showcase the Midwest Lights in the State of Michigan featuring the AMERICAN SPEED U.S. NATIONALS from Birch Run Speedway and the AMERICAN SPEED II from Owosso Speedway, plus Ohio's BOB FRY CLASSIC at Lorain Raceway Park. Programming dates and air times to be announced.
For more info on the Maxima Racing Oils Must See Racing Lights Series please log on to www.mustseeracing.com as well as Facebook.