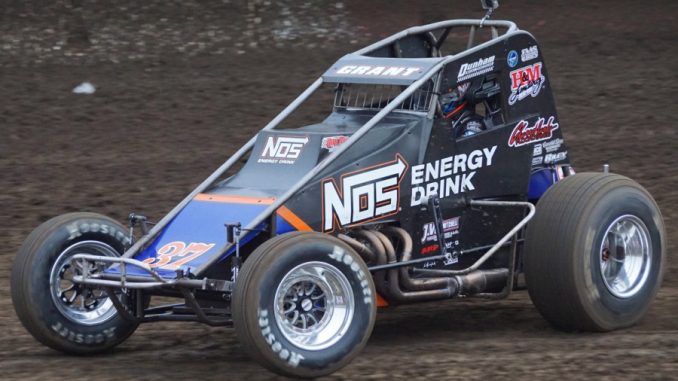 By Lance Jennings
PERRIS, CALIFORNIA – MARCH 18, 2023… Regaining the lead from "The Pride of Garden Grove" Brody Roa on lap twenty-two, Justin Grant (Ione, California) won the "Sokola Shootout" at Perris Auto Speedway. Driving Matt Mitchell's #37 NOS Energy Drink / Channel Island Floor Coverings entry, the reigning AMSOIL USAC National Sprint Car Champion earned his eighth career AMSOIL USAC/CRA Sprint Car triumph over point leader Roa, Max Adams, "The Big Game Hunter" Austin Williams, and Ricky Lewis.
Cody Williams (Corona, California) began the night by earning the eleventh Woodland Auto Display Fast Time Award of his career. "The Cadillac" posted a time of 16.115 seconds over the 25-car roster and ranks eighth in USAC/CRA history.
R.J. Johnson (Laveen, Arizona), A.J. Bender (San Diego, California), and rookie contender James Turnbull II (Indio, California) raced to victory in their 10-lap heat races. For Turnbull, the win was his first triumph with the series.
Driving the family owned #21 Bender Pool & Spa / GAS Chassis machine, Bender earned the night's In Memory of Jim and Chet Gardner Hard Charger Award with an eighth place run from seventeenth.
By virtue of his thirteenth place finish, Tommy "Thunder" Malcolm (Corona, California) claimed the Wilwood Disc Brakes "Lucky 13 Award."
The non-winged 410 sprint cars will head to Kings Speedway in Hanford, California on Saturday, March 25th. Originally scheduled the day before, track officials have been faced with heavy rains but are making every effort to host the event.
For more information on the AMSOIL USAC/CRA Sprint Car Series, visit usacracing.com and the social media for USAC Racing. You can also find exclusive content on the USAC/CRA Facebook, Twitter, and Instagram pages.
AMSOIL USAC/CRA SPRINT CAR SERIES RACE RESULTS: March 18, 2023 – Perris Auto Speedway – Perris, California – "Sokola Shootout"
WOODLAND AUTO DISPLAY QUALIFICATIONS: 1. Cody Williams, 44, Williams-16.115; 2. Charles Davis Jr., 47, Davis-16.309; 3. Tommy Malcolm, 5X, Napier-16.385; 4. Brody Roa, 17R, Dunkel/BR-16.449; 5. Justin Grant, 37, Mitchell-16.480; 6. Chris Gansen, 4G, Gansen-16.718; 7. R.J. Johnson, 51, Johnson-16.720; 8. Max Adams, 73, Ford-16.725; 9. Ricky Lewis, 41, Stensland/Halley-16.736; 10. Matt McCarthy, 28M, McCarthy-16.749; 11. Eddie Tafoya Jr., 51T, Tafoya-16.755; 12. Austin Williams, 2, Williams-16.790; 13. Logan Williams, 5W, McCarthy-16.812; 14. Brent Owens, 71, Martin-16.933; 15. James Turnbull II, 2J, Turnbull-16.964; 16. Braden Chiaramonte, 73B, Chiaramonte-17.067; 17. A.J. Bender, 21, Bender-17.090; 18. Chase Johnson, 8M, May-17.097; 19. Matt Westfall, 11C, Turner/Wheeler-17.142; 20. Logan Calderwood, 6, Calderwood-17.163; 21. Verne Sweeney, 98, Tracy-17.270; 22. Grant Sexton, 22, Sexton-17.321; 23. Austin Grabowski, 72, Grabowski-17.425; 24. Andrew Sweeney, 98A, Tracy-17.425; 25. Gary Marshall Jr., 23, Bellegante-20.699.
FLOWDYNAMICS INCORPORATED FIRST HEAT: (10 laps) 1. RJ.Johnson, 2. C.Williams, 3. Roa, 4. Chiaramonte, 5. McCarthy, 6. Westfall, 7. L.Williams, 8. Sexton, 9. Marshall. 2:52.72.
BILLSJERKY.NET SECOND HEAT: (10 laps) 1. Bender, 2. Tafoya, 3. Grant, 4. Davis, 5. Adams, 6. Grabowski, 7. Calderwood, 8. Owens. 2:52.52.
IN MEMORY OF JIM & CHET GARDNER THIRD HEAT: (10 laps) 1. Turnbull, 2. A.Williams, 3. Malcolm, 4. Gansen, 5. V.Sweeney, 6. A.Sweeney, 7. C.Johnson, 8. Lewis. 2:52.77.
FEATURE: (30 laps, With Starting Positions) 1. Justin Grant (2), 2. Brody Roa (3), 3. Max Adams (8), 4. Austin Williams (12), 5. Ricky Lewis (9), 6. Cody Williams (6), 7. R.J. Johnson (7), 8. A.J. Bender (17), 9. Eddie Tafoya Jr. (11), 10. Matt Westfall (19), 11. Charles Davis Jr. (5), 12. James Turnbull II (15), 13. Tommy Malcolm (4), 14. Logan Calderwood (20), 15. Matt McCarthy (10), 16. Braden Chiaramonte (16), 17. Brent Owens (14), 18. Gary Marshall Jr. (25), 19. Grant Sexton (22), 20. Chris Gansen (1), 21. Andrew Sweeney (24), 22. Logan Williams (13), 23. Austin Grabowski (23), 24. Verne Sweeney (21), 25. Chase Johnson (18). NT.
—————————-
FEATURE LAP LEADERS: Laps 1-16 Grant, Laps 17-21 Roa, Laps 22-30 Grant.
IN MEMORY OF JIM & CHET GARDNER HARD CHARGER: A.J. Bender (17 to 8)
WILWOOD DISC BRAKES LUCKY 13 AWARD: Tommy Malcolm
NEW AMSOIL USAC/CRA SPRINT CAR POINTS:
NEXT AMSOIL USAC/CRA SPRINT CAR RACE: March 25 – Kings Speedway – Hanford, California