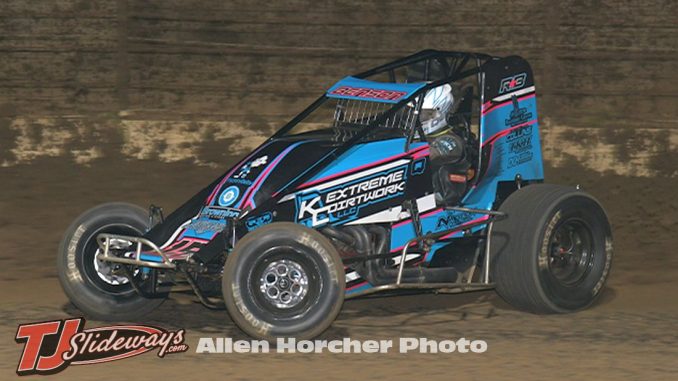 From POWRi
SWEET SPRINGS, Mo. (May 5, 2023) — Quinton Benson would pull off hometown heroics with the POWRi Wingless Auto Racing Sprint League to capture the Sweet Springs Motorsports Park Mid-State Nationals feature event victory and notch his fourth career feature victory.
Early on-track accomplishments would witness Xavier Doney clock fast-time in hot laps with a 12.203-second lap as Quinton Benson and Jack Wagner would each earn heat racing wins.
Battling on the initial green flag start would find pole-sitter Wesley Smith contest against front-row companion Quinton Benson into the first pair of corners with a cushion-running Benson gaining the early race lead as Wesley Smith, Jack Wagner, Xavier Doney, and Kory Schudy attempted to run down the speedy leader.
Holding steady with the lead in the twenty-five-lap caution-free feature would witness Quinton Benson hold off all challenges for the top spot to clinch his first-seasonal win while earning his fourth career feature win within POWRi WAR racing. Closing quickly before being held up by lap traffic would find Wesley Smith finish in the runner-up positioning with Jack Wagner clinching the final podium placement in the event.
"Man, that was badass with a big-Ol curb to try and keep this car from throwing me, I can't tell you how much fun that was," said a celebratory Quinton Benson in the SSMC Victory Lane. Adding, "I've spent nearly my whole life at this track and to get it done here, this early in the year, it means the world and makes me hopeful for the season."
Maintaining a solid showing all night, Kory Schudy would wheel his way to finish fourth as Xavier Doney rounded out the top-five finishers in the POWRi Wingless Auto Racing Sprint League feature event at Sweet Springs Motorsports Park for the Mid-State Nationals.
POWRi WAR Sprint League
Sweet Springs Motorsports Complex
Sweet Springs, Missouri
Friday, May 5, 2023
Advanced Racing Suspension Heat Race #1 (8 Laps)
1. 15B-Quinton Benson[4]
2. 44-Wesley Smith[7]
3. 73-Samuel Wagner[3]
4. 93-Taylor Walton[6]
5. 33-Bryson Smith[5]
6. 30-Faron Crank[1]
DNS: 00-Broc Elliott.
Auto Meter Heat Race #2 (8 Laps)
1. 77-Jack Wagner[2]
2. 74-Xavier Doney[4]
3. 28-Kory Schudy[7]
4. 16-Anthony Nicholson[5]
5. 9-Cody Baker[1]
6. 45-Jesse Bebee[3]
DNS: 91-Riley Kreisel.
A-Main (25 Laps)
1. 15B-Quinton Benson[2]
2. 44-Wesley Smith[1]
3. 77-Jack Wagner[4]
4. 28-Kory Schudy[3]
5. 74-Xavier Doney[5]
6. 9-Cody Baker[10]
7. 16-Anthony Nicholson[8]
8. 93-Taylor Walton[6]
9. 73-Samuel Wagner[7]
10. 33-Bryson Smith[9]
11. 30-Faron Crank[12]
12. 45-Jesse Bebee[11]
13. 00-Broc Elliott[13]
14. 91-Riley Kreisel[14].