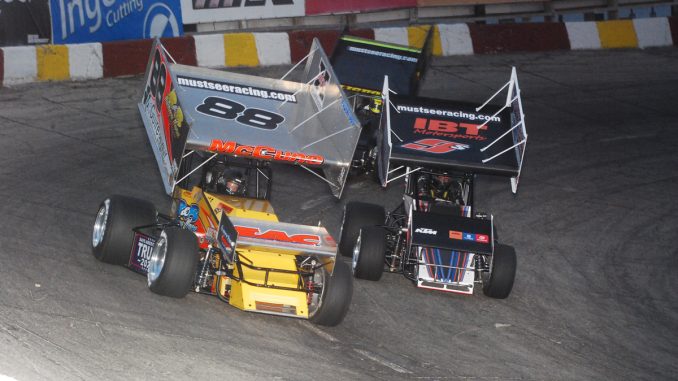 From Must See Racing
May 11, 2023 – Holly, Michigan – Must See Racing is preparing to open the 2023 season for both the Engine Pro National Series and the Midwest Lights Series. The Maxima Racing Oils Midwest Lights have been the victim of two consecutive rains outs and have been unable to successfully kick of their 2023 campaign.
Up next off of the 2023 MSR master schedule will be the season opener for the MSR 410 National Series round one of the Engine Pro Fast Car Dash mini-series May 20, 2023, at Berlin Raceway in Marne, Michigan. This will start a busy stretch that will see five complete racing programs over 8 days involving both the National and Lights series.
The May 20 Berlin opener is shaping up to be very interesting to say the least. Over 20 cars are expected and one of the strongest lineups seen in many years is expected. Five-time series champion Jimmy McCune will be making his return to the series after suffering serious burns last season.
McCune will headline a list that includes defending series champion Charlie Schultz and runner-up Joe Ligouri. Also expected is Tampa, Florida driver Davey Hamilton Jr. who tied Aaron Willison for the nation's lead in total pavement sprint car victories in the country last season. Hamilton is on a 10 race Florida win streak entering the MSR opener. Other notables expected to compete include Jason Blonde, Canadian Ryan Litt and Bobby Santos III.
Six days later the MSR National Series will join the Midwest Lights for two consecutive nights of racing as part of the American Speed U.S. Nationals at Birch Run Speedway in Birch Run, Michigan May 26-27, 2023. It ill be one of the busiest stretches in series history.
Each night will feature both series on the racing card to give sprint car fans a bonanza of sprint car action. All racing action will be held on the 4/10 mile track although the MSR Lights will make a Friday appearance on the racy quarter mile during the weekend.
MSR President Jim Hanks added "We are really excited to kick off the new season at two outstanding tracks with what arguably looks like our strongest most competitive field of teams in our history. Plus, fans who are unable to attend the two day Nationals event at Birch Run can see all the action on our new Monday night MAVTV All-American Racing tape delayed programming featuring two separate one-hour prime time programs or on the soon to be announced Must See event live streaming."
This years MSR Lights will feature new cars and drivers as the series continues to grow and gain popularity. The MSR Lights continues to develop young talent while preparing them for the National Series in the future.
For more info on the American Speed U.S. Nationals please visit www.mustseeracing.com