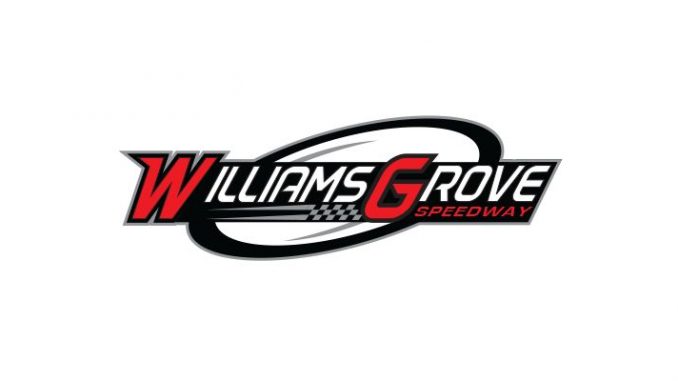 By Shawn Brouse
Mechanicsburg – Freddie Rahmer snapped a 39-race losing streak at Williams Grove Speedway on Friday night, taking victory in the $5,000 to win 410 sprint car main event.
His last win at the track came on July 16, 2021, with a different team.
His win on Friday night was his first at the oval for veteran driver turned car owner Rich Eichelberger of Dillsburg.
In the 358 sprint main it was Doug Hammaker taking his first win in the division since 2019.
Invader Justin Peck could lead only the first two laps of the 25-lap 410 sprint feature before third starter Rahmer made his presence known aboard the No. 8.
Rahmer tried a move to the outside of Peck in the third turn that didn't pan out so he then turned the car to the inside and drove under Peck to take command at the line for the completion of lap three.
And once out front, Rahmer began to pull away before hitting traffic with 15 laps to go.
At first the backmarkers fell easily to Rahmer but as the laps wore on they became more challenging until Rahmer got bottled up trying to put the car of Jarrett Cavalet behind him.
This allowed Peck to close the gap considerably while Brent Marks and Lance Dewease battled for third.
Dewease took the spot using his patented low line just before the red flag appeared for Cavalet who slammed the inside wall at the end of the frontstretch before walking away from the crash.
The open track and clean air did wonders for Rahmer as he pulled away to the win on the restart to get the victory by 1.580 seconds.
"It's been way too long," Rahmer said in victory lane.
"It's about time we got it done. The red at the end probably helped us."
Dewease got Peck for second on lap 24.
Peck ended up third followed by Marks and Anthony Macri.
Sixth through 10th went to Danny Dietrich, Dylan Norris, Kyle Moody, Chase Dietz and Steve Buckwalter.
Buckwalter was the PA Dyno Hard Charger.
Heats went to Dewease, Rahmer and Dietrich.
Peck set overall quick time in warm-ups with a lap of 17.579 seconds.
Hammaker wired the field for the 20-lap 358 sprint car feature win.
Four yellow flags hampered the race but Hammaker was up to the test on each restart.
Chris Frank got by Zach Newlin for second on lap 14 for a career-best finish.
Newlin was third followed by Derek Locke and Tim Glatfelter.
Sixth through 10th went to Kody Hartlaub, Steve Owings, Scott Fisher, Jayden Wolfe and Cody Fletcher.
Fletcher was the PA Dyno Hard Charger.
Heats were taken by Newlin, Hammaker and Yost with Frankie Herr scoring the consolation.
Feature Finishes:
410 sprints, 25 laps: 1. Freddie Rahmer, 2. Lance Dewease, 3. Justin Peck, 4. Brent Marks, 5. Anthony Macri, 6. Danny Dietrich, 7. Dylan Norris, 8. Kyle Moody, 9. Chase Dietz, 10. Steve Buckwalter, 11. Dylan Cisney, 12. Brandon Rahmer, 13. TJ Stutts, 14. Devon Borden, 15. Justin Whittall, 16. Austin Bishop, 17. Cameron Smith, 18. Billy Dietrich, 19. Joedan Givler, 20. Jimmy Siegel, 21. Jarrett Cavalett, 22. Kody Lehman
358 sprints, 20 laps: 1. Doug Hammaker, 2. Chris Frank,3. Zach Newlin, 4. Derek Locke, 5. Tim Glatfelter, 6. Kody Hartlaub, 7. Steve Owings, 8. Scott Fisher, 9. Jayden Wolfe, 10. Cody Fletcher, 11. Nash Ely, 12. Chase Gutshall, 13. Justin Foster, 14. Frankie Herr, 15. Brady Dillon, 16. Shane Yost, 17. George Streaker Jr., 18. Jaremi Hanson, 19. Tyler Rutherford, 20. Matt Findley, 21. Cody Phillips, 22. Chad Criswell, 23. Nat Tuckey, 24. Kyle Spence
DNQ: Kyle Keen, Preston Lattomus, Dave Holler