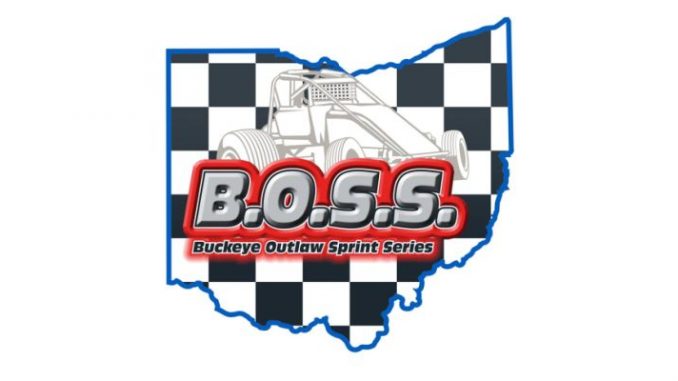 By Aaron Fry
Braxton Cummings was the last sprint car to roll into the Montpelier Motor Speedway pit area on Saturday. However, the 26 year old throttle-pusher was the first across the finish line in the main event, defeating a stout field of 40 MPD Racing, Buckeye Outlaw Sprint Series traditional sprint cars. New track promoter, Chad King, gave the drivers a great racing surface that produced, arguably, the race of the year which saw Cummings, Dallas Hewitt and Ricky Lewis racing through extremely heavy lapped traffic for much of the 25 lap distance.
The weekend began on Friday night for the BOSS tour stars at Circle City Raceway near Indianapolis. It was the first ever visit for the series, but the rains came after qualifying was completed. Robert Ballou, Korbyn Hayslett and Emerson Axsom were quick qualifiers in their respective groups with Ballou's 12.610 the overall fastest time. Track officials and tour officials are working on a make-up date to be announced very soon.
With the overnight rains Friday night, it was difficult for Montpelier Speedway officials preparing for Saturday's events, however, a good crowd was on hand to see 40 very competitive race cars competing. ARP Fasteners qualifying saw 4 groups of cars led by Colin Grissom, Jack Hoyer, Isaac Chapple and Tyler Kendall. Heat raes were won by Paul Dues, Dallas Hewitt, Ricky Lewis and Braxton Cummings. With the large field on hand, the B-Main was split into a pair of 12 car, 10 lap races won by Zack Pretorius and Tayte Williamson.
Following an emotional "missing man" 4 wide salute in honor of Justin Owen, Matt Goodnight and Braxton Cummings led the 22 car field thundering into the Hoosier night. Cummings opened up a comfortable early lead, but fourth starting Dallas Hewitt and fifth starting Ricky Lewis reeled him in to create and absolutely EPIC 3 car battle through heavy lapped traffic. Hewitt was able to snag the lead briefly and at one point, the three were almost 3 wide for the lead among no less that SEVEN lapped cars. Without a doubt, the middle stages of the event would be a nominee for "race of the year". It stayed clean and green until lap 23 when Hewitt and Gage Etgen got together and spun to a stop in turn 1.
On the restart, only a lap was completed when Etgen, Hewitt and Tayte Williamson tangled in turn 4 to bring out the only red flag of the event. This set up a one-lap shootout with Cummings and second running Ricky Lewis both in search of their first tour wins. Cummings raced into the first turn with Lewis throwing everything he had, but raced the leader clean and settled for anouther runner-up spot to take the point lead. Cummings flashed across the line to claim the upset win over Lewis, Paul Dues, Korbyn Hayslett and Scotty Weir in the top 5. Rounding out the top 10 were the hard charging Tyler Kendall, Matt Goodnight, Lee Underwood, Max Adams and Tayte Williamson.
Next up for the MPD Racing BOSS tour is this Saturday, May 27th with their first EVER appearance at the Florence Speedway in Kentucky. It has been more than a decade since 410 sprint cars have raced at Florence and we are proud and honored that the King family has chosen us to bring them back to their legendary dirt oval. Watch for more details in the coming days!
BOX SCORE
Montpelier Motor Speedway
Montpelier, IN
Saturday, May 20, 2023
40 Entries
ARP Fasteners Qualifying
Group 1: 1. 00g-Colin Grissom 14.458, 2. 23k-Scotty Weir 14.548, 3. 87-Paul Dues 14.641, 4. 19-Matt Cooley 14.693, 5. 00w-Noah Whitehouse 14.958, 6. 2di-Dustin Ingle 15.129, 7. 49-Brian Ruhlman 15.134, 8. 33-Jason Ferguson 15.195, 9. 1-Nathan Schank 15.297, 10. 53-Steve Little NT
Group 2: 1. 57-Jack Hoyer 14.553, 2. 21-Dallas Hewitt 14.876, 3. 39-Matt Goodnight 14.936, 4. 21B-Ryan Barr 14.948, 5. 5-Jesse Vermilliion 15.025, 6. 31-Tim Creech III 15.041, 7. 78-Rob Caho Jr 15.096, 8. 27-Evan Mosley 15.142, 9. 18s-Aidan Salisbury 15.199, 10. 73-Blake Vermillion 15.391
Grouop 3: 1. 6-Isaac Chapple 14.503, 2. 1H-Korby Hayslett 14.680, 3. 9G-Cody Gardner 14.769, 4. 06-Rylan Gray 14.839, 5. 41-Ricky Lewis 14.883, 6. 34-Parker Frederickson 14.922, 7. 86-Keith Sheffer Jr 14.959, 8. 9z-Zack Pretorius 15.009, 9. 91-Easton Ashbrooke 15.733, 10. 44-Tom Davies NT
Group 4: 1. 20K-Tyler Kendall 14.626, 2. 5x-Max Adams 15.191, 3. 99E-Gage Etgen 15.303, 4. 71B-Braxton Cummings 15.420, 5. 24L-Lee Underwood 15.471, 6. 21s-Bryar Schroeter 15.840, 7. 42-Brayden Clark 16.039, 8. 99-Jack James 16.072, 9. 41s-Owen Barr 17.098, 10. 20w-Tayte Williamson 20.046
Mad Tree Brewing – Heat 1: 1. 87-Dues[2] ; 2. 23k-Weir[3] ; 3. 2di-Ingle[6] ; 4. 19-Cooley[1] ; 5. 00g-Grissom[4] ; 6. 00w-Whiehouse[5] ; 7. 49-Ruhlman[7] ; 8. 33-Ferguson[8] ; 9. 1-Schank[9] ; 10. 53-Little[10]
Outsider's Merchandise & Apparel – Heat 2: 1. 21-Hewitt[3] ; 2. 39-Goodnight[2] ; 3. 31-Creech[6] ; 4. 5-Vermillion[5] ; 5. 21B-Barr[1] ; 6. 78-Caho[7] ; 7. 18s-Salisbury[9] ; 8. 73-Vermillion[10] ; 9. 27-Mosley[8] ; 10. 57-Hoyer[4]
Elizabeth Gardner Photography – Heat 3: 1. 41-Ricky Lewis [5] ; 2. 9G-Cody Gardner[2] ; 3. 1H-Korbyn Hayslett[3] ; 4. 6-Isaac Chapple[4] ; 5. 06-Rylan Gray[1] ; 6. 9z-Zack Pretorius[8] ; 7. 91-Ashbrooke[9] ; 8. 34-Frederickson[6] ; 9. 86-Sheffer[7] ; 10. 44-Davies[DNS]
E A Home Supply – Heat 4: 1. 71b-Braxton Cummings[1] ; 2. 5x-Max Adams[3] ; 3. 24L-Lee Underwood[5] ; 4. 20k-Tyler Kendall[4] ; 5. 20w-Williamson[10] ; 6. 99E-Etgen[2] ; 7. 42-Clark[7] ; 8. 99-James[8] ; 9. 21s-Schroeter[6] ; 10. 41a-O.Barr[10]
MSD Ignitions – B Main 1: 1. 9z-Pretorius[4] ; 2. 00G-Grissom[1] ; 3. 00w-Whitehouse[3] ; 4. 49-Ruhlman[5] ; 5. 91-Ashbrooke[6] ; 6. 86-Sheffer[10] ; 7. 1-Schank[9] ; 8.34-Frederickson[8] ; 9. 33-Ferguson[7] ; 10. 06-Gray[2] ; 11. 53-Little[11] ; 12. 44-Davies[DNS]
MSD Ignitions – B Main 2: 1. 20-Williamson[2] ; 2. 99e-Etgen[4] ; 3. 18s-Salisbury[5] ; 4. 78-Caho[3] ; 5. 73-Vermillion[7] ; 6. 42-Clark[6] ; 7. 21s-Schroeter[10] ; 8. 27-Mosley[9] ; 9. 99-James[8] ; 10. 41a-O.Barr[12] ; 11. 21B-Barr[1] ; 12. 57-Hoyer[11]
MPD Racing – A Main: 1. 71b-Cumming[2] ; 2. 41-Lewis[5] ; 3. 87-Dues[6] ; 4. 1H-Hayslett[11] ; 5. 23k-Weir[3] ; 6. 20K-Kendall[16] ; 7. 39-Goodnight[1] ; 8. 24L-Underwood[12] ; 9. 5x-Adams[8] ; 10. 20w-Williamson[18] ; 11. 6-Chapple[15] ; 12. 19-Cooley[13] ; 13. 2di-Ingle[9] ; 14. 9G-Gardner[7] ; 15. 5-Vermillion[14] ; 16. 9z-Pretorius[17] ; 17. 00w-Whitehouse[21] ; 18. 18s-Salisbury[22] ; 19. 00G-Grissom[19] ; 20. 31-Creech[10] ; 21. 21-Hewitt[4] ; 22. 99e-Etgen[20]
All Pro Cylinder Heads – Hard Charger: 20-Tyler Kendall +10
E A Home Supply – Lucky Pill Draw: 91-Easton Ashbrooke
All Star Performance – Hard Luck: 21-Dallas Hewitt
Cowen Truck Line – Steel Block Bonus: 18s-Aidan Salisbury
Hoosier Tire Bonu – Free Tire: 71b-Braxton Cummings