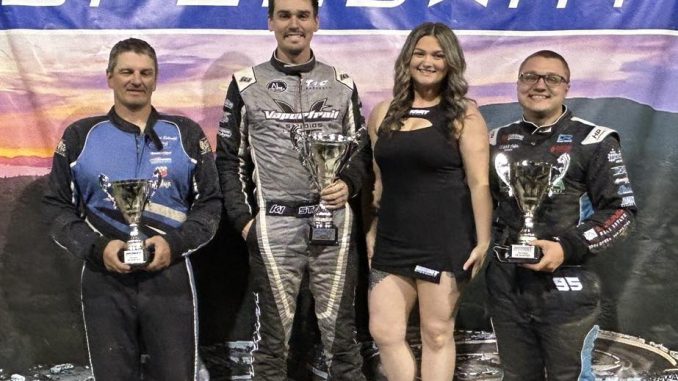 Inside Line Promotions
ALGER, Wash. (May 22, 2023) – Trey Starks scored his first feature triumph of the season in impressive fashion last Saturday at Skagit Speedway, where he swept the 410ci winged sprint car program.
"It was really good, especially being in the 410," he said. "That's our main focus this year. To have a good outing with a brand new car and an engine that had been freshened was great. To have everything go that smooth out of the gate feels pretty good."
Starks, who is the defending track champion in the division, set quick time during qualifying to start the evening.
"We went out toward the end of time trials, but I was able to lay down a good lap," he said. "That set us up for the remainder of the night.
"The heat race was interesting. I think we got into second on the first lap. We had a bid for the lead probably halfway through and got the door shut on us. A hole was developing in turn three. On the last lap the leader got upside down, which let us inherit the lead for a green-white-checkered restart. We held on to win that."
Starks advanced from fourth to win a heat race before he captured both the dash and the 30-lap main event from the pole position.
"We drew the No. 1 and won the dash," he said. "That put us on the pole for the feature. We didn't get the lead right away. I'm not sure if the track had gotten dirty, but I went to enter on the top in turns one and two like I had in the dash and it didn't hold me. We fell to second and I didn't get the lead until around Lap 11. The leader left the bottom open going into turn one and I took advantage to get by him. I think we led the rest of the way. It was pretty smooth with not a ton of traffic to deal with."
Starks plans to race at Skagit Speedway this Saturday during the John Carroll Classic and Sunday at Cottage Grove Speedway in Cottage Grove, Ore., during the Marvin Smith Memorial Grove Classic.
QUICK RESULTS –
May 20 – Skagit Speedway in Alger, Wash. – Qualifying: 1; Heat race: 1 (4); Dash: 1 (1); Feature: 1 (1).
SEASON STATS –
6 races, 1 win, 3 top fives, 4 top 10s, 6 top 15s, 6 top 20s
UP NEXT –
Saturday at Skagit Speedway in Alger, Wash., for the John Carroll Classic and Sunday at Cottage Grove Speedway in Cottage Grove, Ore., for the Marvin Smith Memorial Grove Classic
MEDIA LINKS –
Website: http://www.StarksRacing.com
Twitter: https://twitter.com/Starks55Trey
Facebook: https://www.facebook.com/TreyStarksRacing?fref=ts