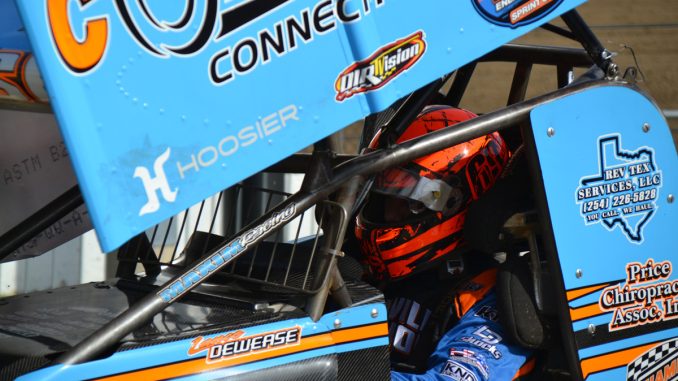 From Tyler Altmeyer
MECHANICSBURG, Penn. (May 26, 2023) — National Sprint Car Hall of Famer, Lance Dewease, padded the stat book yet again on Friday night at Williams Grove Speedway in Mechanicsburg, Pennsylvania, scoring the Doug Esh Tribute against the Tezos All Star Circuit of Champions presented by Mobil 1 for a $10,000 top prize. The victory, accomplished from the inside of row four, was secured on lap 19, driving by Dillsburg's Anthony Macri in a drag race to the flagstand.
The win bumps Dewease's All Star win count to 45 total, ten of which occurring at the famed Williams Grove Speedway. In addition, the triumph increased Dewease's Williams Grove career total to a whopping 113, simultaneously propelling car owner Don Kreitz Jr. to the all-time winning car owner position at the Mechanicsburg oval.
"Double-D" Danny Dietrich, who pressured Dewease late before a caution on lap 27 cleared slower traffic, charged his way from 11th to finish second in the All Stars' lone visit to Williams Grove this season, followed by Anthony Macri, Devon Borden, and Kyle Moody.
It was Lance Dewease at the end of the 30-lapper, but Chase Dietz led early, commanding the first ten circuits before losing control in turns three and four on lap 11. Dietz' spin allowed Anthony Macri to inherit the top spot. That, of course, all changed on lap 19.
"Things are better, but I'm still not sure we have everything figured out yet. We caught some breaks here tonight that helped us out. Little Freddie [Rahmer] may have been the fastest car here tonight," Dewease stated in Williams Grove Speedway victory lane. "Clean air was helpful. We were really struggling with the lapped cars racing down on the bottom. Not sure we were the fastest tonight, but we'll take it.
"This win goes to Davey Brown," Dewease added. "He hasn't been feeling well so he couldn't make it here tonight, but I know he's at home watching it. This one's for him."
Tezos All Star Circuit of Champions presented by Mobil 1
Tribute to Doug Esh
Williams Grove Speedway
Mechanicsburg, Pennsylvania
Friday, May 26, 2023
Hercules Tire Qualifying
1. 44-Dylan Norris, 16.999[2]
2. 39M-Anthony Macri, 17.035[32]
3. 2D-Chase Dietz, 17.083[11]
4. 15H-Sam Hafertepe Jr, 17.140[1]
5. 69K-Lance Dewease, 17.221[27]
6. 23-Devon Borden, 17.225[4]
7. 11T-TJ Stutts, 17.239[28]
8. 8-Freddie Rahmer, 17.254[30]
9. 99M-Kyle Moody, 17.255[14]
10. 67-Justin Whittall, 17.262[9]
11. 48-Danny Dietrich, 17.295[3]
12. 26-Zeb Wise, 17.301[31]
13. 1W-Jim Siegel, 17.347[12]
14. 91-Kyle Reinhardt, 17.369[8]
15. 7BC-Tyler Courtney, 17.394[23]
16. 12-Billy Dietrich, 17.395[10]
17. 19-Brent Marks, 17.456[5]
18. 5E-Brandon Rahmer, 17.536[16]
19. 39T-Cameron Smith, 17.544[17]
20. 45-Tim Shaffer, 17.557[24]
21. 1X-Chad Trout, 17.578[25]
22. 55-Hunter Schuerenberg, 17.589[34]
23. 30-Lucas Wolfe, 17.605[21]
24. 11-Cory Eliason, 17.612[22]
25. 28M-Conner Morrell, 17.709[18]
26. 70-Scotty Thiel, 17.749[26]
27. 6-Ryan Smith, 17.754[33]
28. 90-Jordan Givler, 17.759[6]
29. 17B-Steve Buckwalter, 17.760[7]
30. 4-Chris Windom, 17.797[15]
31. 35-Austin Bishop, 17.858[19]
32. 97-JJ Hickle, 17.904[20]
33. 12D-Steve Downs, 18.140[13]
34. 29-Sye Lynch, 18.243[29]
Elliotts Custom Trailers and Carts Dash (6 Laps)
1. 2D-Chase Dietz[1]
2. 23-Devon Borden[3]
3. 45-Tim Shaffer[2]
4. 39M-Anthony Macri[7]
5. 44-Dylan Norris[4]
6. 7BC-Tyler Courtney[5]
7. 69K-Lance Dewease[8]
8. 99M-Kyle Moody[6]
Hunt Brothers Pizza Heat Race #1 (8 Laps)
1. 23-Devon Borden[2]
2. 15H-Sam Hafertepe Jr[1]
3. 48-Danny Dietrich[5]
4. 67-Justin Whittall[3]
5. 44-Dylan Norris[4]
6. 19-Brent Marks[7]
7. 91-Kyle Reinhardt[6]
8. 17B-Steve Buckwalter[9]
9. 90-Jordan Givler[8]
CSI Shocks Heat Race #2 (8 Laps)
1. 99M-Kyle Moody[1]
2. 2D-Chase Dietz[4]
3. 1W-Jim Siegel[2]
4. 12-Billy Dietrich[3]
5. 39T-Cameron Smith[6]
6. 4-Chris Windom[8]
7. 5E-Brandon Rahmer[5]
8. 28M-Conner Morrell[7]
9. 12D-Steve Downs[9]
All Pro Aluminum Cylinder Heads Heat Race #3 (8 Laps)
1. 45-Tim Shaffer[1]
2. 7BC-Tyler Courtney[4]
3. 1X-Chad Trout[2]
4. 11-Cory Eliason[5]
5. 30-Lucas Wolfe[3]
6. 70-Scotty Thiel[6]
7. 97-JJ Hickle[8]
8. 35-Austin Bishop[7]
Kistler Racing Products Heat Race #4 (8 Laps)
1. 69K-Lance Dewease[1]
2. 39M-Anthony Macri[4]
3. 8-Freddie Rahmer[3]
4. 11T-TJ Stutts[2]
5. 26-Zeb Wise[5]
6. 55-Hunter Schuerenberg[6]
7. 6-Ryan Smith[7]
8. 29-Sye Lynch[8]
Classic Ink USA B-Main (12 Laps)
1. 91-Kyle Reinhardt[1]
2. 19-Brent Marks[2]
3. 55-Hunter Schuerenberg[3]
4. 70-Scotty Thiel[4]
5. 4-Chris Windom[5]
6. 35-Austin Bishop[11]
7. 90-Jordan Givler[13]
8. 28M-Conner Morrell[9]
9. 12D-Steve Downs[14]
10. 5E-Brandon Rahmer[6]
11. 97-JJ Hickle[8]
12. 6-Ryan Smith[7]
13. 29-Sye Lynch[12]
14. 17B-Steve Buckwalter[10]
Tezos A-Main (30 Laps)
1. 69K-Lance Dewease[7]
2. 48-Danny Dietrich[11]
3. 39M-Anthony Macri[4]
4. 23-Devon Borden[2]
5. 99M-Kyle Moody[8]
6. 44-Dylan Norris[5]
7. 1W-Jim Siegel[12]
8. 11-Cory Eliason[17]
9. 26-Zeb Wise[18]
10. 19-Brent Marks[22]
11. 67-Justin Whittall[15]
12. 45-Tim Shaffer[3]
13. 1X-Chad Trout[13]
14. 91-Kyle Reinhardt[21]
15. 8-Freddie Rahmer[10]
16. 11T-TJ Stutts[14]
17. 15H-Sam Hafertepe Jr[9]
18. 30-Lucas Wolfe[20]
19. 4-Chris Windom[25]
20. 55-Hunter Schuerenberg[23]
21. 39T-Cameron Smith[19]
22. 70-Scotty Thiel[24]
23. 12-Billy Dietrich[16]
24. 7BC-Tyler Courtney[6]
25. 2D-Chase Dietz[1]
26. 28M-Conner Morrell[27]
27. 35-Austin Bishop[26]
Lap Leaders: Chase Dietz (1-10), Anthony Macri 11-18), Lance Dewease (19-30)
Contingency Awards/Results: Williams Grove Speedway| May 26, 2023:
Doug Esh Tribute | $10,000-to-win
Kistler Racing Products Pill Draw | Entries: 34
Macri Concrete/Nunzi's Advertising Hot Laps: Anthony Macri | 17.102
Hercules Tires Fast Qualifier: Dylan Norris | 16.999
Hunt Brothers Pizza Heat #1 Winner: Devon Borden
Competition Suspension Inc Heat #2 Winner: Kyle Moody
All Pro Aluminum Cylinder Heads Heat #3 Winner: Tim Shaffer
Kistler Racing Products Heat #4 Winner: Lance Dewease
Elliott's Custom Trailers and Carts Dash Winner: Chase Dietz
Classic Ink USA Screenprinting and Embroidery B-Main Winner: Kyle Reinhardt
Rayce Rudeen Foundation Contingency Award: Chris Windom
Tezos A-Main Winner: Lance Dewease
Tezos A-Main Hard Charger: Brent Marks (+12)
Carquest Perseverance Award: Scotty Thiel