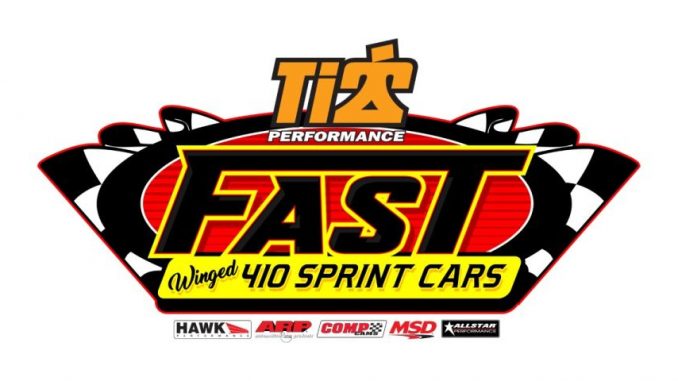 By Aaron Fry
With four races already in the books for the 2023 season, Rawson, Ohio's Ricky Peterson leads to Ti22 Performance FAST On Dirt point standings. However, Evans City, Pennsylvania's Brandon Spithaler won the last race at Knox Raceway and closed the gap. Jordan Ryan, Sean Rayhall and Justin Clark round out the current top 5. Some tough luck early has left some heavy-hitters outside the top 5 as Jack Sodeman Jr, Mitch Harble, Jeremy Weaver, Kasey Jedrzejek, Trey Jacobs, Danny Sams III and Reece Saldana make up the top 12.
Several other Indiana, Ohio and Michigan drivers have indicated they will be on hand this weekend as the FAST tour makes some history. Friday night will mark the first ever appearance for the touring 410 winged sprints at Circle City Raceway in Indianapolis. Then, a night later, the tour will tackle the Montpelier Motor Speedway an hour and a half to the north. Saturday's show at Montpelier will take on some special significance and is sponsored by Indy Race Parts in an effort to make FAST a part of the 1st annual "Jake and Jenson Memorial". FAST is very pleased to have been chosen to be included in this special memorial event in honor of 2 race fans from right in the small town of Montpelier, tragically taken from us a year ago. We also thank Bernie Stuebgen for his support in making this show happen.
On Friday at Circle City, pit gates will open at 4 pm with general admission gates open at 5. Hot laps will be at 6 with racing at 7. Adult general admission will be $15 with seniors 65+, military, first responders and teachers admitted for $12. Kids 10 and under are free. Pit passes will be $35. Joining FAST will be the UMP modifieds, Pro Legends and Super Stocks.
On Saturday at Montpelier, pit gates will open at 3 with general admission open at 4. Hot lap are scheduled for 6 with racing at 7:30. Adult general admission will be $20 with pit passes $35. Joining the FAST sprint cars will be the UMP Modifieds and the standard Montpelier classes.
For the FAST On Dirt winged 410 sprint cars, the same main event purse will be paid both nights. The A-main payout is as follows: 3000, 1500, 1000, 750, 650, 550, 500, 475, 450, 425, 400, 390, 380, 370, 360, 350, 350, 350, 350, 350. Heat races will also pay: 40, 30, 20, 10 thanks to NAPA Auto Parts of Fremont, Ohio, Mad Tree Brewing of Cincinnati, Ohio and Indy Race Parts of Indianapolis. $50 bonus awards for hard charger and hard luck are provided by Jason Imler and Outsider's Merchandise & Apparel, the official souvenir trailer of BOSS and FAST!
For competing teams, there are NO membership fees or entry fees. Cars must run 4 corner Hoosier Tires. The rear tires may be any of the 2022 OR 2023 spec rear tires. Right rears can be H15, D15A or Medium. Left rears can be H12 or D12A. You do not have to run the same right rear all night. All wings must be flat top with a maximum 2″ wicker bill. The FAST series will have a limited supply of tires and methanol, please call ahead to reserve specific chalk marks. We will be using the yellow Westhold transponders and rentals are available for just $5 through FAST. Raceceiver radios are also mandatory any time cars are under power. We will be on the default channel of 454.000.
We hope to see everyone at one, or hopefully BOTH events this weekend. Fans had posted in the off-season that Indiana needs more winged racing. The FAST series, Circle City and Montpelier have taken a chance and we hope race fans will reward these promoters by supporting these shows!