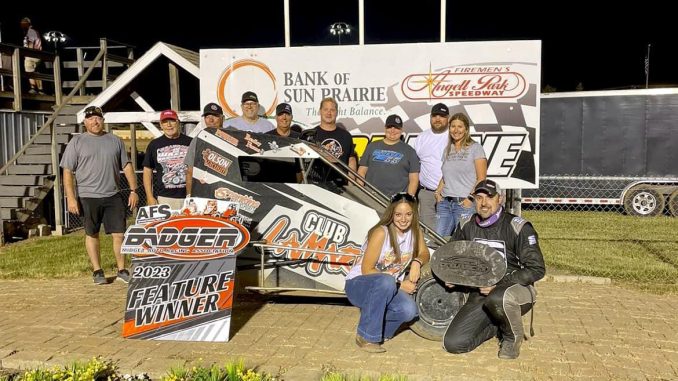 From R MR
Sun Prairie, WI (June 4th, 2023) – Brandon Waelti took home his second Advanced Fastening Supply Badger Midget series victory of the season Sunday at Angell Park Speedway in Sun Prairie, WI. This also marked his second win at Angell Park this season.
Thirty-one Badger Midgets packed the pits as racing action loomed. Zach Boden, the 2022 AFS Badger Midget series champion and the 2003 champ, Davey Ray, both made their first appearances of the 2023 season.
The FiveOne Motorsports Fast Time Award went to Todd Kluever with a lap of 15.250 seconds followed by Davey Ray. Ray, whose first lap was forced to be his best, jumped the cushion, and rolled the Mike Raymond owned 6B car in turn one on his second lap ending his night.
The Madison Extinguisher Service non-qualifier race was won by Zach Boden. Boden cruised to victory over Robby Wirth and Jim Fuerst. Auto Meter Heat 1 was won by Brandon Waelti. Simpson Race Products and VMS Rod Ends Heat 2 saw Kyle Stark take the win. Behlings Heat 3 went to Adam Taylor who made his first appearance back in his regular #5X Fusion Engineering machine since flipping at Plymouth Dirt Track a few weeks ago.
The High Performance Lubricants B-Main locked seven drivers into the feature event. Zach Boden, Jake Dohner, Aaron Schuck, Kevin Douglas, Robby Wirth, Jake Goeglein, and Eric Blumer all transferred. Kluever was the early leader but caught the wall between turns three and four and took a hard tumble ending his night.
The Advanced Fastening Supply Badger Midgets A-Main rolled off with Cody Weisensel and Kyle Stark on the front row. Weisensel got the better start and maintained an early lead. Stark fell back as the 3W of Brandon Waelti moved up into the second spot. Waelti was able to chase down Weisensel and a battle broke out, with the 20 of Weisensel on the bottom and the 3W of Waelti on top. Waelti was eventually able to find his way into the lead on lap six. The only yellow of the race flew on lap nine as the 40 of Jace Sparks found himself facing the wrong way in turn four. Waelti led the field back to green but Weisensel made a bid for the lead and snuck under Waelti. Waleit was able to rally and get back by the next lap. The 38 of Matt Rechek fought his way up into the top three with just under ten laps to go showing a nose to both Weisensel and Waelti. Fending off challenges from every side and every lane wasn't easy for Waelti but he was able to cross the line first to take his second feature win of the season. Weisensel Sark, who made a late race charge, Recheck, and rookie Parker Jones rounded out the top five.
The AMS Hard Charger award went to Ronnie Gardner who earned five spots from his initial starting position. Ray received the CarTopia Hard Luck award. The Oliver Motors Last Place Bonus went to Kevin Douglas who finished in 22nd position.
The Advanced Fastening Supply Badger Midgets will be back in action with a doubleheader weekend on June 10th and 11th at Sycamore Speedway and Sunday at Angell Park Speedway. Learn more about the Advanced Fastening Supply Badger Midget Auto Racing Association by visiting BMARA.com or the BMARA Racing Facebook Page.
Summary
A – Feature 25 Laps | 00:09:41.387 | Advanced Fastening Supply
3W-Brandon Waelti[4]; 2. 20-Cody Weisensel[1]; 3. 2-Kyle Stark[2]; 4. 38-Matt Rechek[5]; 5. 41-Parker Jones[3]; 6. 5X-Adam Taylor[6]; 7. 9S-Mike Stroik[10]; 8. 20D-Derek Doerr[7]; 9. 19E-Daltyn England[8]; 10. 57-Ronnie Gardner[15]; 11. 51-Zach Boden[16]; 12. 15C-RJ Corson[11]; 13. 87-Jake Dohner[17]; 14. 40-Jace Sparks[9]; 15. 24-Aaron Muhle[14]; 16. 53-Aaron Schuck[18]; 17. 57M-Mark McMahill[13]; 18. 53M-Miles Doherty[12]; 19. 1W-Robby Wirth[20]; 20. 8-Jake Goeglein[21]; 21. 68-Eric Blumer[22]; 22. 5K-Kevin Douglas[19]
B – Feature 10 Laps | 00:03:08.431 | High Performance Lubricants
51-Zach Boden[10]; 2. 87-Jake Dohner[1]; 3. 53-Aaron Schuck[7]; 4. 5K-Kevin Douglas[5]; 5. 1W-Robby Wirth[11]; 6. 8-Jake Goeglein[14]; 7. 68-Eric Blumer[2]; 8. 28-Jim Fuerst[12]; 9. 29-Harrison Kleven[13]; 10. 59-Kyle Koch[9]; 11. 17-Nicholas Klein[15]; 12. 40JR-Dave Collins Jr[3]; 13. 55-Todd Kluever[4]; 14. 10A-Tommy Colburn[6]; 15. 98-Jordan Nelson[16]; 16. (DNS) 6B-Davey Ray; 17. (DNS) 56-Charles Rufi
Heat 3 8 Laps | 00:02:21.000 | Behlings
5X-Adam Taylor[7]; 2. 41-Parker Jones[6]; 3. 24-Aaron Muhle[1]; 4. 9S-Mike Stroik[4]; 5. 53M-Miles Doherty[3]; 6. 87-Jake Dohner[2]; 7. 55-Todd Kluever[8]; 8. (DNF) 53-Aaron Schuck[5]
Heat 2 8 Laps | 00:02:19.000 | Simpson Race Products & VMS Rod Ends
2-Kyle Stark[6]; 2. 57-Ronnie Gardner[3]; 3. 38-Matt Rechek[7]; 4. 19E-Daltyn England[5]; 5. 57M-Mark McMahill[2]; 6. 68-Eric Blumer[1]; 7. 5K-Kevin Douglas[4]; 8. (DNS) 6B-Davey Ray
Heat 1 8 Laps | 00:02:30.000 | Auto Meter
3W-Brandon Waelti[7]; 2. 40-Jace Sparks[5]; 3. 20-Cody Weisensel[6]; 4. 20D-Derek Doerr[8]; 5. 15C-RJ Corson[4]; 6. 40JR-Dave Collins Jr[1]; 7. 10A-Tommy Colburn[2]; 8. (DNF) 59-Kyle Koch[3]
Schoenfeld Qualifying 25 Laps | Five-One Motorsports Fast Time
55-Todd Kluever, 15.250[5]; 2. 6B-Davey Ray, 15.309[7]; 3. 20D-Derek Doerr, 15.450[2]; 4. 5X-Adam Taylor, 15.478[28]; 5. 38-Matt Rechek, 15.852[10]; 6. 3W-Brandon Waelti, 15.860[24]; 7. 41-Parker Jones, 15.892[26]; 8. 2-Kyle Stark, 15.915[17]; 9. 20-Cody Weisensel, 15.942[6]; 10. 53-Aaron Schuck, 16.067[1]; 11. 19E-Daltyn England, 16.100[22]; 12. 40-Jace Sparks, 16.199[11]; 13. 9S-Mike Stroik, 16.224[29]; 14. 5K-Kevin Douglas, 16.344[3]; 15. 15C-RJ Corson, 16.383[14]; 16. 53M-Miles Doherty, 16.406[4]; 17. 57-Ronnie Gardner, 16.524; 18. 59-Kyle Koch, 16.526[9]; 19. 87-Jake Dohner, 16.550[8]; 20. 57M-Mark McMahill, 16.591[18]; 21. 10A-Tommy Colburn, 16.621[19]; 22. 24-Aaron Muhle, 16.691[27]; 23. 68-Eric Blumer, 16.723[31]; 24. 40JR-Dave Collins Jr, 16.776[21]; 25. 28-Jim Fuerst, 16.798[25]; 26. 29-Harrison Kleven, 17.028[15]; 27. 56-Charles Rufi, 17.058[16]; 28. 98-Jordan Nelson, 17.377[30]; 29. 51-Zach Boden, 17.564[23]; 30. 8-Jake Goeglein, 17.593[13]; 31. 1W-Robby Wirth, 17.916[20]; 32. 17-Nicholas Klein, 18.060[12]
Non Qualifier 8 Laps | 02:30.000 | Madison Extinguisher Service
51-Zach Boden[4]; 2. 1W-Robby Wirth[2]; 3. 28-Jim Fuerst[8]; 4. 29-Harrison Kleven[7]; 5. 8-Jake Goeglein[3]; 6. 17-Nicholas Klein[1]; 7. 98-Jordan Nelson[5]; 8. 56-Charles Rufi[6]