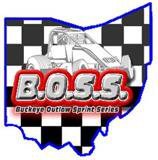 By Aaron Fry
For the fourth time already in 2023, the MPD Racing Buckeye Outlaw Sprint Series will venture into new territory. This Saturday, June 10th, the stars and cars of BOSS return to Michael's Mercer Raceway after a few years hiatus. Then, on Sunday, the traveling tour will make their first ever appearance at the Knox Raceway, just minutes to the east. The pair of events will mark the fifth different state the drivers have competed in, in just their first seven events.
California native Ricky Lewis will lead the teams into the Keystone state with the points lead over Korbyn Hayslett, Cody Gardner and Paul Dues. Tayte Williamson and Lee Underwood are dead-locked at the number 5 spot with Parker Frederickson, Blake Vermillion, Brian Ruhlman, and Dustin Ingle holding down top 10 positions. Steve Little and Jesse Vermillion are in the 11th and 12th spots with defending champion, Isaac Chapple, in the 13th spot. Isaac missed a show to compete in the prestigious "Little 500", but has all season to climb back into the hunt. Matt Cooley and Greg Mitchell make up the balance of the top 15.
In addition to those already mentioned, a strong contingent of Pennsylvania traditional sprint car racers are expected, including 3-time feature winner this season already, Carmen Perigo. He swept the cards at Ohio Valley, Hilltop and Wayne County and looks to return to the series and continue that streak. Also expected are Joey Amantea, Steve Drevicki and a host of local drivers. Two-time tour champion Matt Westfall is also expected to be in the field on his way to compete in the USAC Eastern Storm events.
On Saturday at Mercer, pit gates will open at 4 with general admission gates opening at 5. Pill draw closes and driver meeting will begin at 5:45. Hot Laps will be at 6:15 with racing at 7. Adult general admission is $18 with seniors $15 and kids 10 and under free. Pit passes are $35 with kids and seniors pit passes at $30.
On Sunday at Knox Raceway, all gates will open at 2 pm. Pill draw will close and driver meeting begin at 4:15. Hot laps will begin at 4:45 with racing at 6 pm. Adult general admission is $18 with pit passes $35. Our FAST event a month ago at Knox was over and teams were on the road shortly after 8 pm. The BOSS tour will run first all evening.
Both of this weekend's events will feature the standard BOSS purse as follows: 2000, 1000, 750, 650, 550, 500, 450, 425, 400, 375, 350, 340, 330, 320, 310, 300, 300, 300, 300, 300. Heat races will pay: 40, 30, 20, 10 to the top 4 thanks to Mad Tree Brewing of Cincinnati, Ohio, Outsider's Merchandise & Apparel and Elizabeth Gardner Photography. There will also be a free right rear tire to the main event winner courtesy of Hoosier Racing tire and 4 other $50 cash bonus awards thanks to All Pro Aluminum Cylinder Heads, Cowen Truck Line Inc, All Star Performance and E A Home Supply.
For competing teams, there are ZERO membership or entry fees. Cars must be on 4 corner Hoosier Racing Tires with the rears being any national spec rear tire from 2022 or 2023. Legal tires on the right rear are the Medium, H15, D15A or any limited series spec right rear like the RaceSaver. Left rears must be the H12, RD12 or SC12 or any limited series spec left rear. We do NOT mark tires and you do not have to run the same right rear all night.
All cars must run the red AMB "my laps" transponders and we will have them for rent for just $10 this year. Transponder will be mounted on the right front corner of the cars. All drivers must have a working RaceCeiver radio on at all times cars are under power on channel 454.000. Mufflers are NOT required at either facility. The BOSS series will have non wing tires available along with a limited supply of methanol. There will be another dealer with methanol at Knox on Sunday. Please contact Aaron at 740-703-3768 to reserve specific chalk marks or a specific amount of fuel.
The host hotel for the weekend is the official hotel of Mercer Raceway, the Rodeway Inn at 835 Perry Highway in Mercer. Ask for the "BOSS Racers" rate of just $65 plus tax. There is plenty of parking for trailers. The hotel phone number direct line is 724-748-3030 to make a reservation.
We look forward to seeing our Pennsylvania race fans this weekend. Please be sure to support Mercer Raceway and Knox Raceway, but if you are not in the area, you can catch the action live on TheCushion.com.