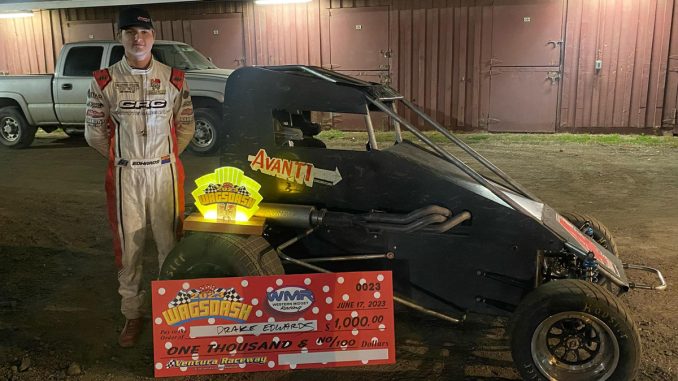 By Steven Blakesley
VENTURA, CALIFORNIA (June 18, 2023) –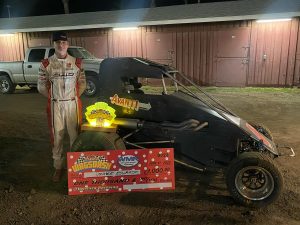 Boscacci Racing teammates Blake Bower of Brentwood and Bryant Bell of Oakley split the eight-lap heat races over the 16 Midgets on hand. Daniel Anderson of Venice and Tyler High of Goodyear, Ariz. were the front row starters for the main event.
Edwards started fifth but immediately advanced into second position on lap one. He then charged around the outside of Anderson to lead lap two.
Bower drove up the inside of Edwards in a duel for the lead before a caution flag flew. Bell used the restart to nab third from Anderson before another incident in turn three.
Bell and Bower put on a great battle for second, with the teenage Bell prevailing in the battle. He was unable to reel in Edwards, however, as Edwards steered the No. 4R to the coveted win. Bell led Bower through lapped traffic to hang on for second with Arizona's Nathan High finishing fourth. Logan Mitchell of Santa Cruz rounded out the top-five.
The Western Midget Racing teams will get a few weeks off before competing during both nights of the Howard Kaeding Classic, July 14-15 at Ocean Speedway in Watsonville, Calif.
Western Midget Racing continues its second NorCal doubleheader of 2023 at Petaluma Speedway on June 10. For more information visit www.WesternMidgetRacing.com
RESULTS: Ventura Raceway "Wagsdash Reunion In Honor of Mrs. Wags"
HEAT 1 (8 LAPS): 9-Blake Bower.; HEAT 2 (8 LAPS): 09-Bryant Bell
FEATURE (25 LAPS): 1. 4R-Drake Edwards[5]; 2. 09-Bryant Bell[6]; 3. 9-Blake Bower[7]; 4. 01-Nathan High[9]; 5. 96X-Logan Mitchell[3]; 6. 35X-Daniel Anderson[1]; 7. 20-Kyle Hawse[4]; 8. 9AZ-Tyler High[2]; 9. 48-Gary DeWitt[8]; 10. 66-Darrin Horton[15]; 11. 11-Tyler Ruth[14]; 12. 31-Todd Hawse[13]; 13. 68-Marvin Mitchell[12]; 14. 68X-Gene Sigal[11]; 15. 3AZ-Chloe High[10]; 16. 35W-Nate Wait[16]