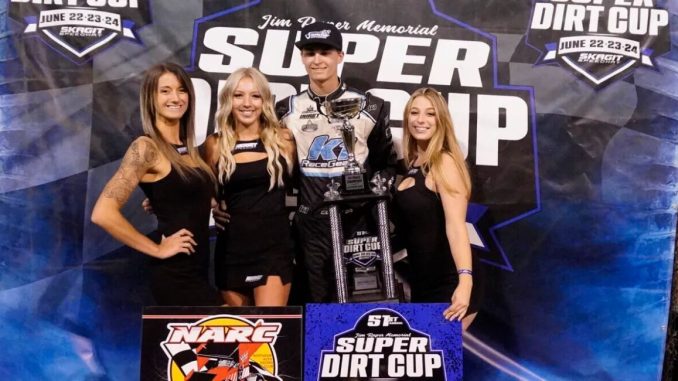 From Erik List
ALGER, Wa. (June 23, 2023) — Make it two in a row at Skagit Speedway and 10 total wins in 2023 for the teenager out of Clovis, CA Corey Day. Day picked up the win on night number two of the 51st Annual Jim Raper Memorial Super Dirt Cup on Friday night.
Unlike Thursday when Day got by Tanner Holmes on lap 19, Corey was able to find his way around Holmes much earlier, passing him on lap six. Differing from Thursday where the race went green to checkered, Friday did not as Day had to survive multiple restarts on his way to Victory Lane and the $4,100 prelim night check.
Holmes would improve on his night one finish by claiming the runner up spot on night two. While Day and Holmes battled it out for the top spot Dominic Scelzi was up on the wheel, flying around cars, moving up 10 spots from his 13th-place starting position to finish third.
After two nights of preliminary action, Justin Sanders sits atop the point standings and will start first in Saturday night's pole shuffle which will determine the top six starting spots for the $62,000 to win A-Main event.
In the Northwest Focus Midgets, Shane Smith parked his car in victory lane, leading all 25 laps of the feature. After getting upside down Thursday night, Jared Peterson was fast once again and threw move after move at Smith into turn one but never could seem to get the drive off that he needed exiting turn two. The two raced each other hard and clean but Smith hung on for the top prize.
It was another solid point night as well for Jeff Westergard as he brought the car home third after getting past last night's winner, Alex Peck.
Jim Raper Memorial Dirt Cup
Skagit Speedway
Alger, Washington
Friday, June 23, 2023
Northern Auto Racing Club
Qualifying
1. 8-Aaron Reutzel[30]
2. 21-Cole Macedo[41]
3. 55-Trey Starks[28]
4. 2X-Justin Sanders[11]
5. 16A-Colby Copeland[33]
6. 83V-Dylan Bloomfield[40]
7. 41-Dominic Scelzi[1]
8. 18-Jason Solwold[36]
9. 29-Willie Croft[14]
10. 26R-Zeb Wise[6]
11. 88N-DJ Netto[39]
12. 44W-Austen Wheatley[37]
13. 115-Nick Parker[34]
14. 19-Colby Thornhill[24]
15. 7-Tyler Thompson[3]
16. 42X-Justyn Cox[10]
17. 26-Billy Aton[7]
18. 95-Justin Youngquist[26]
19. 18T-Tanner Holmes[38]
20. 14-Corey Day[12]
21. 17W-Shane Golobic[5]
22. 2L-Logan Forler[29]
23. 99-Eric Fisher[4]
24. 17-Cam Smith[8]
25. 96-Greg Hamilton[22]
26. 73-Chase Johnson[19]
27. 69-Bud Kaeding[16]
28. 21S-Jesse Schlotfeldt[9]
29. 46JR-Joel Myers Jr[27]
30. 9A-Luke Didiuk[35]
31. 53-Jessie Attard[21]
32. 2JR-Kelly Miller[32]
33. AU96-Andy Caruana[23]
34. 9-Sean MacDonell[17]
35. 14B-Bailey Jean[15]
36. 0-Ashleigh Johnson[20]
37. 10G-Dana Glenn[25]
38. 57-James Bundy[2]
39. 00S-Corey Summers[18]
40. 1M-Mike Brown[31]
41. 3AU-Karl Hoffmans[13]
Heat Race #1
1. 17W-Shane Golobic[3]
2. 96-Greg Hamilton[2]
3. 46JR-Joel Myers Jr[1]
4. 8-Aaron Reutzel[8]
5. 115-Nick Parker[5]
6. 16A-Colby Copeland[7]
7. 29-Willie Croft[6]
8. 26-Billy Aton[4]
9. AU96-Andy Caruana[9]
10. 10G-Dana Glenn[10]
Heat Race #2
1. 73-Chase Johnson[2]
2. 2L-Logan Forler[3]
3. 9A-Luke Didiuk[1]
4. 19-Colby Thornhill[5]
5. 26R-Zeb Wise[6]
6. 21-Cole Macedo[8]
7. 95-Justin Youngquist[4]
8. 83V-Dylan Bloomfield[7]
9. 9-Sean MacDonell[9]
10. 57-James Bundy[10]
Heat Race #3
1. 7-Tyler Thompson[5]
2. 18T-Tanner Holmes[4]
3. 53-Jessie Attard[1]
4. 69-Bud Kaeding[2]
5. 88N-DJ Netto[6]
6. 41-Dominic Scelzi[7]
7. 99-Eric Fisher[3]
8. 14B-Bailey Jean[9]
9. 00S-Corey Summers[10]
10. 55-Trey Starks[8]
Heat Race #4
1. 14-Corey Day[4]
2. 42X-Justyn Cox[5]
3. 21S-Jesse Schlotfeldt[2]
4. 18-Jason Solwold[7]
5. 44W-Austen Wheatley[6]
6. 2X-Justin Sanders[8]
7. 17-Cam Smith[3]
8. 2JR-Kelly Miller[1]
9. 0-Ashleigh Johnson[9]
10. 1M-Mike Brown[10]
B-Main (12 Laps)
1. 73-Chase Johnson[1]
2. 96-Greg Hamilton[2]
3. 69-Bud Kaeding[6]
4. 21S-Jesse Schlotfeldt[5]
5. 53-Jessie Attard[11]
6. 95-Justin Youngquist[3]
7. 46JR-Joel Myers Jr[7]
8. 9A-Luke Didiuk[9]
9. 99-Eric Fisher[8]
10. 17-Cam Smith[10]
11. 2JR-Kelly Miller[12]
12. 10G-Dana Glenn[17]
13. 14B-Bailey Jean[14]
14. 9-Sean MacDonell[15]
15. 0-Ashleigh Johnson[16]
16. 57-James Bundy[19]
17. 00S-Corey Summers[18]
18. 1M-Mike Brown[20]
19. AU96-Andy Caruana[13]
20. 26-Billy Aton[4]
A-Main (35 Laps)
1. 14-Corey Day[2]
2. 18T-Tanner Holmes[1]
3. 41-Dominic Scelzi[13]
4. 26R-Zeb Wise[11]
5. 55-Trey Starks[10]
6. 42X-Justyn Cox[7]
7. 2X-Justin Sanders[16]
8. 18-Jason Solwold[14]
9. 21-Cole Macedo[17]
10. 88N-DJ Netto[8]
11. 83V-Dylan Bloomfield[9]
12. 19-Colby Thornhill[4]
13. 44W-Austen Wheatley[5]
14. 73-Chase Johnson[21]
15. 29-Willie Croft[6]
16. 8-Aaron Reutzel[18]
17. 69-Bud Kaeding[23]
18. 21S-Jesse Schlotfeldt[24]
19. 7-Tyler Thompson[12]
20. 2L-Logan Forler[20]
21. 96-Greg Hamilton[22]
22. 16A-Colby Copeland[15]
23. 115-Nick Parker[3]
24. 17W-Shane Golobic[19]
Top Six in Event Points
1. 2x Justin Sanders – 936
2. 41 Dominic Scelzi – 935
3. 26R Zeb Wise – 935
4. 21 Cole Macedo – 929
5. 14 Corey Day – 927
6. 55 Trey Starks – 927
Northwest Focus Midget Car Series
Heat Race #1 (8 Laps)
1. 66-Jeff Westergard[2]
2. 76-Tyler Ketchum[1]
3. 13A-Alex Peck[9]
4. 41-Ashley Thompson[6]
5. 21T-Ross Rankine[7]
6. 42-Jake Munn[4]
7. 17-Kyle Hanson[5]
8. 23-Randy Schaaf[8]
9. 27-Joe Shawley[3]
10. 39-David Mills[10]
Heat Race #2 (8 Laps)
1. 95-Nick Evans[1]
2. 32-Jared Peterson[10]
3. 71-Bryan Murphy[4]
4. 5C-Chris Foster[6]
5. 48-Stewart Lee[5]
6. 2-Mike Roberts[7]
7. 12-Jason Thomas[9]
8. 17M-Brian Rose[2]
9. 3B-Brian Hayes[3]
10. 53X-Derek Amundson[8]
Heat Race #3 (8 Laps)
1. 30-Levi Klatt[2]
2. 9-Shane Smith[6]
3. 62-Chuck Pierce[8]
4. 16S-Duane Swanson[4]
5. 5W-Gary Wegener[3]
6. 06-Shawn Wallenfelsz Jr[7]
7. 18-Ayuka Carlson[5]
8. 58-JD Lewis[1]
Heat Race #4 (8 Laps)
1. 25-Michael Hodel[6]
2. 90-Brian Holmkvist[1]
3. 2J-Jonathan Jorgenson[5]
4. 3T-Tyler Luce[2]
5. 78R-Roger Burt[4]
6. 90C-Stuart Milner[3]
7. 21C-Dale Creager[7]
8. 14C-Austin Carey[9]
9. 12B-Ben Beck[8]
C-Main (10 Laps)
1. 17-Kyle Hanson[1]
2. 23-Randy Schaaf[2]
3. 17M-Brian Rose[4]
4. 39-David Mills[6]
5. 27-Joe Shawley[7]
6. 58-JD Lewis[5]
7. 3B-Brian Hayes[8]
8. 53X-Derek Amundson[9]
9. 12B-Ben Beck[3]
B-Main (12 Laps)
1. 48-Stewart Lee[3]
2. 17-Kyle Hanson[12]
3. 12-Jason Thomas[7]
4. 2-Mike Roberts[5]
5. 23-Randy Schaaf[13]
6. 16S-Duane Swanson[1]
7. 3T-Tyler Luce[2]
8. 5W-Gary Wegener[6]
9. 21C-Dale Creager[10]
10. 90C-Stuart Milner[8]
11. 78R-Roger Burt[4]
12. 18-Ayuka Carlson[9]
13. 14C-Austin Carey[11]
A-Main (25 Laps)
1. 9-Shane Smith[1]
2. 32-Jared Peterson[4]
3. 66-Jeff Westergard[6]
4. 13A-Alex Peck[2]
5. 95-Nick Evans[8]
6. 21T-Ross Rankine[15]
7. 25-Michael Hodel[3]
8. 17-Kyle Hanson[19]
9. 30-Levi Klatt[7]
10. 48-Stewart Lee[18]
11. 41-Ashley Thompson[13]
12. 90-Brian Holmkvist[11]
13. 62-Chuck Pierce[5]
14. 12-Jason Thomas[20]
15. 71-Bryan Murphy[12]
16. 5C-Chris Foster[14]
17. 76-Tyler Ketchum[10]
18. 2-Mike Roberts[21]
19. 2J-Jonathan Jorgenson[9]
20. 06-Shawn Wallenfelsz Jr[17]