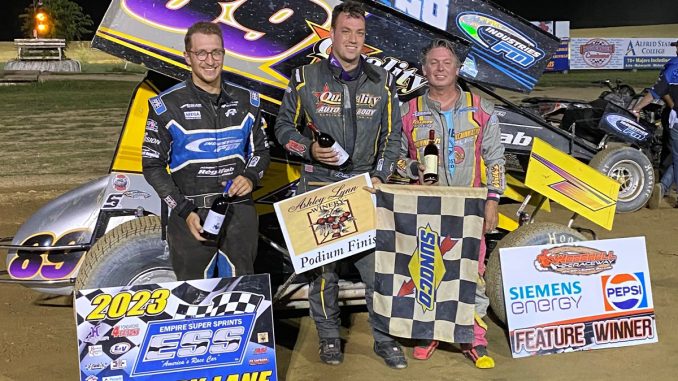 By Curtis Berleue
(Woodhull, NY) | Burlington, New Jersey driver Robbie Stillwaggon made the long haul to 'New Yorks Toughest Bullring', the Woodhull Raceway well worth the drive as he landed in Empire Super Sprints victory lane for the first time in his career on Saturday night.
Pinnacle Pole Award winner Jordan Poirier led the field to green alongside Stillwaggon, and although it looked like Stillwaggon would jump out to an early lead, Poirier fought back and was scored as the leader on lap 1 as the field crossed the line.
A lap 6 yellow for a spinning Kyle Drum off turn 4 slowed the field, and as a result Poirier's lead over Stillwaggon was erased for the ensuing restart. When the green flag dropped, Stillwaggon was able to get by Poirier and hold his position this time, setting sail away from the rest of the field.
Meanwhile, 5th starting Chuck Hebing had been slowly making up ground on the leaders and worked his way into the top 2 on lap 10. Just four laps later, however, Hebing would jump the cushion and surrender second to the #53 of Shawn Donath.
Early season winner Jason Barney looked to be having a solid top 5 night until a flat tire sidelined his efforts with two laps remaining. On what would be the final restart of the night, Donath made a valiant attempt to get by Stillwaggon, but ultimately came up one spot short with Stillwaggon collecting the win and the $2,000 winners share.
"I've had two seconds here before, I think I lost it on the last lap to Barney once, but it's great to finally get it done," said Stillwaggon in victory lane. "I knew he (Donath) was going to be tough to beat, we got into each other and I hate it."
"All of these guys with ESS are good cars; there's no bad cars here. To come out and win with these guys, this is my first win with ESS and I have been racing forever."
Consistency has been the name of the game so far in 2023 for Shawn Donath, and Saturday was no exception as he finished second for the second time in as many nights on the weekend.
"I have the best crew chief, I can tell you that," said Donath. "We made a couple adjustments before we came out and we could go anywhere we wanted."
Rounding out the Ashley Lynn Winery podium was Jordan Poirier, rebounding after a hard crash Friday at Freedom.
"The car was really good, I think clean air was important so on that restart we stalled out a bit," said Poirier. "We'll take a third-place finish after last night and the weekend we had."
There were 16 cars pit side for the return of the Empire Super Sprints to the Woodhull Raceway, splitting the field into two timed hot lap groups. Rifenburg Construction fast time awards went to Jordan Poirier and Chuck Hebing. E&V Energy heat races were won by Jordan Poirier and Chuck Hebing, with the Cobra Coaches Dash presented by Walker Metalsmiths Inc. going to Shawn Donath.
The next scheduled event for the Empire Super Sprints is Friday, July 21st at the Albany-Saratoga Speedway in Malta, NY. For the latest news, information, and schedule updates regarding the Empire Super Sprints be sure to check the series website (www.EmpireSuperSprints.com) and follow along on Facebook (Empire Super Sprints), Twitter (@ESSprints) and Instagram (@empiresupersprints).
The Empire Super Sprints would like to thank the following series sponsors for their continued support: Rifenburg Contracting Corp, PJC Spray Foam, Hoosier Racing Tire, Cobra Coaches, E&V Energy, Fondations 4 Saisons, Pinnacle Investments, LLC, Lacaillade Masonry, Inc., FX Caprara, ASI Racewear, Lanes Yamaha, Ashley Lynn Winery, Bicknell Racing Products, DirtTrackDigest.com and LC Design.
The ESS Road Ahead:
Friday, July 21 – Albany-Saratoga Speedway – Malta, NY ($2,000 to Win)
Friday, July 28 – Outlaw Speedway – Dundee, NY ($3,500 to Win Outlaw Summer Nationals)
Friday, August 4 – Utica-Rome Speedway – Vernon, NY ($2,000 to Win)
Full Results:
A-Main: 1. #89-Robbie Stillwaggon[2]; 2. #53-Shawn Donath[7]; 3. 28-Jordan Poirier[1]; 4. #45-Chuck Hebing[5]; 5. #5D-Jacob Dykstra[8]; 6. #47-Kyle Drum[10]; 7. #35-Jared Zimbardi[6]; 8. #4P-Chase Moran[13]; 9. #13T-Trevor Years[11]; 10. #10-Jeff Cook[14]; 11. #22-Jonathan Preston[4]; 12. #36-Logan Crisafulli[16]; 13. (DNF) #87-Jason Barney[9]; 14. (DNF) #11-Ryan Stillwaggon[12]; 15. (DNF) #7C-Dylan Swiernik[3]; 16. (DNF) #41-Dalton Rombough[15]
Walker Metalsmiths Inc. Dash: 1. #53-Shawn Donath[2]; 2. #5D-Jacob Dykstra[1]; 3. #87-Jason Barney[4]; 4. #47-Kyle Drum[6]; 5. #13T-Trevor Years[3]; 6. #11-Ryan Stillwaggon[5]
Heat 1: 1. 28-Jordan Poirier[2]; 2. #7C-Dylan Swiernik[5]; 3. #35-Jared Zimbardi[1]; 4. #5D-Jacob Dykstra[4]; 5. #13T-Trevor Years[3]; 6. #11-Ryan Stillwaggon[7]; 7. #4P-Chase Moran[6]; 8. (DNF) #41-Dalton Rombough[8]
Heat 2: 1. #45-Chuck Hebing[2]; 2. #89-Robbie Stillwaggon[4]; 3. #22-Jonathan Preston[1]; 4. #53-Shawn Donath[3]; 5. #87-Jason Barney[6]; 6. #47-Kyle Drum[5]; 7. #10-Jeff Cook[8]; 8. #36-Logan Crisafulli[7]
Awards & Contingencies:
Rifenburg Contracting Fast Time ($25 each): #28-Jordan Poirier; #45-Chuck Hebing
E&V Energy Heat Winners ($25 each): #28-Jordan Poirier; #45-Chuck Hebing
Cobra Coaches / Walker Metalsmiths Inc. Dash Winner ($100): #53-Shawn Donath
Pinnacle Pole Draw Award ($25): #28-Jordan Poirier
PJC Spray Foam Hard Charger Award ($50): #53-Shawn Donath (+5)
Reverse Hard Charger Award ($50): #22-Jonathan Preston (-7)
Pinnacle Investments Last Car Running ($35): #36-Logan Crisafulli
Pinnacle Investments 11th Place (5 gallons fuel): #22-Jonathan Preston
Ashley Lynn Winery Podium Finish (bottle of wine): #89-Robbie Stillwaggon; #53-Shawn Donath, #28-Jordan Poirier