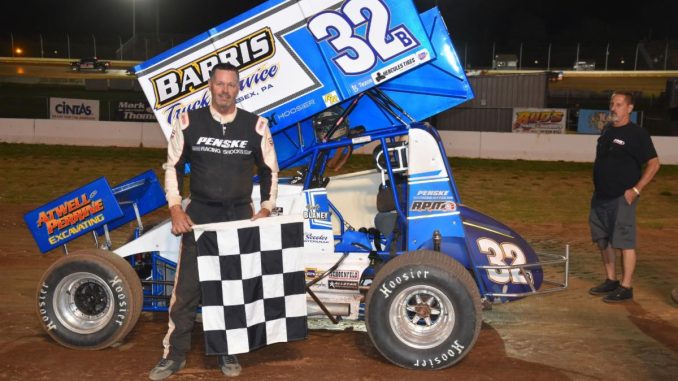 By Mike Leone
(Hartford, OH)…After several hours of rain and heavy thunderstorms rolled through Thursday night, skies cleared on Friday allowing "The Night Before the Nationals" to be completed. Celebrating in the Hovis Auto & Truck Supply victory lane were Dale Blaney-Hovis Auto & Truck Supply "410" Sprint Cars, while the Gibson Insurance Agency Pro Stock features were won by Tim Bish and Curt J. Bish. A total of 71 cars were in the pits for the two-day show.
After ending a two-year winless drought on June 28, it didn't take Dale Blaney long to return to victory lane at his home track. Blaney started on the outside pole and virtually went unchallenged to the"410" Sprint Car win in the 25-lap Hovis Auto & Truck Supply feature. Blaney earned a total of $2,700 after $2,000 from Sharon, $500 from Krill Recycling, and $200 from Barris Supply. The Blaney brothers have now won four of the seven "410" Sprint Car events this season.
The 59-year old Hartford, Ohio veteran took the Barris Supply-owned, Barris Truck Service/Atwell-Perrine Excavating/Top Shelf Trucking-sponsored #32B to his 19th career Sharon win by a commanding 4.911 seconds. Brandon Matus recorded his best Sharon finish of the season and earned an additional $300 from Krill Recycling. A.J. Flick was third and picked up an extra $200 from Krill Recycling. Sixth starting George Hobaugh was fourth over Carl Bowser. Central Pa's Nash Ely was sixth in his first ever Sharon appearance as David Kalb, Jr., Brent Matus, Chris Verda, and Dan Kuriger completed the top 10. Heat winners were Blaney and Brandon Matus.
After winning the season opener for his first career Sharon victory, Tim Bish kicked off "The Night Before the Nationals" taking the first 20-lap Gibson Insurance Agency Pro Stocks feature worth $550. The 29-year-old Ringgold, Pa. racer rode the inside berm and exchanged the lead each of the last four laps with rim-riding Chase Lambert capping it off with a fourth corner pass for the win! Bish's winning margin was just 0.237 seconds in his Brocious Lumber/C&L Welding/Ringgold Tire/Barber Performance-sponsored #11B. Josh Seippel was third. Chris Schneider went 10th to 4th with June 3 winner Jordan Perkins fifth. Jackson Humanic, Shaun Hooks, Bobby Whitling, Brett McDonald, and Jamie Duncan rounded out the top 10.
Two-time $10,000 "Steel Valley Pro Stock Nationals" winner, Curt J. Bish, started the weekend off winning the second 20-lap Gibson Insurance Agency Pro Stock feature worth $550. While most cars were fighting for the bottom groove, the 39-year-old Cranberry, Pa. driver ran the top to perfection from the sixth starting spot. Bish passed Andrew Gordon on lap 15 and won the drag race to the finish by just 0.106 seconds for his first win of the season and 10th of his career in the Tarr Motorsports, R.K. Virgile Scrap Metal-sponsored #29. Hunter Exley was third over Brandon Connor. Rod Laskey went 16th to 5th. Completing the top 10 were Andy Buckley, Matt Bernard from 12th, Jonathan Davis, Jamie Scharba and Trevor McCann.
Heat winners over the 51-car field were Randy Wyant, Scott Stiffler, Tim Bish, Seippel, Lambert, and Humanic.
Sharon Speedway will return to action on Saturday night (July 22) with night two of the "Steel Valley Pro Stock Nationals" featuring twin 35s for $3,500 to-win along with the Hovis Auto & Truck Supply UMP Modifieds presented by A&MP Electric.
Hovis Auto & Truck Supply "410" Sprint Cars (25 laps, $2,700 to-win): 1. 32B-DALE BLANEY[2]; 2. 13-Brandon Matus[1]; 3. 2-AJ Flick[3]; 4. 40-George Hobaugh Jr[6]; 5. 11-Carl Bowser[4]; 6. 22E-Nash Ely[5]; 7. 11J-David Kalb Jr[8]; 8. 33-Brent Matus[10]; 9. 3V-Chris Verda[11]; 10. 08-Danny Kuriger[7]; 11. 16-Jimmy Morris III[14]; 12. 12J-William Jones Jr[15]; 13. 25-Jarrett Rosencrance[16]; 14. 3-John Jerich[17]; 15. 4W-Eric L Williams[19]; 16. 23-Darren Pifer[13]; 17. 99-Cameron Nastasi[18]; 18. 11M-Nathen McDowell[20]; 19. 6-Bob Felmlee[9]; 20. 47-Brett Brunkenhoefer[12].
Gibson Insurance Agency Pro Stock Feature 1 (20 laps, $550 to-win): 1. 11B-Tim Bish[3]; 2. 22-Chase Lambert[5]; 3. 84S-Josh Seippel[4]; 4. 55-Chris Schneider[10]; 5. 13J-Jordan Perkins[7]; 6. 17-Jackson Humanic[6]; 7. 23-Shaun Hooks[15]; 8. 7W-Bobby Whitling[9]; 9. 25-Brett McDonald[11]; 10. 67J-Jamie Duncan[17]; 11. 10-Nick Kocuba[22]; 12. 21W-Chris Withers[8]; 13. 8C-Russ Coyne[23]; 14. 155-Tyler Schneider[26]; 15. 66-Benjamin Gordon[18]; 16. 24-Tyler Wyant[24]; 17. 4H-Brett Hutira[16]; 18. 14-Scott Stiffler[2]; 19. 51-Michael Miller[12]; 20. 15-Rick Potter[21]; 21. 11T-Randy Wyant[1]; 22. 0-Larry Kugel[19]; 23. 4*-Douglas Eck[20]; 24. 02C-Brian Carothers[13]; 25. 51L-Brian Lacey[25]; 26. 44-Jacob Wheeler[14]; 27. 7-Coleton Longwell[27].
Gibson Insurance Agency Pro Stock Feature 2 (20 laps, $550 to-win): 1. 29-Curt J Bish[6]; 2. 25G-Andrew Gordon[7]; 3. 23HJR-Hunter Exley[5]; 4. 55C-Brandon Connor[3]; 5. 1R-Rod Laskey[16]; 6. 965-Andy Buckley[1]; 7. 7B-Matt Bernard[12]; 8. 8-Jonathan Davis[8]; 9. 11S-Jamie Scharba[21]; 10. 12T-Trevor McCann[11]; 11. 05-Ed Bolyard II[4]; 12. 50-Ron Boardman[22]; 13. 94B-David Baker[15]; 14. 12M-Scott Malone[13]; 15. 310-Dale Tuche[14]; 16. J19-Jason Fosnaught[2]; 17. 1K-Cody Koteles[17]; 18. 39B-Brayden Seippel[19]; 19. 84-Steve D'Apolito[10]; 20. 18S-Marty Spade[9]; 21. 04-Joe Stajnrajh[23]; 22. 28-Kyle Deneen[24]; 23. 12J-Joe Johnson[18]. DNS: 27-Jacob Dietz.
Sharon Speedway is owned by the Blaney, Weller, and Kirila Families and is a 3/8-mile dirt track located on Custer-Orangeville Road in Hartford, Ohio near the intersection of Routes 7 & 305. For more information, check out the website at www.sharonspeedway.com or call 330-772-5481. Become a fan of Sharon Speedway on Facebook at www.facebook.com/sharonspeedway and follow us on Twitter at www.twitter.com/sharonspdwy.