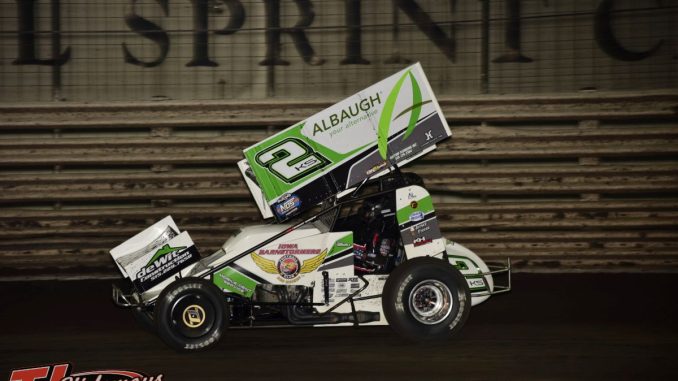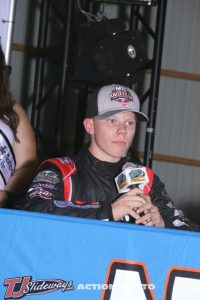 By T.J. Buffenbarger
KNOXVILLE, Iowa (August 10, 2023) — Chase Randall has been touted as one of the rising stars in the sport of sprint car racing. Spending the 2023 season competing at Knoxville Raceway made that spotlight a little brighter by leading the 360 Sprint Car point standings and being chosen by TKS Motorsports for the 410 sprint car entry in June.
Wednesday night Randall raised his profile further going toe to toe with 11-time Knoxville Nationals winner Donny Schatz for the lead in a preliminary at the Knoxville Nationals. Randall, age 18 from Waco, Texas, was able to exchange the lead a couple of times before Schatz pulled away in the closing laps. Even by finishing second Randall secured himself sixth in Knoxville Nationals points and a likely spot in Saturday's finale.
"It was rewarding for sure to see everything that we've been working for on the biggest stage now succeed, making all the right decisions," said Randall at the post-race press conference. "It's rewarding for me and a big confidence booster heading into the future and hopefully on Saturday. This race, was good for me and some key points that I can kind of learn from the future to make myself better."
On a night where multiple veteran drivers that were expected to be racing near the front faltered, Randall avoided those pit falls. The biggest of which was transferring out of his heat race after starting in row two.
"It was definitely the heat race I feel like starting fourth," Randall said about avoiding some of the issues others ran into trying to get through their heat races. "I got a good start and then put myself in a in a bad spot and fell back to fifth or sixth I think, and then having a charge back up to get the final transfer to kind of put us in position for the rest of our night. That was one of those key defining moments. We couldn't be standing here without that."
Randall was impressive running down Blake Hahn, who also was impressive by leading during the early stages of Wednesday's feature during his first full season of 410 sprint car competition, catching him in slower traffic quickly before a red flag came out to spoil that opportunity, followed by passing Hahn immediately after the restart in turns three and four.
"I feel like I just kind of got into a good rhythm. It really helped me being in second moving around and finding some good lines that worked for me. The red really didn't help me out at all because it bunched everybody up. I feel like that was I was right on Blake (Hahn) trying to make a move on him right when the red came out. That kind of disappointing for what happened but it's just how it goes and came in runner up tonight."
Randall was impressive while leading and was able to counter a couple of passes for the lead before Schatz drove away over the final three laps. It was an experience Randall hoped to gain knowledge from following the main event on Wednesday.
"Just kind of how to race and what to expect on the racetrack," said Randall of what he might gain from the closing stages of Wednesday's race. "I feel like when you're sitting out front, you're just kind of a sitting duck out there leading because you don't really know where he is. I'll learn from it and watch the watch the replay and see kind of what I can do better to set myself up better in the future on Saturday."
Notes
It's amazing to think with all of the success Schatz has achieved during his career he had not won a preliminary race at Knoxville since 2003.  The last time Schatz won a preliminary the great blackout was taking place that week of the Nationals with large sections of the Northeastern United State losing power and the national average price for gasoline was $1.72.
On a night where Schatz reminded us of how great he is at the avoiding pitfalls during the Knoxville Nationals, it was a rough night for some of the perceived favorites going into the Nationals.

Eight of the top 10 drivers in qualifying did not make it out of the heat race.
Two of those drivers, quick qualifier David Gravel and Aaron Reutzel, crashed on the opening lap of their heat races. Gravel attempted to run the alphabet, which was halted at the B-Main with an 11th place finish.
Of those eight, three were able to transfer through the B-Main. Jamie Ball, Scott Bogucki, and Lynton Jeffrey all failed to transfer.
On the other end of the spectrum all the drivers from 28th to 40th in qualifying transferred to the main event through their heat race. Of that group, Blake Hahn was the highest finisher in the feature in fourth spot.

Dustin Selvage was one of the biggest, if not the biggest surprises Wednesday night at the Knoxville Nationals. Selvage had not finished in the top 10 at Knoxville Raceway all season, but managed to set 22nd fast time in qualifying, finished in the fourth and final transfer spot in the second heat race by maintaining his starting position, earning the pole position for the feature event.Selvage eventually dropped back to eighth in the feature event, ending up 11th in points after the first night that should secure him a position in Saturday's B-Main.
Chase Dietz hustled to Knoxville Raceway with an overnight cross-country trip after receiving the request to drive the Shark Racing entry as Jacob Allen takes some time away from the driving duties. Dietz received the call at 2:00 PM and eventually ended up in Knoxville around 10:00 Wednesday morning. Dietz had one prior start at Knoxville Raceway on Hall of Fame Induction weekend in 2021.

Dietz's first night at the Knoxville Nationals resulted in a 21st place finish in the B-Main, putting him 39th in points.

Several special paint schemes showed up on the opening night of the Knoxville Nationals. Taking a straw poll, the consensus was the Swindell Speedlab entry with Hunter Schuerenberg's car in red and gray with accents, Sheldon Haudenschild's NOS Energy Drink car decked out in purple and orange, Brent Marks' car with gold accents, and Tony Stewart Racing's entry for Donny Schatz in blue and white were among the contenders for best appearing car out of the Wednesday entries.

The entry with a special or throwback scheme that drew out the most emotion was Brandon Wimmer's 7TW/Two Winners Racing Golden Eagle throwback car that Jeff Swindell drove here in the 90's. With the car appearing in video games and on the first live televised Knoxville Nationals, several generations were able to connect with the car.

Drivers from 16 states, four Australia provinces, and one Canadian Province took part in Wednesday's program. Iowa had the most drivers on hand with 13 entries followed by California and Indiana with five each.