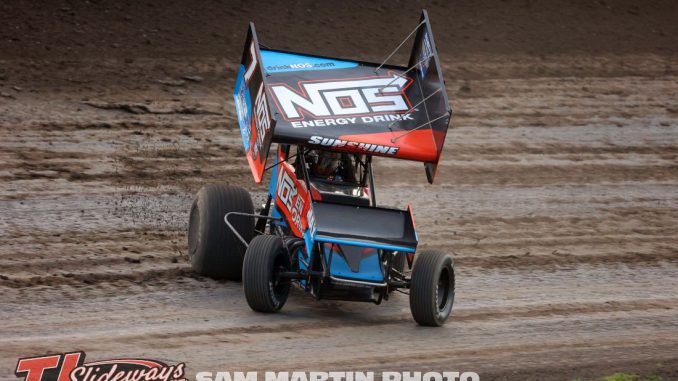 From Tyler Altmeyer
DUNDEE, N.Y. (August 18, 2023) — It was a sweet return to the driver's seat for "Sunshine" Tyler Courtney, as the Indianapolis, Indiana, native conquered Tezos All Star Circuit of Champions presented by Mobil 1 competition at Outlaw Speedway in Dundee, New York, leading all 35, non-stop circuits of the Ted Siri Memorial for an $8,000 top prize. Courtney, who was sidelined for over a month due to injuries sustained in a prior incident, started from the pole and never looked back, stretching his advantage to just over five seconds before Rudeen Racing's Zeb Wise was able to close in. The two-time and defending All Star champion is now a seven-time feature winner during All Star points competition this season, all of which acquired in 26 main event attempts.
Zeb Wise, the last All Star competitor to finish on top of the podium in Dundee, New York, finished second, followed by Kerry Madsen, Paulie Colagiovanni, and Sye Lynch.
"I wasn't sure there at the beginning…I was pretty rusty in hot laps," Tyler Courtney, driver of the Clauson Marshall Racing/NOS Energy Drink/No. 7BC sprint car, said. "I'm not sure what to say. Sitting at home for almost a month and a half really puts some drive in you. It really makes you grateful and appreciative of what we get to do out here. This win is a testament to our team, and our entire support system. I have to thank Anthony Macri and Corey Day for doing what they did to help this team while I was out. They did a great job and I appreciate their efforts. Such a great way to get this New York swing moving."
As noted, Courtney's lead stretched to just over the five-second mark, earning that advantage by lap 20 of 35. Despite the fact, traffic only continued to intensify forcing Sunshine to weave from groove to groove. The momentum shift allowed Wise to close in quickly, knocking Courtney's five-second lead down to less than a second in the closing circuits. A last corner lunge was Wise's last hope, but it was short.
Tezos All Star Circuit of Champions presented by Mobil 1
Ted Siri Memorial
Outlaw Speedway
Dundee, New York
Friday, August 8, 2023
Hercules Tire Qualifying
1. 7BC-Tyler Courtney, 12.209[11]
2. 26-Zeb Wise, 12.270[14]
3. 42-Sye Lynch, 12.492[7]
4. 29-Brandon Spithaler, 12.607[1]
5. 98-Joe Trenca, 12.640[3]
6. 55-Kerry Madsen, 12.701[2]
7. 79-Jordan Thomas, 12.726[5]
8. 4-Chris Windom, 12.821[13]
9. 10-Paulie Colagiovanni, 12.834[9]
10. 45-Kyle Reinhardt, 12.902[21]
11. 28M-Conner Morrell, 12.971[6]
12. 32B-Dale Blaney, 12.987[23]
13. 5D-Jacob Dykstra, 13.076[19]
14. 35-Jared Zimbardi, 13.109[12]
15. 28-Jordan Poirier, 13.175[17]
16. 14-Chase Briscoe, 13.224[10]
17. 88C-Chad Miller, 13.369[4]
18. 3-Denny Peebles, 13.385[18]
19. W20-Greg Wilson, 13.401[20]
20. 21-Jonathan Preston, 13.439[22]
21. 2-Dave Axton, 13.604[8]
22. 66-Jordan Hutton, 13.972[25]
23. 22-Tomy Moreau, 14.665[16]
24. 11M-Nathen McDowell, 14.818[15]
25. 97-Zeth Sabo, [24]
Hunt Brothers Pizza Heat Race #1 (8 Laps)
1. 29-Brandon Spithaler[1]
2. 79-Jordan Thomas[2]
3. 7BC-Tyler Courtney[4]
4. 5D-Jacob Dykstra[5]
5. 45-Kyle Reinhardt[3]
6. W20-Greg Wilson[7]
7. 14-Chase Briscoe[6]
8. 66-Jordan Hutton[8]
DNS: 97-Zeth Sabo
CSI Shocks Heat Race #2 (8 Laps)
1. 4-Chris Windom[2]
2. 98-Joe Trenca[1]
3. 35-Jared Zimbardi[5]
4. 26-Zeb Wise[4]
5. 88C-Chad Miller[6]
6. 28M-Conner Morrell[3]
7. 21-Jonathan Preston[7]
8. 22-Tomy Moreau[8]
All Pro Aluminum Cylinder Heads Heat Race #3 (8 Laps)
1. 55-Kerry Madsen[1]
2. 10-Paulie Colagiovanni[2]
3. 42-Sye Lynch[4]
4. 28-Jordan Poirier[5]
5. 32B-Dale Blaney[3]
6. 3-Denny Peebles[6]
7. 2-Dave Axton[7]
8. 11M-Nathen McDowell[8]
Elliotts Custom Trailers and Carts Dash (6 Laps)
1. 7BC-Tyler Courtney[2]
2. 4-Chris Windom[1]
3. 26-Zeb Wise[4]
4. 42-Sye Lynch[6]
5. 55-Kerry Madsen[5]
6. 29-Brandon Spithaler[3]
Classic Ink USA B-Main (8 Laps)
1. 14-Chase Briscoe[1]
2. 21-Jonathan Preston[2]
3. 97-Zeth Sabo[7]
4. 66-Jordan Hutton[4]
5. 22-Tomy Moreau[5]
6. 11M-Nathen McDowell[6]
7. 2-Dave Axton[3]
Tezos A-Main (35 Laps)
1. 7BC-Tyler Courtney[1]
2. 26-Zeb Wise[3]
3. 55-Kerry Madsen[5]
4. 10-Paulie Colagiovanni[9]
5. 42-Sye Lynch[4]
6. 4-Chris Windom[2]
7. 79-Jordan Thomas[8]
8. 45-Kyle Reinhardt[13]
9. 28-Jordan Poirier[12]
10. 98-Joe Trenca[7]
11. 5D-Jacob Dykstra[11]
12. 35-Jared Zimbardi[10]
13. W20-Greg Wilson[18]
14. 88C-Chad Miller[15]
15. 32B-Dale Blaney[14]
16. 14-Chase Briscoe[19]
17. 97-Zeth Sabo[21]
18. 3-Denny Peebles[17]
19. 66-Jordan Hutton[22]
20. 28M-Conner Morrell[16]
21. 22-Tomy Moreau[23]
22. 11M-Nathen McDowell[24]
23. 21-Jonathan Preston[20]
24. 29-Brandon Spithaler[6]
Kistler Racing Products Pill Draw | Entries: 25
Macri Concrete/Nunzi's Advertising Hot Laps: Brandon Spithaler | 12.698
Hercules Tires Fast Qualifier: Tyler Courtney | 12.209
Hunt Brothers Pizza Heat #1 Winner: Brandon Spithaler
Competition Suspension Inc Heat #2 Winner: Chris Windom
All Pro Aluminum Cylinder Heads Heat #3 Winner: Kerry Madsen
Elliott's Custom Trailers and Carts Dash Winner: Tyler Courtney
Classic Ink USA B-Main Winner: Chase Briscoe
Rayce Rudeen Foundation Contingency Award: Dave Axton
Tezos A-Main Winner: Tyler Courtney
Tezos A-Main Hard Charger: Paulie Colagiovanni
Carquest Perseverance Award: Zeth Sabo