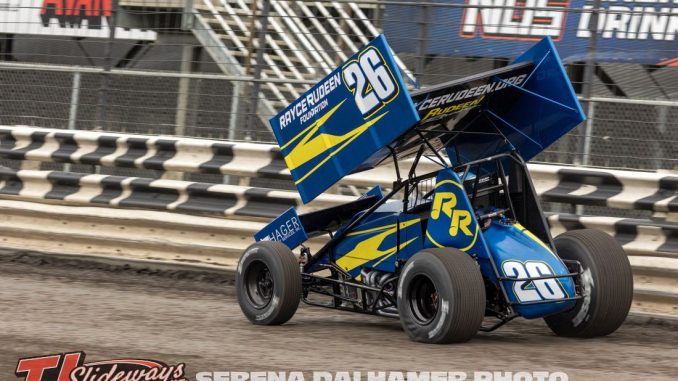 From Tyler Altmeyer
SELINSGROVE, Pa. (August 20, 2023) — Angola, Indiana's Zeb Wise put it all together on Sunday night at Selinsgrove Speedway in Selinsgrove, Pennsylvania, not only helping the Tezos All Star Circuit of Champions presented by Mobil 1 score another triumph in Pennsylvania Posse Country, but the Rudeen Racing ace nailed down a $10,000 top prize in the process, solidifying his fifth All Star victory of the season, this one commemorating National Sprint Car Hall of Famer, Kramer Williamson. Wise, now with nine-career All Star wins to his credit, led all 30, non-stop circuits of the annual Kramer Kup, battling ahead relatively unscathed while keeping Brent Marks and Danny Dietrich at bay. The Kramer Kup triumph – scored from the pole – was Wise's first-ever victory at the Selinsgrove halfmile.
Doing his best to chase down Wise but ultimately coming up short, Brent Marks finished second at Selinsgrove, followed Dietrich, two-time All Star champion, Tyler Courtney, and Justin Peck.
"Man, I don't know what to say. I'm usually not very good on half mile tracks," Wise, ace of the Rudeen Racing/Rayce Rudeen Foundation/No. 26 sprint car, stated. "This is really special not only for me, but for the entire team. We've worked so hard to improve our program on bigger tracks and I think we're finally where we need to be. We had a Ford in tonight and she ran great. This one seemed to hit harder than any other we've had, and we thought having the Ford in would give us the best chance."
Brent Marks started his charge to second from eighth on the grid, working his way to fourth by lap five, then sliding Tyler Courtney for third on lap ten. The "Myerstown Missile" inched his way further through the field and eventually captured second on lap 16, this time overtaking the "Madman" Kerry Madsen with a slider in turn four. Despite all attempts late, Marks was unable to catch the Rudeen Racing No. 26.
Dietrich's path to third started from 13th; he was the evening's Hard Charg
Tezos All Star Circuit of Champions presented by Mobil 1
Kramer Kup
Selinsgrove Speedway
Selinsgrove, Pennsylvania
Sunday, August 20, 2023
Hercules Tire Qualifying
1. 7BC-Tyler Courtney, 16.203[19]
2. 2D-Chase Dietz, 16.272[18]
3. 5C-Dylan Cisney, 16.294[21]
4. 55-Kerry Madsen, 16.352[24]
5. 13-Justin Peck, 16.410[4]
6. 26-Zeb Wise, 16.423[9]
7. 23-Devon Borden, 16.431[12]
8. 45-Kyle Reinhardt, 16.443[20]
9. 5K-Jake Karklin, 16.446[1]
10. 42-Sye Lynch, 16.455[10]
11. 29-Brandon Spithaler, 16.465[15]
12. 19-Brent Marks, 16.486[13]
13. 48-Danny Dietrich, 16.502[16]
14. 11T-TJ Stutts, 16.544[14]
15. 35-Austin Bishop, 16.547[17]
16. 17B-Steve Buckwalter, 16.582[3]
17. 12-Blane Heimbach, 16.623[11]
18. 28M-Conner Morrell, 16.634[6]
19. 44-Dylan Norris, 16.667[23]
20. 35S-Jason Shultz, 16.684[8]
21. 4-Chris Windom, 16.689[2]
22. 5W-Lucas Wolfe, 16.737[7]
23. 66-Ryan Newton, 16.970[5]
24. 97-Zeth Sabo, 17.098[22]
Hunt Brothers Pizza Heat Race #1 (8 Laps)
1. 55-Kerry Madsen[1]
2. 23-Devon Borden[2]
3. 7BC-Tyler Courtney[4]
4. 42-Sye Lynch[3]
5. 48-Danny Dietrich[5]
6. 17B-Steve Buckwalter[6]
7. 5W-Lucas Wolfe[8]
8. 44-Dylan Norris[7]
CSI Shocks Heat Race #2 (8 Laps)
1. 13-Justin Peck[1]
2. 45-Kyle Reinhardt[2]
3. 29-Brandon Spithaler[3]
4. 35S-Jason Shultz[7]
5. 12-Blane Heimbach[6]
6. 11T-TJ Stutts[5]
7. 66-Ryan Newton[8]
8. 2D-Chase Dietz[4]
All Pro Aluminum Cylinder Heads Heat Race #3 (8 Laps)
1. 26-Zeb Wise[1]
2. 19-Brent Marks[3]
3. 5K-Jake Karklin[2]
4. 5C-Dylan Cisney[4]
5. 35-Austin Bishop[5]
6. 4-Chris Windom[7]
7. 28M-Conner Morrell[6]
8. 97-Zeth Sabo[8]
Elliotts Custom Trailers and Carts Dash (6 Laps)
1. 26-Zeb Wise[2]
2. 55-Kerry Madsen[1]
3. 5C-Dylan Cisney[4]
4. 7BC-Tyler Courtney[6]
5. 45-Kyle Reinhardt[3]
6. 13-Justin Peck[5]
Tezos A-Main (30 Laps)
1. 26-Zeb Wise[1]
2. 19-Brent Marks[8]
3. 48-Danny Dietrich[13]
4. 7BC-Tyler Courtney[4]
5. 13-Justin Peck[6]
6. 5C-Dylan Cisney[3]
7. 55-Kerry Madsen[2]
8. 23-Devon Borden[7]
9. 12-Blane Heimbach[12]
10. 45-Kyle Reinhardt[5]
11. 11T-TJ Stutts[14]
12. 29-Brandon Spithaler[10]
13. 35-Austin Bishop[15]
14. 5K-Jake Karklin[9]
15. 5W-Lucas Wolfe[21]
16. 17B-Steve Buckwalter[16]
17. 4-Chris Windom[17]
18. 66-Ryan Newton[18]
19. 35S-Jason Shultz[20]
20. 44-Dylan Norris[22]
21. 97-Zeth Sabo[23]
22. 42-Sye Lynch[11]
23. 28M-Conner Morrell[19] LAP LEADERS
Zeb Wise (1-30)