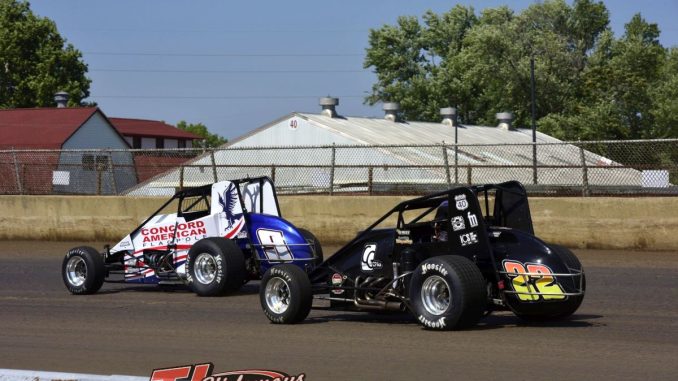 By T.J. Buffenbarger
(August 21, 2023) — The week after the Knoxville Nationals often can feel like a drag. Typically, I'm right back at the racetrack for a couple of nights following the Nationals, but this year I took a week off knowing the Kokomo Sprint Car Smack Down and All Star Circuit of Champions invasion of the Mitten were looming.
Thankfully the rest of the country had such good racing it was easy to kick the Knoxville Hangover.
Mike Bowman got things started going four-for-four at Ohsweken Speedway over two days with the Action Sprint Tour and Southern Ontario Sprints on Monday and Wednesday. You can hear more about Bowman's performance in our latest podcast, but it's becoming clear that Canada may have another converted modified to sprint car superstar on its hands.
Logan Seavey took the torch and told the open wheel world to "hold his beer" and became only the third driver in United States Auto Club history to win features at two different racetracks in the same day, capturing victories with the USAC Silver Crown Series Bettenhausen 100 at the Illinois State Fairgrounds and the USAC National Midget Car Series event later that night.
Kudos should go out to USAC for doing the double program on a hot weekend in Illinois. 40 years ago there were more USAC officials to divide up such an endeavor, but today we see most of those same officials working all three of the USAC short track open wheel divisions. Without them this moment would not have been possible.
For Seavey it just continues a stellar 2023 season that includes the Chili Bowl Nationals title and so far victories in two of the three USAC National divisions. Seavey does have two non-wing sprint car feature wins in non-sanctioned competition earlier in the year and will look to pull off the trifecta during the Kokomo Sprint Car Smack Down this weekend practically in 2B Racing's back yard at Kokomo Speedway.
Seavey wasn't the only one doubling up as J.J. Hickle won two out of the three-winged sprint car races in the state of Michigan and was only a few feet short of making it a clean sweep. Hickle won the Great Lakes Super Sprints 360 and regular 410 sprint car features Saturday at Butler Motor Speedway.
The GLSS/410 double header served as the final tune up at Butler before the All Stars visit this weekend. Hickle paring up with Shannon Eiefrt's "shingle special" have been getting faster with every outing and should be a threat to win both nights when the All Stars come to town this weekend.
Many were calling Danny Varin's $10,000 score against the All Stars at Ransomville Speedway an upset, but for anyone paying attention it wasn't that big of a surprise. Varin is a regular winner with Empire Super Sprints and typically hangs around the front of the pack when the 410 sprint cars come to town.
Most of all Varin, like other modified converts that take on sprint car racing in the state of New York, are masters of what I describe as "New York slick", which in my opinion is the best home field advantage in sprint car racing other than the unique shape of Williams Grove Speedway.
If you watch many of the drivers such as Varin, Stewart Friesen (who race third at the All Start feature on Saturday), and a host of drivers that spend time regularly turning laps around New York ovals are extremely adept at circling those slick ovals top to bottom with great skill.
Port Royal produced another thrilling finish to the first 25 lap feature Saturday during the Living Legends Dream Race when Devon Borden swept around Lance Dewease on the final corner of the final lap for the victory. Watching from afar on Floracing.com, Borden's momentum through one and two was almost like hearing the theme from Jaws queue up with two slower cars racing side by side ahead of Dewease.
That finish along with a decent race in the second 25-lap main event won by Brent Marks just adds to my anticipation waiting for my first trip to see the speed palace in person on Tuscarora 50 weekend.
Just when I thought things couldn't get more exciting viewing from the couch, Carson Macedo and Brad Sweet served up a classic during the finale of the Jackson Nationals at Jackson Motorplex. Macedo and Sweet swapped the lead five times over the final 10 laps including each of the final three circuits with Macedo coming out victorious.
Kudos to everyone at Jackson Motorplex for producing a track surface with hot conditions that yielded such action. While Tod Quiring's other track, Huset's Speedway, has had more attention due to it's $275, 000 to win High Bank Nationals, one could argue Jackson produced the better race of the two this year.
Overall, it was a great weekend of racing to get everyone's enthusiasm back up after the euphoria of the 10 days at Knoxville.
Misc Notes
Craig Mintz hustling around Lorain Raceway Park. (David Sink photo)

Craig Mintz teamed up with car owner Rich Farmer with Stephen and Mike Linder to ambush the Must See Racing sprint cars this weekend at Lorain Raceway Park during the Jerry Caryer Memorial/Bob Frey Classic.Once again armed with a dirt sprint car with four torsion bars and 360 sprint car engine that gets a 100 weight break under the Must See Racing rules, the Linder brothers went to work on getting their pseudo pavement car better, even doing some testing during the summer.

Mintz and the team looked to improve on their third-place finish with car owner Ed Neumeister in 2020. The night appeared to be off a great start being fastest in practice and qualifying, but an eight-car inversion with that many evenly matched cars made passing tricking and Mitz finished in seventh spot even though his lap times with a four-bar dirt car were on par with all the cars from third on back throughout the 40-lap main event.

Though it wasn't the result they were looking for, Mintz and the rest of the team still deserves to be commended for getting out of their comfort zone and taking a car with four torsion bars to a winged pavement sprint car race loaded with specialty-built equipment.
Jimmy McCune ended up winning the Must See Racing feature at Lorain, with one of the prizes for the victory being 90 cans of Pabst Blue Ribbon in honor or Jerry Caryer's favorite beverage.
I doubt if any of the Central Pennsylvania sprint car promoters would admit this publicly, but they must be giddy that the Freddie Rahmer/Danny Dietrich rivalry is heating up to a boiling point leading into their biggest month of racing throughout September. Rahmer and Dietrich had verbal jabs at each other following Friday night's program where Rahmer ended up flipping in turn four, collecting multiple cars.I'm sure some of the area's fellow drivers and car owners are less enthusiastic about this rivalry after several cars were torn up on Friday. Hopefully we can keep the competitive spirit between the duo without sweeping up anyone else in the process.
Kudos to Tanner Holmes for quickly getting up to speed in the Shark Racing #1a car this weekend at Jackson Motorplex. Holmes, known for his massive YouTube following and ability to wheel a sprint car, has adapted well in a massive jump in competition with third, 10th, and seventh place finishes over the three nights at Jackson. I even had my doubts on how quickly this combination would gel and get up to speed, but so far Holmes has my attention for the remainder of his tenure in the Shark Racing entry.
This column was started before Bill Balog's and Adam Taylor's sweeps of IRA and Badger Midget competition over the weekend to add them to the spectacular performers mentioned above.

Central Pennsylvania also had their own night sweep this weekend with Tony Jackson winning the winged and non-wing super sportsman features Saturday at Path Valley Speedway.
The United Rebel Sprint Series had a unique situation occur when their program was cancelled this weekend at Rush County Speedway when one of the stock car support features had a crash that took the catch fence down, literally.
Congrats to Nate Dussel and his wife on the birth of their baby girl early Sunday morning. Mom and baby are doing great, and Dussel plans on taking the week of to spent time with their growing family.
This column is dedicated to long time sprint car fan Jimmy Hillegas who recently passed away after a long battle with various health ailments. Dad and I have known Jimmy since he manned the pit gate at Warsaw Speedway and one would be hard pressed to find a bigger fan of the sport than him. Our thoughts are with his wife Tonya along with Jimmy's family and friends.