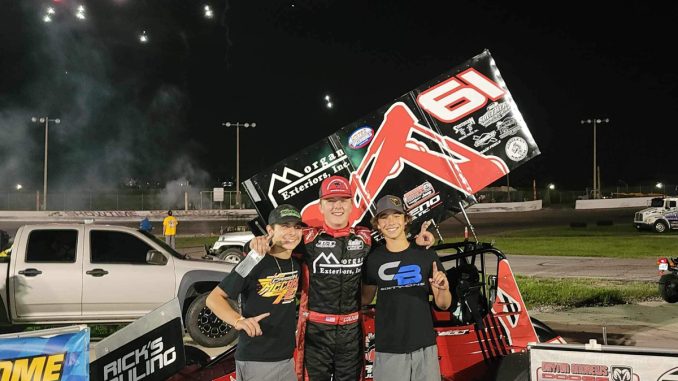 September 3, 2023 – Pinellas Park, Florida – 13-year-old Colton Bettis captured his first career BG Products Southern Sprint Car Shootout Series victory Sunday night at Showtime Speedway in Pinellas Park, Florida just 5 days before his fourteenth birthday. Bettis may now be the youngest driver to have ever won a winged pavement sprint car feature victory.
The feature got off to a rough start when former series champion Sport Allen got upside down after attempting to split the cars of Bryan Riddle and Bruce Brantley on the first lap entering turn 3. His left rear tire rode up over Riddle when the narrow gap closed, sending him upside down. Allen was ok but unable to restart.
On the complete restart, Bettis, who started in the fourth position, attempted the same move as Allen had earlier entering turn 3 on lap 1. Bettis was successful in his attempt to take the lead and led the final 39 laps for his first career series win. Betis would win by a margin of 3.734 seconds.
Following Bettis was Dude Teate and series points leader Daniel Miller rounding out the top three. Miller had sustained a broken hand after his throttle stuck at the same track one week earlier in a practice crash. Miller's top three effort keeps him in the points lead as the season is winding down.
Bettis is no rookie in terms of pavement sprint car racing. He won a non-winged event at the track in 2021 as an 11-year-old and won the track championship that same season. He was the youngest driver to have ever won a pavement sprint car feature event or championship.
Ryan Adema was the night's 602 crate sprint car feature winner.
Feature (40 laps) 1. 61-Colton Bettis; 2. 93-Dude Teate; 3. 5-Daniel Miller; 4. 555-Dylan Reynolds; 5. 13-Scotty Adema; 6. 25-Bruce Brantley; 7. 83-Bryan Riddle; 8. 13x-Ryan Adema; 9. 1-Gary Wiggins; 10. 32-Bo Hartley; 11. 88a-Sport Allen; 12. 33-Robert Yoho; 13. 85-Rex Hollinger